Are you wondering how to make money by creating videos with incredible effects and background music? If you're saying yes, Instagram reels is just for you!
Instagram reels are a new feature on the app that allows users to create up to 90-second videos set to music. Instagram introduced this feature in 2020. It's been one of the latest attempts of Instagram to get into the short-format video industry and compete with TikTok.
The 2022 digital report of Hootsuite states that Instagram reels today allow you to reach over 675 million users through ads. This shows the incredible marketing potential of Instagram reels.
In this article, I'll discuss how to take advantage of this potential by creating trendy videos and make money from Instagram reels.
Before jumping into how to make money with Instagram reels, let's see what Instagram reels are and check some creative ways to make remarkable Instagram reels on your own!
What are Instagram reels?
Instagram reels are a new feature on the platform that allows users to create short, entertaining videos. While other video content on Instagram is often highly produced and edited, reels are meant to be quick and fun.
Instagram reels can be up to 90 seconds long and may include music, effects, and other creative elements.
Users can easily browse reels in the Explore section to find ones they like. Plus, they can follow specific users to see their new reels in their feeds.
So, if you want to extend your reach on Instagram, you can make use of Instagram reels to make your account available to the broader Instagram community through a new space in Explore.
Don't forget that reels can be shared with all Instagram users or just with specific friends or groups. Promote your account with reels and boost your Instagram experience.
Covering what Instagram reels are, it's time to show how to create trendy Instagram reels!
How to create Instagram reels?
Instagram Reels invite everyone to be a creator. If you want to enjoy this remarkable feature and reach new audiences on a global stage, here are the steps through which you can become a reel creator.
Go to your Instagram app and click on the +icon at the top left to open the Instagram Stories camera. You can see Reels next to the Story mode. In order: Live, Story, Reels. Click on Reels to create your first reel.
With the audio icon (1), you can add audio to your Instagram reel. You can select the audio from Instagram's music library or upload your own audio. You can also choose the part of the audio you need for your video.
With the speed icon (2), you can determine the playback speed of your video.
If you want the special AR effects in your video clip, click on effects (3) to add the Instagram reel effects.
You can also select a timer (4) if you want to add a timer before your video recording starts.
The last and most crucial step would be creating the video. You can either create a new video (5) or upload an existing video from your gallery. Just like Tik Tok, you can stop and record as many times as you want in your 90-second clip.
Once all the steps above are done, you can add Instagram stickers and thumbnails to your reel. Then you can simply share it to your Stories or Feed.
Explaining how to create reels natively on Instagram, it's time to show how you can improve your Instagram account and make money with Instagram Reels.
How to optimize your Instagram profile to increase the monetary potential of your reels
Above all, it's important to remark on a critical rule. If you want to make money with Instagram Reels, you need to optimize your Instagram account.
Without optimizing your account, it's nearly impossible to make money with Instagram Reels. This is because not enough users will reach your video content, no matter how trendy and attractive they are.
Here are the checkpoints while optimizing your Instagram account:
A high-quality personal profile photo
Your personal profile photo will be the first thing that visitors will take a look at. Therefore, it's awfully important to catch the visitors at first sight.
"Your first impression may be the last impression."  So, better think about your Instagram bio to attract your target audience with cool Instagram bios.
Post regularly and consistently
Posting regularly and consistently will lead Instagram's algorithm to favor your account. But, this is easier said than done if you don't have much time to spend on Instagram.
Instead, you can use Circleboom Publish to schedule your Instagram posts. Even though the Instagram Reel scheduler of Circleboom Publish has not aired yet, it can still improve your account in unimaginable ways.
💡
Circleboom Publish's Instagram Reels Scheduler will be available very soon.
That way, Circleboom Publish indirectly boosts the potential of your Instagram reels to make money.
Circleboom Publish also has built-in Canva, Unsplash, and Giphy extensions that have tons of ready-made templates you can use on your posts.
You can leverage Circleboom Publish's endless graphics possibilities to create the best Instagram posts, even stories, flawlessly!
If you want to learn more about how you can use Circleboom Publish to schedule your Instagram posts, here is a detailed article for you:
Showing the importance of an optimized profile and the help of features of Circleboom in creating/boosting a healthy Instagram account, it's finally time to mention different ways of making money with Instagram reels.
How to make money with Instagram Reels
I know you get tired until reaching the very point you're wondering about. But, trust me, all the previous parts were necessary to make money with Instagram Reels.
Here are the three paths you can follow and make money with Instagram reels:
1-) You can promote your products and services
If you're looking to promote your products or services, Instagram reels is the perfect place to do it. You can create quick videos showcasing your products or services in action, and be sure to include a call-to-action so that viewers know what they can do next.
I believe Instagram reels are super suitable for zeitgeists of our age. This is because reels allow people to consume quick and intense content.
So, promoting your products and/or services in super quick videos can be a highly effective way of lifting your conversion rates and sales.
2-) You can collaborate with other businesses
This method is instead for influencers. So, you first need to follow the steps for optimizing and improving your Instagram accounts before this method takes full effect.
Yet, if you're already an influencer, you should go for this method. Collaborating with other businesses is an excellent way to reach new audiences and grow your following.
Find businesses relevant to your brand and see if they're interested in doing a joint reel.
3-) You can make money with Instagram Reels by offering paid subscriptions to your account
This is an excellent way of making money with Instagram reels if you post high-quality reels regularly. As you create and share unique reels on Instagram, people will be more and more willing to pay for your updates.
You can earn monthly income with subscriptions by offering exclusive content and experiences to your most engaged followers.
Once subscribed to your accounts, subscribers pay a monthly fee to see exclusive content highlighted with a purple ring.
Plus, followers get a subscriber badge next to their name so they can stand out in the comments and DMs. What's even better, you can personally set subscription prices within the same platform where you interact with them already.
The prices start from $0.99 to $99.99. This way, you get a good deal of money.
4-) You can make money with badges
If you love to have live sessions, this method is the most suitable for you. When you have live sessions, viewers can buy badges to support you and get extra recognition. So, this can be a win-win case for both parties.
Viewers who purchase badges will see heart(s) next to their usernames. You can also see the total number of badges purchased, your total earnings, and progress on any goals you set.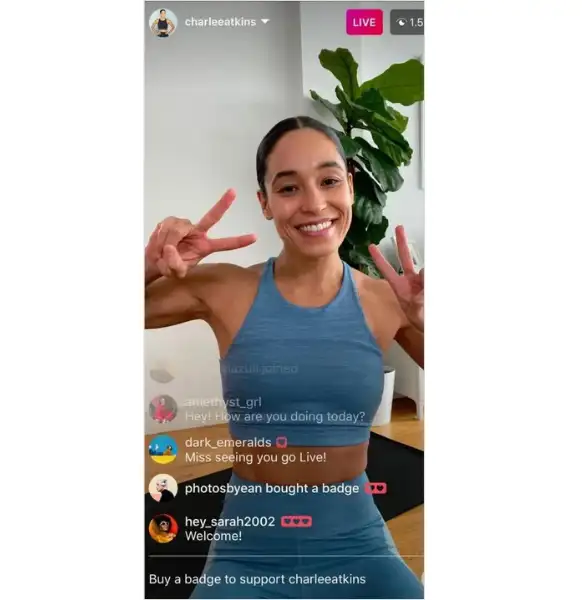 This method is not a direct method to make money with Instagram reels. This is because you don't have live sessions on reels mode.
Yet, you can still promote your live sessions and invite your audience to your live programs where you can sell badges.  
Even though this method may seem a bit stretching, believe me, promotion through multiple features and channels always works out perfectly.
Lastly, I'd like to remark on two things about live sessions. In cases you want to see more in-depth earnings, simply click "View" during your Live. Plus, if you want to see your total badge count, head to "Badges" in your professional dashboard at any time after your Live has ended.
This way, you can check the performance of your live sessions. Ultimately, the badge prices go incrementally from $0.99 $1.99 to $4.99.
How to make money from Facebook Reels
You can make money from Facebook Reels. Here are the tips:
Empower Your Imagination
Share reels in groups
Create and Explore Reels in New Spots
Use storytelling in your Facebook Reels
Create relatable content
---
All in all
With hundreds of millions of monetizable user numbers, Instagram is a great place to make money by either promoting your products/services or advertising other businesses' products.
Instagram Reels is a rather new member of Instagram, but it steadily gets more views. Consequently, the marketing and money-making potential of Instagram reels has increased.
For this reason, in this article,  I wanted to speak about how to enjoy the monetary opportunities of Instagram reels.
The number one condition of making money from Instagram reels is to have a decent Instagram profile and a good follower count that you can get with the help of Circleboom Publish.
Circleboom Publish enables users to plan, design, and schedule their Instagram posts and helps them manage multiple social media accounts from one dashboard.
Regarding the easiest ways of making money with Instagram reels, I listed four different methods:
Promotion of your products and services
Collaboration with other brands
Getting monthly subscriptions for your account
Selling badges on live sessions (and promoting these sessions on reels)
Lastly, I'd like to note that Circleboom Publish is always with you in all the steps I mentioned.
It's a super cost-effective tool with incredible pricing plans and a highly respected company that professionals like Netflix use.
---