TikTok has over one billion active users worldwide. Its videos receive millions of likes every single day. Trends are changing so quickly. Some day, you bump into new dance challenge videos. Another day, it's weird pranks and all.
But, TikTok's top 10 list is always there with us. They've been reigning (for a long while) on the charts of all-time "most liked TikTok" videos. The view numbers of these videos are tens of millions!
Some of them are celebrities, and some are not. In fact, I believe the real stars of TikTok are ordinary people. And they've made TikTok as it is now.
But, for its exploding popularities, celebrities also have TikTok accounts to stay in touch with their fans. Charlie Puth and Selena Gomez are just two of them posting on the platform regularly.
Enough for chitchat on TikTok's users. Let's get back to the topic! I've listed the top 10 most liked TikTok videos of all time in this article.
I hope you enjoy the list and want to take a look at the section on "how to be successful on TikTok."
Yet, first things first! Here are "the 10 most liked TikTok videos" of all time.
10 Most Liked TikTok Videos
1) M to the B of Bella Poarch - 58.7 million
M to the B lip sync video of Bella Poarch is the most liked video of all time. So, I gave the crown for the most liked TikTok video. It's still on the top till today. The video is a goofy lip sync video to Soph Aspin Send by British rapper Millie B.
---
2) Lip sync video of Jamie Big Sorrel Horse - 51.5 million
Another sync video is by Jamie Big Sorrel Horse (jamie32bsh). It's ranked second in our "most liked TikTok videos" list. Jamie's lip-sync video for the song Say It Right by Nelly Furtado went viral. The video is shot in front of Jamie's bathroom mirror. The simple & lovable video touched a chord with TikTokers and gave him 51.4 million likes in a short time.
---
3) Lip drawing video of Franek Bielak - 50.5 million
The psychedelic lip drawing video by Franek Bielak (fredziownik_art) is the third most liked TikTok video of all time. The video is too eccentric to show lip draws. The lips are super sparkling. And honestly, with Deep End by Fousheé in the background, the video gives a mesmerizing aura. As of August 2022, it has 50.5 million likes.
---
4) Lip sync for Sugarcrash by Nick Luciano - 49.2 million
Nick's (thenickluciano) has made a giant explosion with his video where he is lip-syncing to Sugarcrash! TikTokers adored the video, and it went viral immediately.
Nick has been posting TikTok videos about his cowboy lifestyle lately. Currently, he has more than 140 million users. Yet, his videos don't get more than half a million views anymore.
The view counts are still cool and but the wave that came up with his viral video seems to have faded away.
---
5) Twerking man  by ToTouchAnEmu - 44.7 million
David Allen (totouchanemu) created the video after getting inspired by another creator, maxtaylorlifts. The video has a smiling caption saying that
I may not have @maxtaylorlifts dumpy but I do have a drone.
David shot the video using a drone camera, with Justin Bieber's Stay playing in the background. So far, the video got more than  44 million likes. During the video, we see a 360-degree view of Allen with a blue button-up shirt on and white over-the-ear headphones.
---
6) Suave by Mona Gonzales - 41.2 million
The video was uploaded by Mona Gonzales (mngnzls) in March 2022. The video has a bit nutty caption saying, "It's time to wake up the neighbors," and Mona sings Suave by El Alfa El Jefe.
Honestly, Mona has a strong vocal, and I reckon that's the biggest reason why the video went viral.
She has a silky voice and positive vibe that earned her over 41 million likes, making this the sixth most liked TikTok video.
---
7) Dog too stoned to speak by Adrian Chateau - 40.5 million likes
Adrian's (adrianchateau) video is about her dog's reaction. In the video, an audio record plays: "Bark at your dog," and Adrian imitates a loud bark at her dog. The dog gets stoned by Adrian's audacity!
Adrian has only three videos on TikTok, and there's not much info about her on other social media platforms. Still, her video makes it the 7th most liked video of all time, with more than 40 million likes.
---
8) Time Warp Scan by Billie Eilish - 40.2 million
Billie Eilish is the only real (in the traditional sense) celebrity in the 10 most TikTok videos list. She is a killer with her records sold millions, and her 7 Grammy awards.
She posted this time warp scan video in 2020. It also happens to be her first video on TikTok. Billie flared up her nostrils while the app's scanner was going over her nose in the video.
The video went viral so fast and got 40.2 million likes so far.
9) Peeling a Banana by Khabby Lame - 37.9 million likes
Khabane Lame (aka Khaby) is a super sympathetic TikToker celebrity. He makes fun of people who overcomplicate things. He usually posts reactional TikTok videos where he showcases (obviously) simple ways to complete a task.
His "Peeling a Banana" video starts with a person meticulously peeling a ripe banana with a knife. Khaby then shows his viewers how easy it is to peel a banana. The sarcastic video is the most liked TikTok video on his account, with almost 38 million likes.
10) Camera pawing cat by British Promise Cats - 37.2 million likes
Cat videos always have a head start. Not a day passes without another cat video on-trend list. So, it wouldn't be surprising if there were no cat videos on our list. The last spot on the list is for the video of a ginger cat pawing at a camera.
The creator is British Promise Cats (britishpromise.cats). The recording camera is set on a tube just as big as the cat's face. The cat comes to look inside the tube, claws at the camera a few times and shoves its face in the tube to get a better look at the device.
This super funny and cute video became the ninth most liked video on TikTok with 38.1 million.
---
Having shown the 10 most popular videos on TikTok, you must've thought about what these influencers are doing right and how you can create popular videos on the platform.
I dedicated the next section for those who want to grow their followers and create popular videos that are going to be shared by thousands or even millions of people.
So, if you're wondering how to do it right on TikTok, come with me along with the article.
7 Best Ways to be Popular on TikTok
Want to join the most liked videos list on TikTok? If so, don't move! You're in the right place. I'm going to show you how to create a successful TikTok account and grow your TikTok followers over time.
TikTok is the newest social media platform on the scene. It is all about creating short and engaging viral video content. Yet, it is not easy to stand out among the millions of daily new content and grow a healthy following.
So, I've put together 5 actionable tips that will help you ramp up your profile and get more followers on TikTok.
These tips will skyrocket your popularity on TikTok. Just think of the fact that engagement rates on TikTok are higher than on any other social media platform.
Now, add on top of this fact the massive boost these 5 tips will give you soon! After that, it's not difficult to see the vast benefits you'll get from TikTok.
Especially if you consider using TikTok for marketing, you should definitely check the article here:
Now, let's go back to "celebrity-making" tips exclusive to TikTok. Here, we go to dive into what works in the TikTok world.
1. Get to know your target audience
Whatever your purpose for using TikTok, the first step in growing your following on any social channel is to ensure you know your content's target audience. In other words, ask yourself this question: do you know for whom you're creating your content?
Without asking this question, it wouldn't be possible to move on to more productive questions like "will the target audience really enjoy my content."
Don't forget that this tip is not only the most fundamental but also the most cost-effective tip on the list. That is, the more time you spend on getting to know your audience, way way more benefit you'll get in return.
There are several ways to do this while growing your TikTok follower count.
The first thing to do is the benchmark. Just take a look at competitors and influencers in your industry or niche. What kinds of content are they posting? How do they interact or engage with their audiences? What are the demographics of the target audience in your sector?
Take notes on the popular videos and make use of them to come up with your own unique ideas. By the way, don't forget to check out the TikTok downloader of Circleboom Publish.
Once download your competitors' video content, you can study whenever you want, be it online or offline. If you'd like to learn how to download TikTok videos without watermark in more detail, you can watch the tutorial YouTube video below.
Notwithstanding, you constantly remind yourself that it's sometimes all about trial and error while creating & settling down your image on social media. In fact, this is much more valid in the super spontaneous aura of TikTok.
You may need to go the hard way and try a million different types of videos that don't work out for you. Nevertheless, consider this pretty much like what Edison went through.
As he puts it, discovering what works ultimately is as valuable as learning what does not! Just be patient and study your audience smart & hard way.
2. Jump on never-ending trends
90% of TikTok is about trends! They are a huge thing on TikTok. And if you've used the platform before, you must've noticed a few videos that have the same sound clip.
The reason is that certain types of videos are trending. So, you can use these types of videos to join the club. You can also search the names of the videos in our list on TikTok. You'll run into millions of videos shot in similar ways, with the same song in the background, etc.
And the lip sync compilation video is a great example to show what trends look like on the platform. So, join the club by creating trendy video content on TikTok and enjoy the rise.
Head over to the discover page to see what hashtags and sound clips are trending for inspiration, and think about what trends you can use on your own feed.
3. Schedule your TikTok post calendar
With over one billion monthly users, TikTok has become a go-to platform for reaching new audiences on social media. On the other hand, consistent & regular posting is super important on TikTok if you want to make use of this incredible traffic on the platform.
Yet, if you're a busy social media manager or brand owner, finding time to post regularly on TikTok is easier said than done. How about I tell you there's an option that will let you both enjoy the benefits of TikTok while dealing with your own business.
Yes, it's two birds with one little stone. Enjoy the TikTok scheduler of Circleboom Publish that is about to be aired, most consistent and regular content, and save yourself from spending months of your valuable time boosting your TikTok account.
Cirleboom TikTok scheduler will let you schedule your posts in advance. Plus, it will offer a queue option to pre-set the time interval for posting.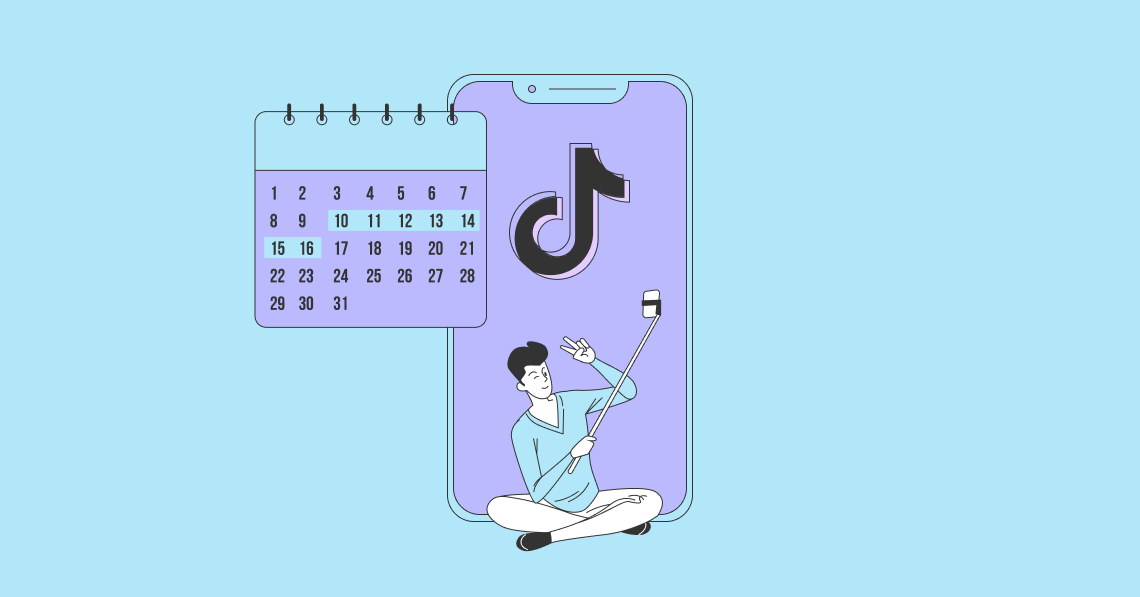 This way, both TikTok's algorithm, and your target audience will favor you and help grow a healthy account over time. Never forget TikTok algorithm gives incredible priority to your content's engagement rates.
The engagement rates are pretty determining on whether your video gets seen by more people. So, scheduling your content and satisfying both TikTok and its users will more than double-boost your TikTok.  
4. Find the best time to post on TikTok
It's highly important to find the best time to post on TikTok if you want your videos to get the most reach. You can find this information by heading into your business or creator tools and checking out your analytics.
Or you can rely on giant studies conducted by Hootsuite and Influencer Marketing Hub. While Hootsuite analyzed 30,000 accounts during the study, this number reached 100,000 in the case of Influencer Marketing Hub.
Let's check out the findings of Influencer Marketing Hub (because it's the more comprehensive one) and see if there's anything we can learn from them regarding our TikTok strategies.
However, remember that the findings of these studies should just give you a sense of at what times and days TikTokers are more likely to be active. After, we don't live in the same geographies, and our target audiences are not the same. But, I believe the findings are still pretty insightful.
I'll explain the findings of Influencer Marketing Hub.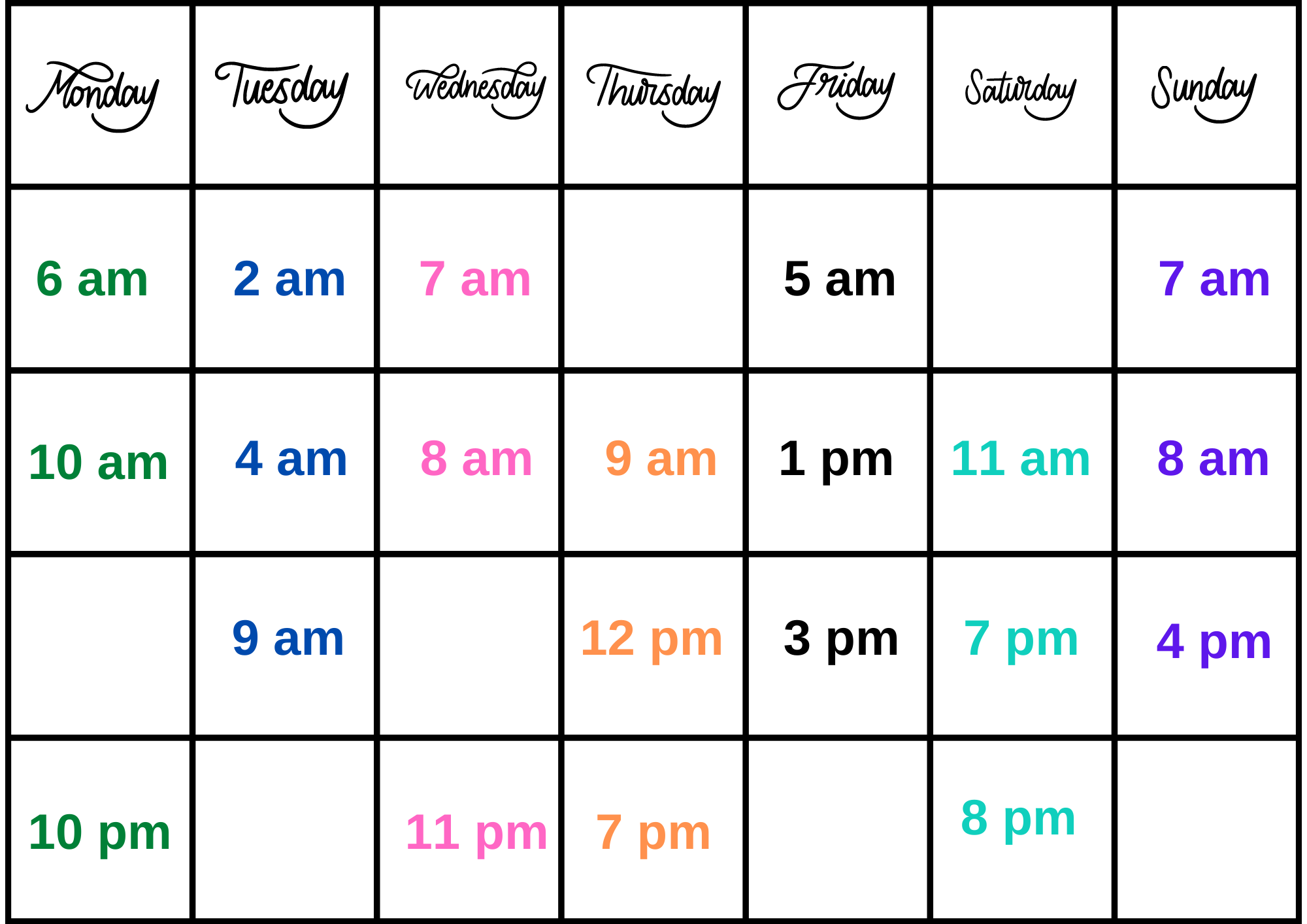 This study shows the best hours to post on TikTok. It is all expressed in Eastern Standard Time (EST) and based on more than 100.000 global TikTok posts and engagements.
The study findings are as follows:
The best times to post on TikTok on Monday: 6 am, 10 am, and 10 pm.
The best times to post on TikTok on Tuesday: 2 am, 4 am, and 9 am.
The best times to post on TikTok on Wednesday: 7 am, 8 am, and 11 pm.
The best times to post on TikTok on Thursday: 9 am, 12 pm, and 7 pm.
The best times to post on TikTok on Friday: 5 am, 1 pm, and 3 pm.
The best times to post on TikTok on Saturday: 11 am, 7 pm, and 8 pm.
The best times to post on TikTok on Sunday: 7 am, 8 am, and 4 pm.
They are the best or prime times to post on TikTok if you're living in Eastern Standard Time Zone. But, surely they should be arranged for different time zones.
If you're interested in reading more about studies on the "best times to post on TikTok," you can check the article below.
Lastly, always keep in mind that the results are not precise. They rather give you an idea of how to adjust your post times on TikTok.
5. Cross-promote for extra engagement
By the time you've conceptualized, written, and shot a TikTok video, you may think your job is done once you send it to the popular platform.
Well, that's not true. Better think of that again!
Just because you may have created a video specifically for TikTok, it doesn't mean it can't be posted to other social media platforms. Plus, growing your reach on social media has always been a great idea.
Thinking other social media platforms also have millions of different users than TikTok, why would we limit ourselves to posting only on TikTok? The more platform you promote your TikTok on, the more followers your account will attract from different channels.
Keep this between you and me, the TikTok algorithm loves visitors from other platforms! It automatically rewards you immediately with higher ranking factors.
It's important to keep in mind, however, that you shouldn't post the same piece of content to multiple social media platforms all at once. Give your content time to breathe and grow before trying to cross-promote on other platforms like Instagram, Facebook, etc.
To share your TikTok videos on your other social media accounts with one click, you can use Circleboom Publish.
Circleboom Publish
It supports Twitter, Instagram, Facebook, Pinterest, LinkedIn, Google My Business, and TikTok in one dashboard.
Try Circleboom Publish
Lastly, if you're now convinced of the importance of cross-promotion, this one question may stick in your mind. But what is the best social media platform for cross-promotion?
I'll discuss the similarities and differences between TikTok and Instagram in the following section. Yet, for the time being, I'm just going to say cross-promotion and posting across TikTok and Instagram is a killer move.
There's just one little problem here, though! Once downloading a video from TikTok, it has a watermark with your TikTok handle. So, you may consider using Circleboom TikTok video downloader before posting your TikTok videos on Instagram.
This may give you a limp in promoting your TikTok on Instagram, but it's pretty easy to pass over. Just share in your comments where Instagrammers can find you on TikTok.
6. Engage with your audience & other creators using unique TikTok features
You must've seen TikTok duet videos across different social channels (as below). If you have more eyes on your TikTok profile, one of the best ways to do this is to engage with other videos.
You can do it by liking, commenting, and stitching/dueting other users' videos.
Engagement is by far the best method if you want to extend your reach on TikTok. And dueting or stitching other TikTokers' videos is the most enjoyable way of achieving your goal on TikTok.
For those who are unfamiliar with TikTok terminology:
Stitching allows adding your own video onto the end of the clip of another user's video. This is perfect for adding your own comments/reactions or additional content to an existing video.
Yet, make sure to stitch or duet videos that are hyper-relevant to your account. If the videos have nothing to do with your niche or industry, just keep engaging with those specific creators by liking and commenting on their videos.
Another excellent way of increasing engagement on TikTok is inviting other TikTok creators to challenges. You're highly recommended to participate in the same TikTok challenges that your target audience specifically takes part in.
In addition to inviting creators to existing challenges, you can create your own challenges on TikTok.
7. Beware of hashtag management
Just like on Instagram and other social media platforms, hashtags help users find your content on TikTok. They are the links with which social media platforms direct you. Plus, hashtags help store similar content in the same places.
So, it's highly important to make sure you're using the right hashtags. Your hashtags have to be relevant, search-friendly, catchy, and trendy. Otherwise, TikTokers are much less likely to run into your content on the "Discover" section on TikTok.
People generally stuff their TikTok videos with trending hashtags. However, this is never a good idea unless all the hashtags you're stuffing your post with are related.
In this case, it's pretty likely that your account will give a spammy impression from the outside.
Instead, type in relevant hashtags when creating your caption to see how many views those hashtags are getting. Plus, never forget to include the ever-popular #fyp or #foryou hashtags.
These hashtags are popularly used to get your videos on the "For You" page. While the effect of these hashtags on placement hasn't been confirmed, their widespread use can still expand the reach of your content.
---
Long story short, this was the last tip on how to be successful on TikTok and increase your followers in a short time.
In the last section of this article, I want to focus on another important issue related to TikTok.
As already mentioned above, TikTok and Instagram have a lot in common. Both platforms are visual-oriented and highly popular among Gen-Z.
I thought, why wouldn't I go into more detail and limit myself to suggesting tips only on TikTok? So, I decided to delve into the differences between TikTok and Instagram.
I'm sure next section will give more insight about being successful and growing followers on both Instagram and TikTok.
Plus, bear in mind that playing on both platforms will have a synergistic effect in growing your follower count and popularity over time. So, it's better if you think of the two platforms as one.
If you want to stay with me, it's now time to check the differences between Instagram and TikTok.
5 Differences between Instagram Reels and TikTok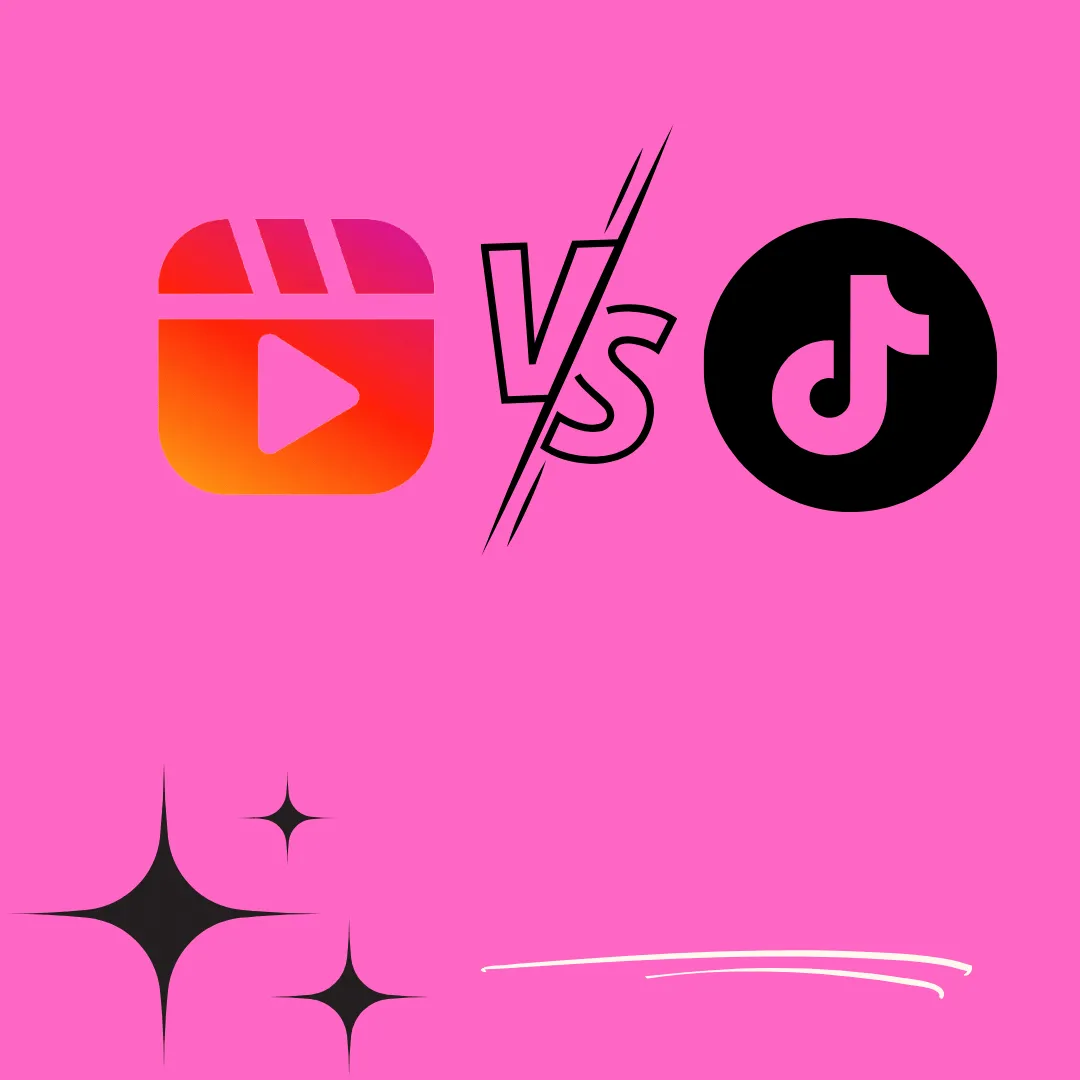 Before talking about the differences, let's take a moment to go over the similarities between Instagram Reels and TikTok. I can sum up the similarities in three points.
Both platforms are centered around short-form video
Both Reels and TikTok are top-notch places for fun, off-the-cuff videos. There's no better place to see brands flex their creativity.
Distinct opportunities to engage
Reels' "Collab" and TikTok's "Duet" options function pretty much the same, allowing accounts to interact side-by-side and create new pieces of content altogether.
Access to a sound library
Both Instagram Reels and TikTok allow users to seamlessly attach sound effects, music, and audio snippets to any given piece of content. From memes to the original audio, you can access sound libraries that will help brands make their videos "louder."
Yet, there are also striking differences that are definitely worth mentioning!
TikTok has been snowballing lately with its short-form video-focused strategies, while Instagram offers many different features in a singular app, such as Reels, Feed posts, Guides, etc.
Let's now the 5 distinct differences between Instagram Reels and TikTok.
1. Audience graphics
Statista says the primary Instagram user audience was between 25-34 years old. The users within this range represent more than one-third of the platform.
On the other hand, TikTok takes the lead on younger audiences. More than 40% of all TikTok users are younger than 30 years old..
Therefore, if you want to target Gen-Z (people born between 1997 and 2012), you'll be better off focusing on TikTok, while millennials (people born between 1981 and 1996) can be found on Instagram.
2. Video length
Both TikTok and Reels have actually expanded the duration of their videos since launching. TikTok began with 15, 30, and 60-second uploads but now allows for videos up to 10 minutes long.
Instagram Reels also offers three video lengths of 15, 30 and 60-seconds. Even with these expanded options, Mireia Boronat (the executive at Social Shepherd) says that:
As a general rule, it's good to stick to 7 to 15 seconds, as short Reels tend to loop and will count as multiple views. Then, the algorithm picks up that your video is getting many views and pushes it to more users.
Yet, it still depends mostly on your content and audience, but you'd be on the safe side when you don't know with which video length to go on.
3. Analytics
TikTok analytics tracks both the overall profile and individual video performance. This includes big-picture metrics like total playtime, average watch time, and geolocation.
While Instagram users similarly had to rely on general Instagram analytics, the platform rolled out Reels-specific data to get specific insights. This covers metrics such as plays, interactions, reach, likes, comments, and saves.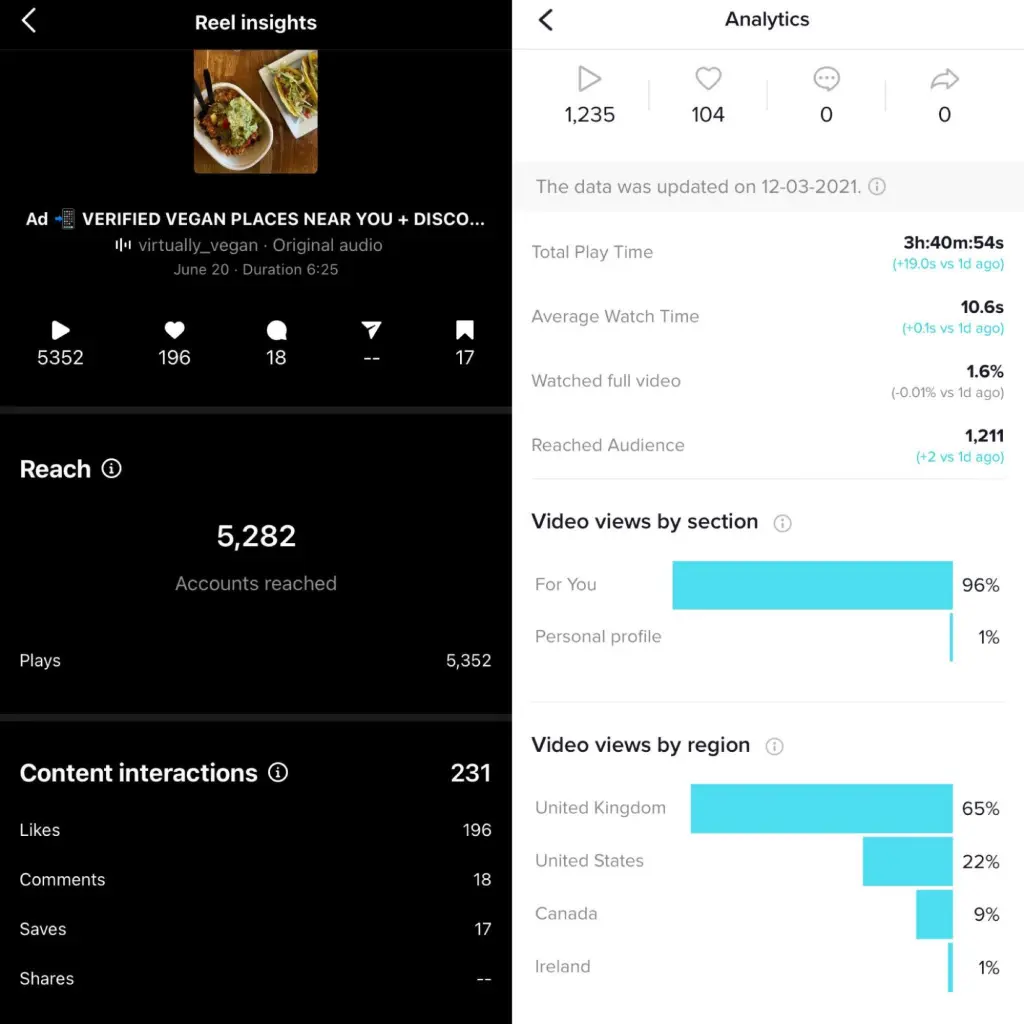 However, as the image shows above, the analytics of TikTok is more extensive. So, in this respect, TikTok definitely wins over.
4. Advertising opportunities
Both platforms have an immense number of active users, and both are rolling out new ad features.
That being said, it's important to note TikTok gives a much greater emphasis on creator-based ads and campaigns, while Instagram still has more traditional, shoppable ads via Reels.
So, Instagram Reel seems more suitable for traditional products or brand promotion. On the other side, TikTok offers more fashionable promotion opportunities.
For instance, you can collaborate with TikTok influencers to promote your brand and can reach larger audiences.
5. The difference in reach
Above all, let's get this one thing straight. TikTok is still the place where organic content leads.
By my side, this is the most important difference between the two social channels that both TikTok and Instagram offer varying opportunities in organic reach.
Although the Instagram landscape is becoming more challenging to navigate without the help of ads, TikTok still lets more authentic (but non-paid) content to rank higher more easily.
This point is especially critical for social media beginners. As a brand crafting your social media journey, there are tons of benefits for you to get from entering TikTok.
Over time, you can later direct your audience or followers to your other social accounts and kill many birds with one stone.
However, I better remind you once again of the demographics issue about TikTok. It's true that TikTok is practically the organic growth potential heaven for you. Yet, it won't get you places if your ideal customers are not TikTok users.
This is surely a statement of the obvious. But, especially newcomers may overlook these simple but critical points.
But, again, the golden rule is to focus your marketing efforts on both (and more) platforms at the same time.
Wrapping Up
TikTok is a super controversial and also super popular platform. It has more than one billion active users worldwide, which is expected to rise significantly in the next decade.
Its videos get millions of likes daily, and trends are flowing quickly. Yet, the best is always best (for the moment at least) when it comes to "most liked TikTok videos" of all times.
They've been reigning on the top for a while. Therefore, we wanted to share the best 10 videos among the most liked ones and wanted to discuss what makes them so special that they went viral worldwide.
We've seen that except for Billie Elish's video, all the others belong to ordinary people. I believe this fact proves an important thing about TikTok. It's definitely an organic growth potential heaven.
In other words, it allows ordinary people to stand out without having to spend a fortune on content promotion. In fact, this is where TikTok and Instagram Reels come apart.
In the rest of the article, I shared 7 essential & concise tips to be successful on TikTok. After all, why I wouldn't share your viral video next time!
All you need is to start with the right steps and be patient. While doing so, knowing your audience is the first move to take.
Answering in advance questions like who you're going to deal with, who's on the platform, or what content types are prevalent in your niche is an excellent starting point.
Secondly, consistent and regular posting are two critical tasks that you must achieve if you want your Instagram Reels or TikTok strategies to work.
However, if you're already overstretched with your workload and everything, things change. This advice wouldn't then sound doable to you!
Don't worry, though! Circleboom Publish is at your disposal if you don't have time to spend on TikTok but if you still want to get your share out of the platform.
Circleboom Publish is one of the most user-friendly social media management tools on the market. It makes scheduling super simple and provides numerous services for its users, like post scheduling, queuing, and content curation.
You can also manage your multiple social media accounts in one dashboard with Circleboom.
What's even better is that considering the prices per social account, Circleboom Publish particularly stands out among other tools. The price plans are incredibly affordable.
Plus, it is trusted and enjoyed by professionals.
---