Wanna know how to post to multiple Facebook Groups at once?
You need to know the different ways of using Facebook to operate practical actions for your business on Facebook. To have an account on Facebook would be utilized for various aims.
Think about Facebook's sphere of influence! It has almost 2 billion and 2.96 billion daily and monthly active users as of 2023 respectively.
You should first know the features and specific areas to make your business have a robust social marketing strategy on Facebook.
There are Facebook profiles, Facebook pages, and Facebook Groups you can create. These three types have different features you would need to implement the social media campaign of your business on Facebook.
After learning the differences between these distinct spaces, you can generate content relevant to them. For instance, you can efficiently post to multiple Facebook groups for your brand or organization.
---
What are the differences between Facebook Profiles, Pages, and Groups?
Facebook profiles are the private space of your account on this platform. You can communicate with people, like and comment on posts, and join groups. There is a limit that you cannot create more than one Facebook profile.
Facebook allows its users to have many Facebook pages. Facebook pages are public fields that businesses and organizations can utilize to present their works and brand. You need to merge it with a personal account to have a Facebook page.
The primary feature of a Facebook page is to announce the news, launch campaigns, and make the content and products related to your brand public. It is accessible to anyone who searches the page on the Internet.
Facebook Groups are places where your audience, customers, and people interested in your brand or organization come together and engage with each other.
Three types of Facebook Groups
Facebook offers two categories of groups you can utilize: public and private.
Anyone can find public groups, and every Facebook user can join these groups. Everybody can see the private ones in the search results. However, you cannot be a member of it automatically. Your request needs to be approved.
Public Facebook groups would be helpful for the social media marketing of your business or organization.
---
How to create and post to Facebook groups?
You must have a Facebook account/profile to create a Facebook group.
Step #1: Find the menu in the top right of the Facebook home page. Then, select "Group" in the "Create" section.
Step #2: Choose a group name and enter it.
Step #3: Select the privacy section. Another option will appear as hidden or visible if you choose the private one.
Step #4: Invite people to your Facebook group.
Step #5: Click "Create" to finish the process.
To manually post to a Facebook group, you need to navigate to the group. Then, you can find the box close to your profile picture at the top of the group page. You can enter the content in this box to be published.
You can apply these steps to constitute more than one Facebook group. However, administering and engaging with multiple Facebook groups would be less easy.
Know the efficient ways to post to multiple Facebook groups!
If you want to put social media strategies for your business or organization into action on Facebook, you need to have Facebook pages and groups.
The former is significant as an informative showcase of your brand, which the target audience can learn about your business and products. The latter is also crucial to contact people, increase engagement, and lead generation on Facebook.  
Having multiple Facebook pages and groups requires careful management, which would take too much time and energy.
---
How to post to multiple Facebook groups?
Make digital marketing of your business manageable through Circleboom Publish! Using external social media management tools would make your existence on Facebook more professional.
To post to multiple Facebook groups smoothly, you can follow the steps below.
Step #1: Go to Circleboom. Find "Get Started" with Circleboom Publish.
Click on the  Publish section.
Step #2: Enter your information: email address and password.
Log in to your Circleboom Publish account.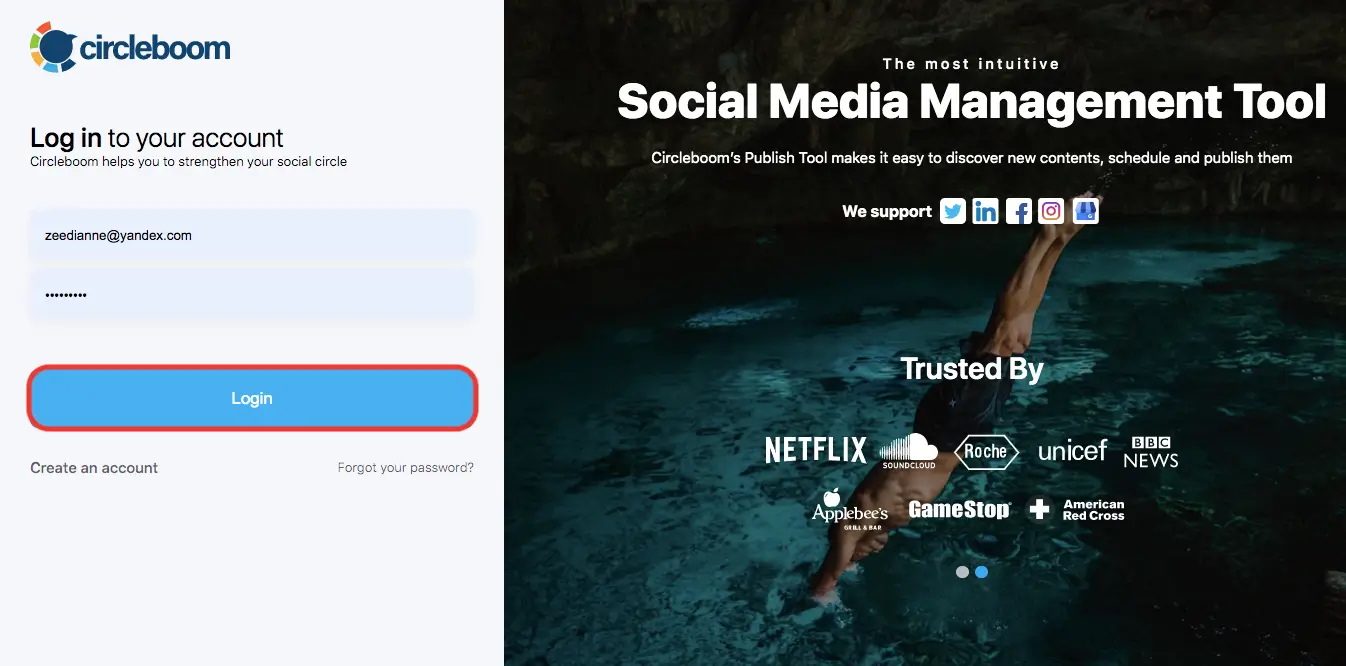 Step #3: You can select accounts and forms of accounts on different social media platforms on the dashboard.
For Facebook, you can select your Facebook groups to link to the Circleboom Publish.
Step #4:  Click on the big, blue "Create New Post" button in the middle or navigate to the left.
You will go to the page where you can create content to post to multiple Facebook groups.
Step #5: You can choose your Facebook group by clicking on the "Select Account".
Here you can choose more than one Facebook group and click on "Done".
Step #6: You can generate your content to post to multiple Facebook groups at once.
You do not have to post instantly. In the post review section, you can see the options for publishing posts.
You can choose either "Add to my Queue", "Schedule it", or "Post".
In other words, you can create content in advance and accumulate them to be posted when you select. It would save you time, allow you not to be in a hurry, and have a tidy schedule for the social media management of your brand or organization.
You can get help from the video instruction to post to multiple Facebook groups:
In addition to this section, there are other side features you can benefit from.
Use a full-fledged social media design tool!
Below the "what would you like to share" section, you can find tools that would help your content creation process.
If you click on Giphy, Unsplash, and Canva, you can access stuff related to the design of your posts.
You can click on "Design on Canva". Then, select "Facebook post".
Be rich with the content!
Facebook groups are significant for social media engagements on Facebook. People come to these groups to like, comment, discuss, ask questions, and learn about your brand's products, organization's works, or the sector.
To be updated and dynamic on Facebook groups, you need recent and new articles.
Circleboom Publish's article curation tool can assist you.
You can find "Discover articles" in the sidebar on the left-hand side of the dashboard.
Take an intuitive social media automation tool!
You might not want to check and publish content manually from a website you want.
Circleboom Publish offers an RSS Feed tool to automatically post to multiple Facebook groups from your selected resources.
Step #1: You can find the "Connect a new RSS Feeds" section in the sidebar.
Click on it to arrive at the relevant page.
Step #2: Then, you will navigate the page where you can select accounts and enter the information about the resources and your RSS Feeds.
Hence, you can give less effort to transform the content from the website you want to be linked, like your brand's website, to a social media post on multiple Facebook groups at once!
Circleboom Publish's RSS Feeds feature will post to multiple Facebook groups at once automatically for you.
---
Wrap up
Facebook separates the forms of account, such as profile, page, and group. Facebook groups are community-based forms to exist on Facebook.
You would need to have both as a business because each aims for different connections.  At the same time, it would make the management of all complicated when there are many Facebook groups and pages.
You can learn the easy ways to organize the social media management of your brand or organization. Circleboom Publish presents a variety of features that would prevent you from a messy administration. Indeed, you can simplify the management to post to multiple Facebook groups at once!
---