Creating alt text for images on social media is easier than you think. All you need is to imagine yourself as a blind person that needs some description to understand what the image is about.
With some empathy and examples as below, you can easily create loads of descriptive and helpful alt texts.
You can check out the example below to see how you should create your own alt texts on social media.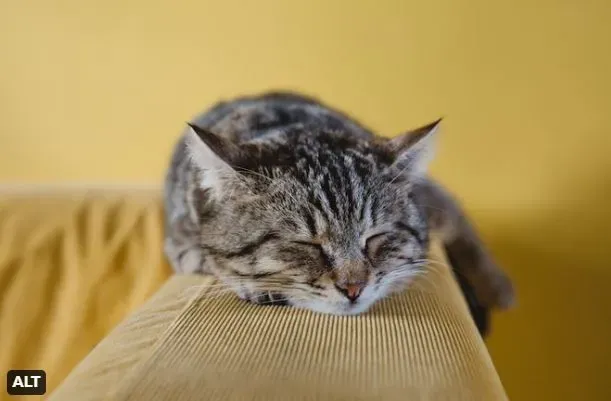 For the cat picture here, alt texts like "a cat sleeping on the couch" are not bad. But, an alt-text such as " a tabby cat sleeping on the couch" would be the most appropriate.
As you see, rather than stuffing the alt-text with keywords, my focus was to describe the image as clearly as possible.
However, I know that you may not have all the free time to create suitable alt texts every time you'll post something on social media.
After all, time is the most scarce resource, considering our daily hustle.
For this reason, I wanted to share the best 5 scheduling tools that allow adding alt-text to your social media posts.
Circleboom Publish
Circleboom supports Twitter, Facebook, Instagram, Pinterest, LinkedIn, Google Business Profile, and TikTok (soon).
TRY CIRCLEBOOM PUBLISH
Circleboom Publish is the best social media management tool if you want to schedule posts containing images and GIFs with alt texts. It supports alt text adding feature for  Twitter, Facebook, Pinterest,  LinkedIn, and Google My Business (GMB).
Circleboom Publish allows you to manage your multiple accounts in one dashboard. If you have numerous accounts to manage, Circleboom Publish is the best option for you!
You can share right away or schedule your posts with alt texts for a later time and date. Besides, with the queuing property on Circleboom, it's dead simple to keep your profile updated and active.
All you need is set time intervals and automate your photos; the rest is on Circleboom Publish!
On the other side, Circleboom Publish has a very unique feature for Twitter fans. You can use the Twitter thread maker of Circleboom to create, design, post, and schedule your Twitter threads for multiple accounts in one dashboard.
While creating attractive threads with the help of built-in tools like Canva and Unsplash, it's super easy to add alt texts and increase the thread's accessibility to a larger audience.
Even better, you can prepare all your images and GIFs along with the alt texts in a single, user-friendly dashboard.
Now let's see how you can use Circleboom Publish to create and schedule posts with image texts on different social media platforms.
How to add alt text to social media post images with Circleboom Publish
Once uploading your images, check out on "preview" section, and click on the book icon to create alt text for your post.
Currently, Circleboom Publish supports adding alt text on Twitter, Pinterest, Facebook, and Google Business profiles. Plus, LinkedIn will soon be supported for adding image alt text.  
So, you can use Circleboom Publish to publish image alt text across all major social media platforms and increase your reach.
Still, the best thing about the alt-text add feature of Circleboom Publish is that you don't have to create alt text for every single platform. Just write one simple alt text, and Circleboom will share it on all the platforms you wish to.
Afterward, you can set the time to share your posts. Plus, with the queue feature, you can auto-post your images containing descriptive alt texts with the time intervals you define.
If you want to auto-post images at pre-set time intervals, go with the "Add to My Queue" option. This way, you can always keep your account updated and fresh.
If you want to watch how you can use Circleboom Publish to add alt text to images for your tweets, here is a tutorial for you:
On the other side, if you're not familiar with scheduling your post on Circleboom Publish, you can follow the next steps below.
Step #1: Go to the Circleboom Publish and log in or create your account in seconds.
Step #2: After authenticating your account, click "Create New Post" and go to your account list.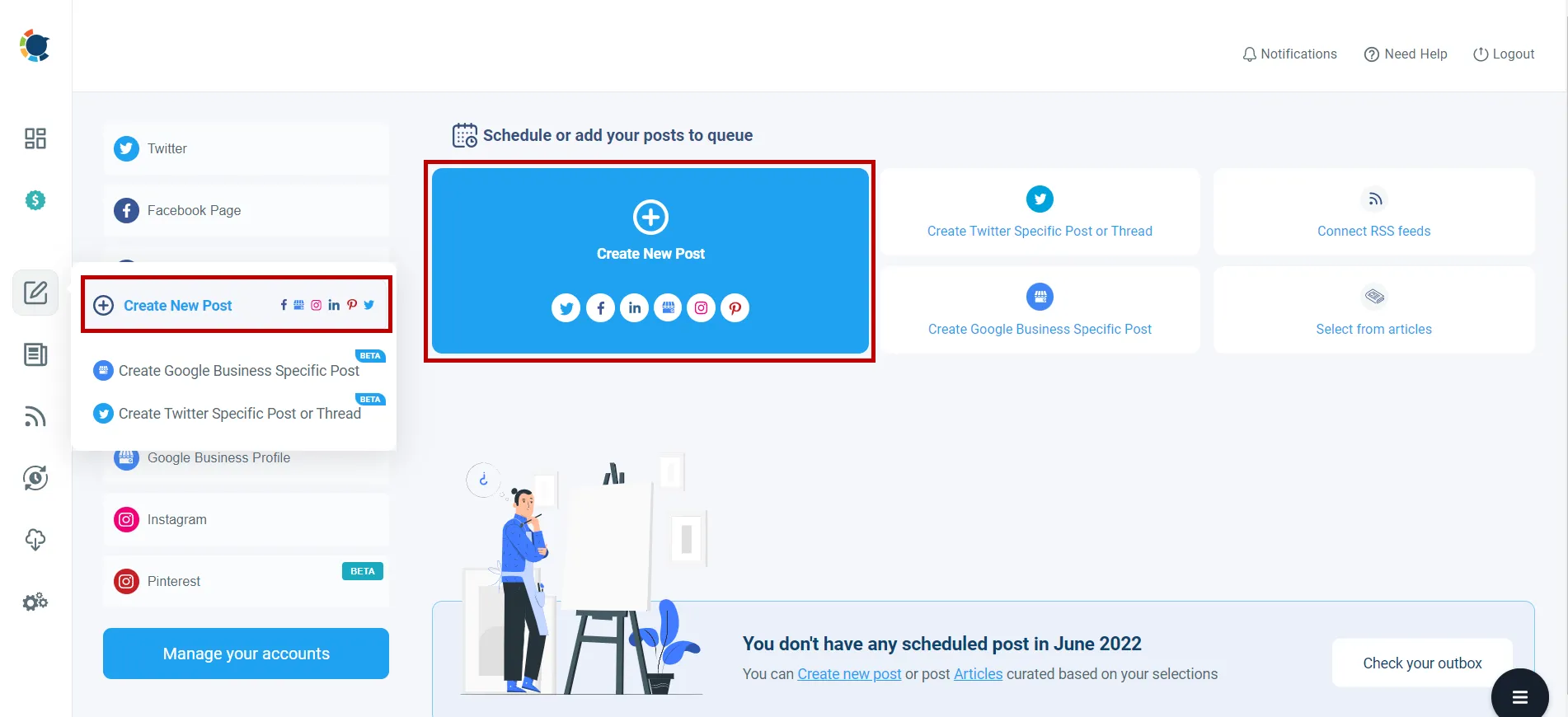 Step #3: Choose the social media accounts for which you want to schedule image posts with alt-text.
After connecting your social media accounts, you can easily select where you want to schedule your posts and add alt texts.
Step #4:  You can now select the account that you want to schedule the image posts to that you'll add alt texts.
A new window will pop up after clicking the account selection box.

Step #5: You can upload images or choose from Unsplash or Canva after choosing your accounts.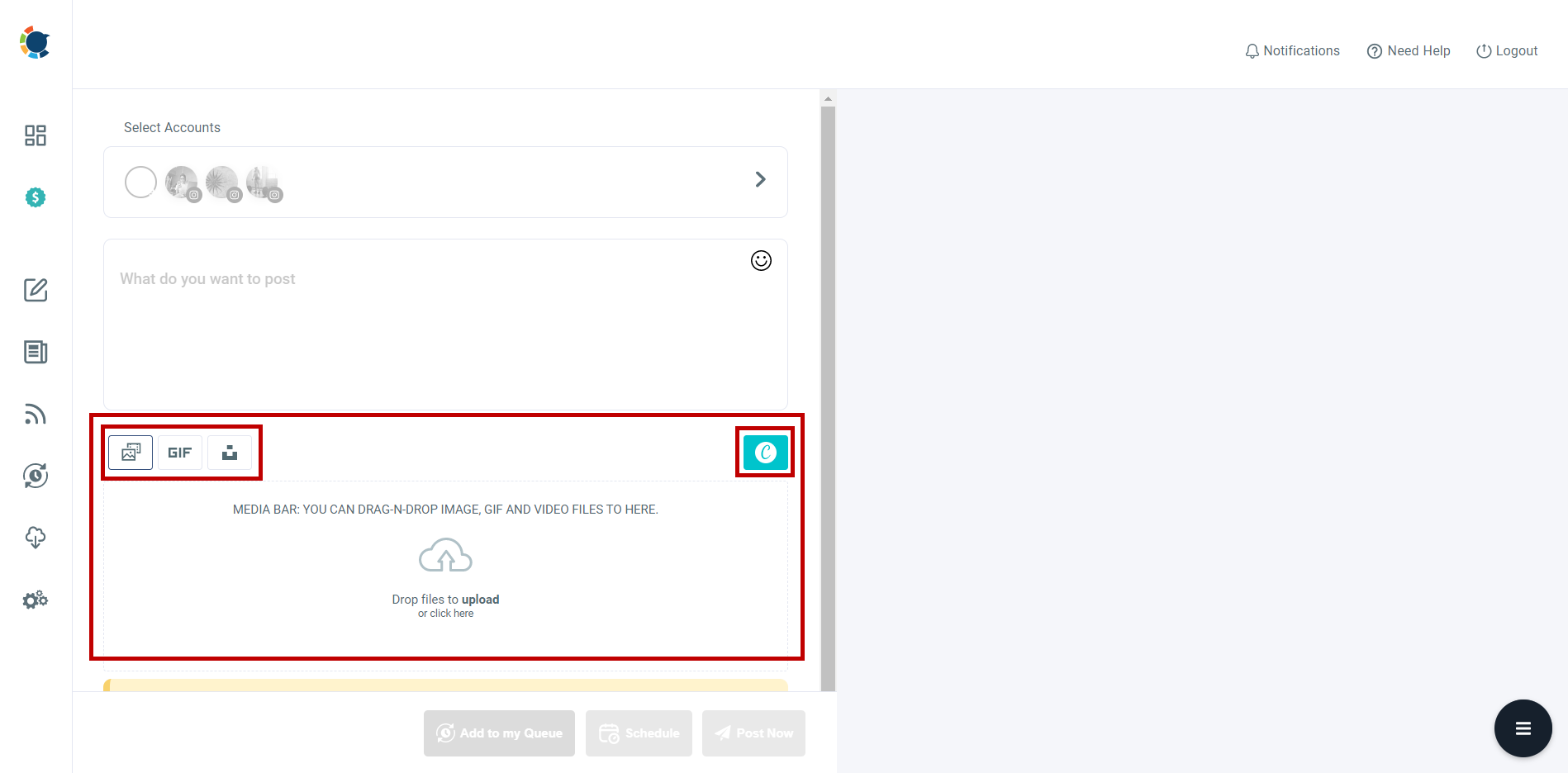 While doing so, don't forget to check out the amazing templates and images on Canva and Unsplash.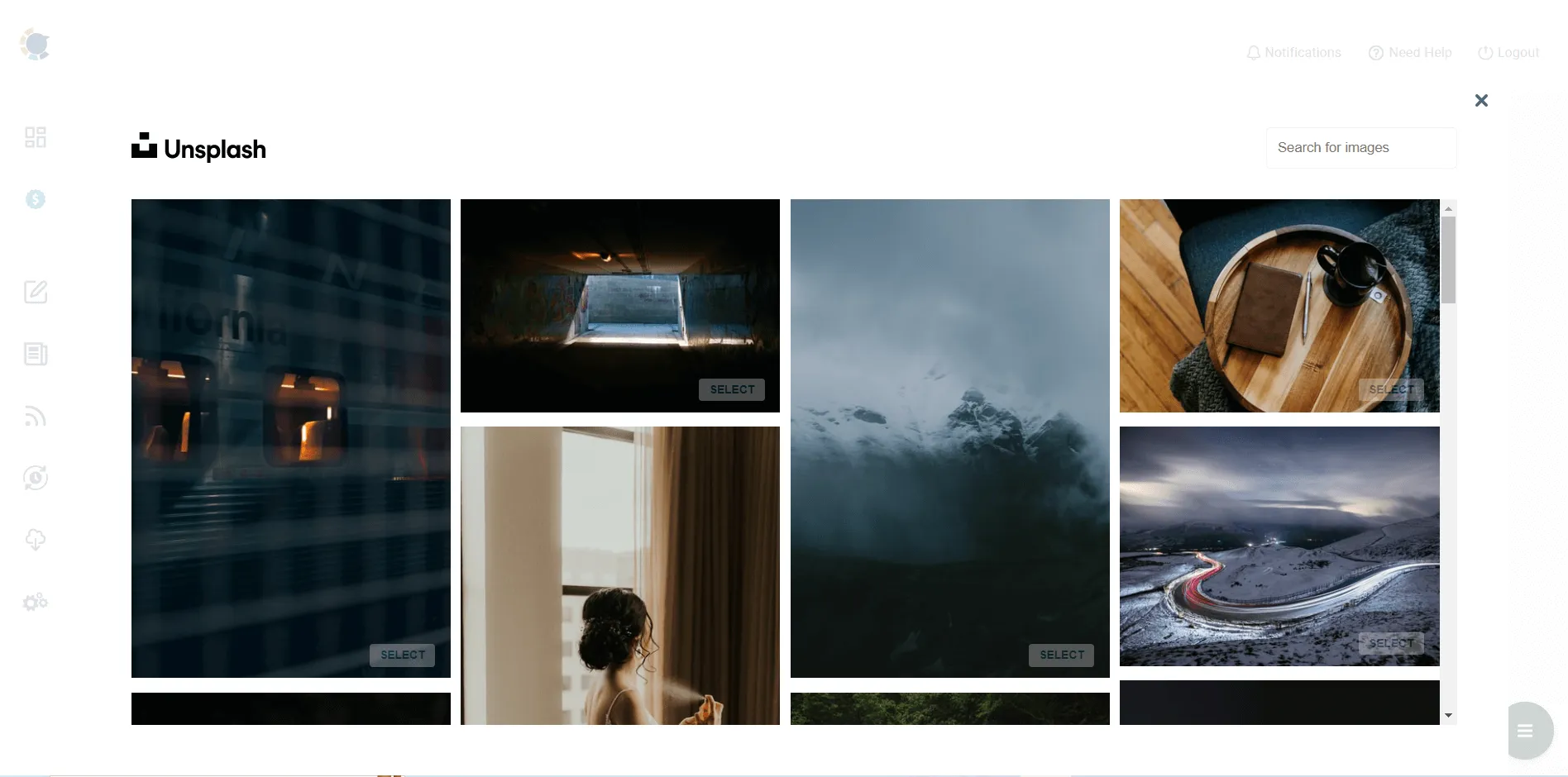 After covering how you can use Circleboom Publish to post images with alt text across different platforms, it's time to check other tools on the market.
Let's explore other tools altogether!
---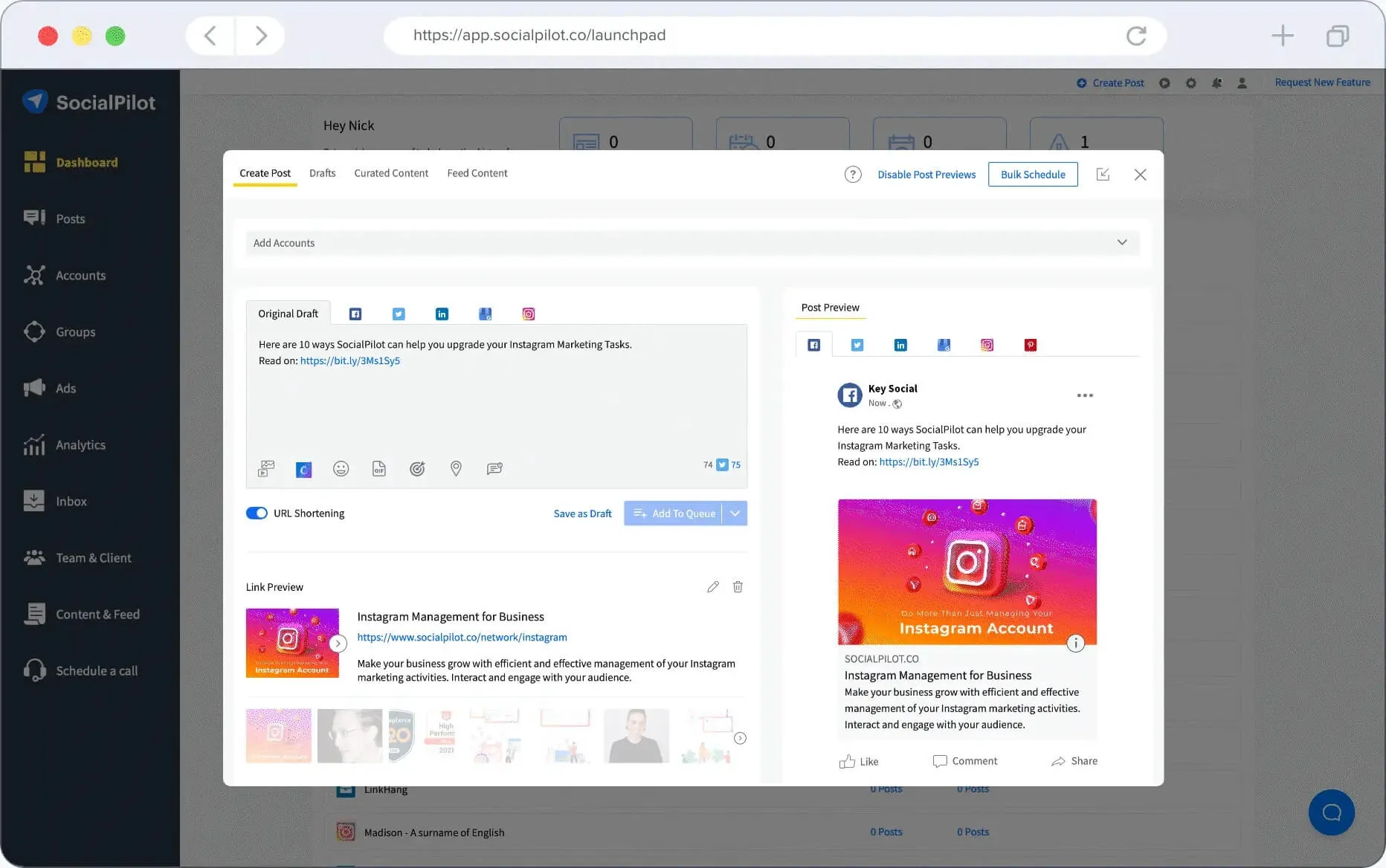 SocialPilot is one of the most effective social media management tools. With its scheduling and social inbox feature, you can easily manage multiple social accounts in a single dashboard.
So, if you want to put your social media accounts on "auto-pilot," SocialPilot is worth giving a shot!
On the other side, SocialPilot is one of the few social media management tools that support adding alt texts to images on various social channels. Currently, the tool allows you to add alt text on Facebook, LinkedIn, and Twitter.
Plus, you can add alt texts to GIFs on LinkedIn and Twitter. Here is the article to read more about how to use SocialPilot to add alt text to your social media images.
---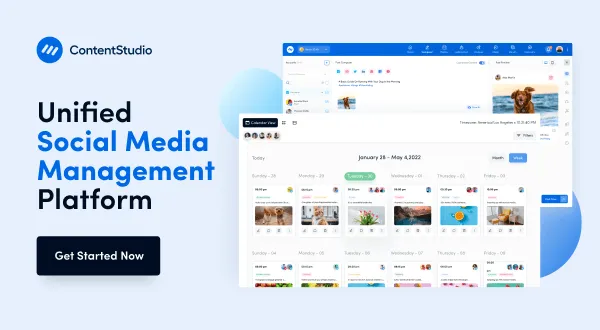 Content Studio has all the tools you need to centralize your content marketing operations for all of your social and blogging channels. The social channels that Content Studio supports include but are not limited to Twitter, Medium, WordPress, and Shopify.
So, whether you want to be active on major channels like Twitter or blog sites like WordPress, ContentStudio is a suitable option.
Besides, the reviews on the tool's main page show that customers are content with the built-in content creation and analytics tools of Content Studio.
On the other hand, unlike Circleboom Publish, Content Studio supports adding alt text merely on Twitter. With the help of Content Studio, you can easily add alt text for images you'll post on single tweets or threads.
If you want to find out more about how to use Content Studio, you can check out this article.
---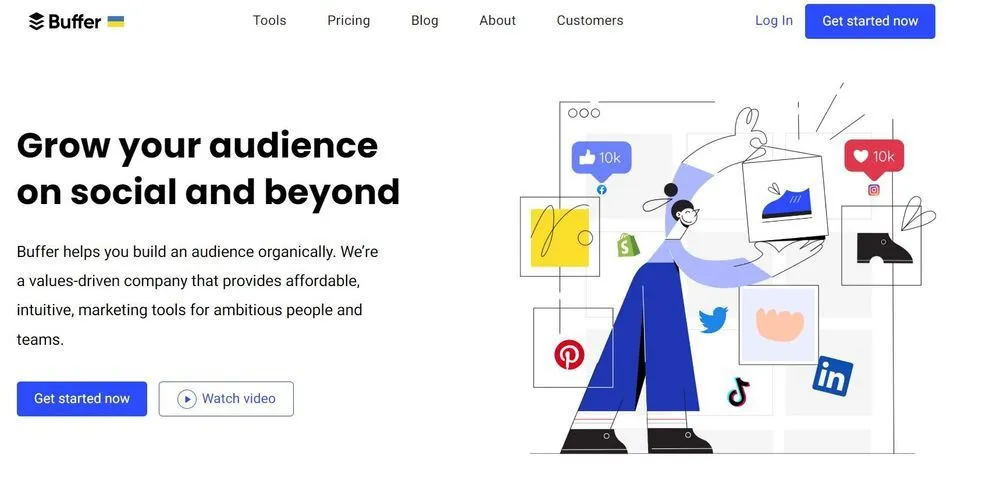 Buffer is an excellent social media scheduling tool that supports adding alt text to images. It's a well-known and esteemed tool that big companies like Shopify and Spotify trust and use.
Currently, along with the scheduling feature, Buffer allows users to add alt text to images scheduled on Twitter, LinkedIn, Pinterest, and Facebook.
With the alt text feature, the company states they want to increase accessibility as much as possible for disabled people on social media.
If you want to read the accessibility statement of Buffer and learn how to use Buffer for adding alt text to the images that you'll post on social media, you can check this article.
---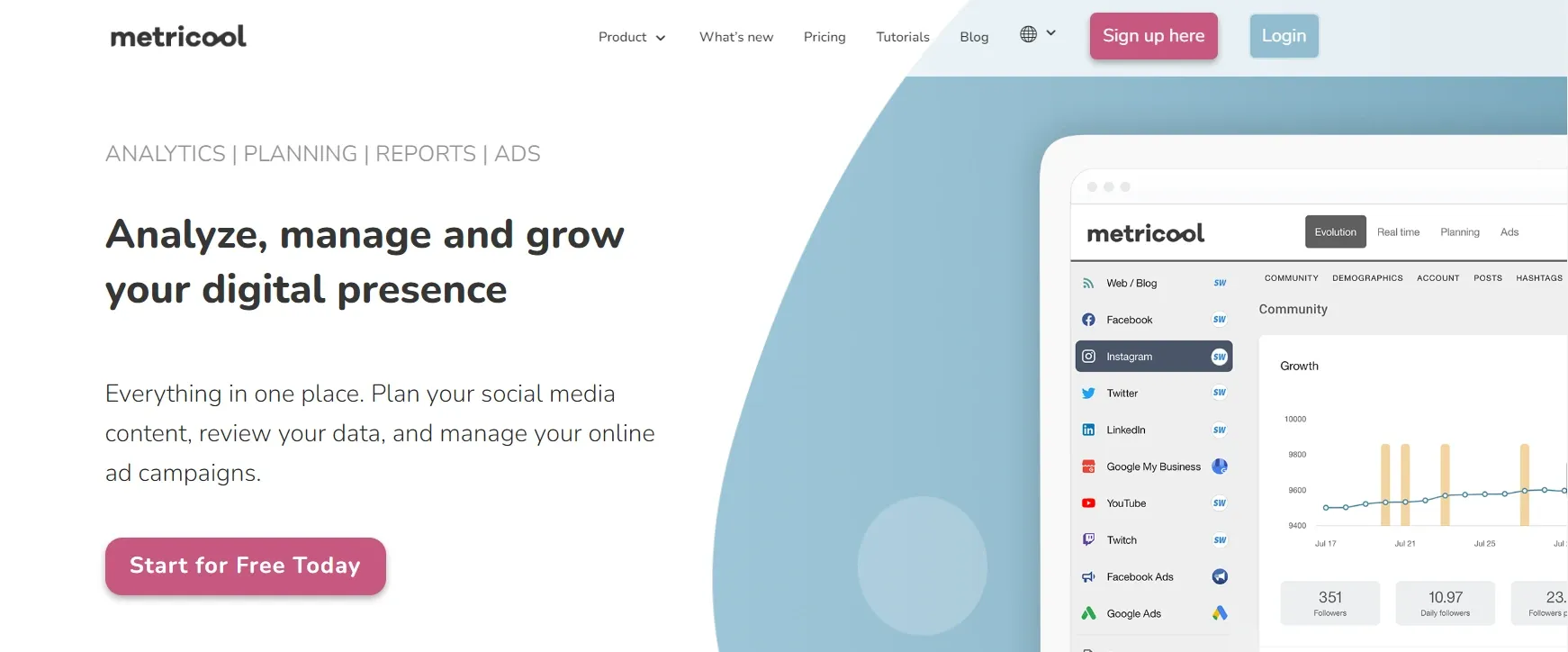 Metricool is the last social media scheduling tool on our list. Although it's not a well-known social media management tool, its scheduling and analytics features are promising and smooth.
Plus, it's important to note that the platforms Metricool supports include also YouTube and Twitch, along with other casual ones like Twitter and Instagram.
On top of its wide platform support range and features like scheduling, the alt text feature made Metricool in the list.
The platforms that Metricool allows adding alt text are Facebook, Twitter, and Pinterest. Plus, unlike Circleboom Publish and SocialPilot, Metricool supports only adding ALT text to images (not GIFs).
You can check out the article if you want to read more about the tool's alt text feature.
---
All in all
We all must've seen images with the text "ALT" written on them. ALT stands for alt or alternative text used to describe images.
There are two major reasons why alt texts are used:
Enabling the visually impaired to understand and enjoy the images posted on different platforms like Facebook and Twitter.
Making it easier for search engines to understand what the images are about.
For these reasons, major social media platforms such as Pinterest and Facebook enable users to add alt texts to images they want to share on the platforms.
However, it may be time & energy-consuming for social media users to create alt text for every single image that they'll post across different channels. Therefore, I wanted to suggest the 5 best scheduling tools with alt-text addition features.
Circleboom Publish is the most functional and convenient among the scheduling tools recommended.
Firstly, with Circleboom Publish, you can add alt text to images that you post on Twitter, Pinterest, Facebook, and Google My Business. No other scheduling tool supports this many platforms to add alt text.
Secondly, it has remarkable content creation tools. With built-in Canva, Unsplash, and Giphy integrations, you never run out of original content ideas and always keep your account active & trendy.
Lastly,  I'd like to note that Circleboom is a high-esteemed company that giant corporations like Netflix and L'Oreal trust and use.
Keep in mind that you can always log in to your Circleboom Publish. Whether you're on the go or on the computer, Circleboom is at your disposal.
---