Do you want to check your Twitter followers? If you do, you are in the right place!
On July, 11th, Twitter announced that they would remove locked accounts from follower counts. And most of these accounts are fake, spam, or inactive followers.
"Most people will see a change of four followers or fewer; others with larger follower counts may experience a more significant drop, We are removing locked accounts from follower counts."
To us, this was excellent news for the Twitter community because Twitter users regularly want to clean up their accounts. Although it is a good start, removing the locked accounts is not enough to clean up your Twitter account.  Apart from locked ones, there are lots of suspended accounts, fake accounts, and inactive or eggheads accounts which are also considered by users to be cleaned up.  You may also consider checking who is not following you back or, who unfollowed you and unfollow them.
Circleboom, a Twitter account management tool, enables you to clean up your account from bottom to top. You can see fake accounts, inactive accounts which do not Tweet for more than three months, and also unfollowers who have not followed you back or unfollowed you.
After detecting these Twitter accounts among your followers, you can remove these Twitter followers and clean your Twitter account. You can also check our detailed guide here:
Let's start;
Click "Login" to connect your Twitter account  with Circleboom Twitter (without the need for your password)
After login, open up the menu on the left-hand side of Circleboom's Dashboard.
Find the "The Circle" menu and click on it. It will immediately open up a sub-menu.
Click on the "Not Following Back" sub-menu.
On the "Not Following Back" page, Circleboom will show you all the accounts which are not following you back.
Use the visit button to unfollow them individually on the Twitter window.
Get a 10% OFF code to Try Circleboom!
Under the "The Circle" menu you can also list the fake accounts and clean up your Twitter account from fake accounts. Circleboom automatically does the chore and displays all the fake, spam, and possible scam accounts for you. Once you see these accounts, it is easy to unfollow them with a click of a button.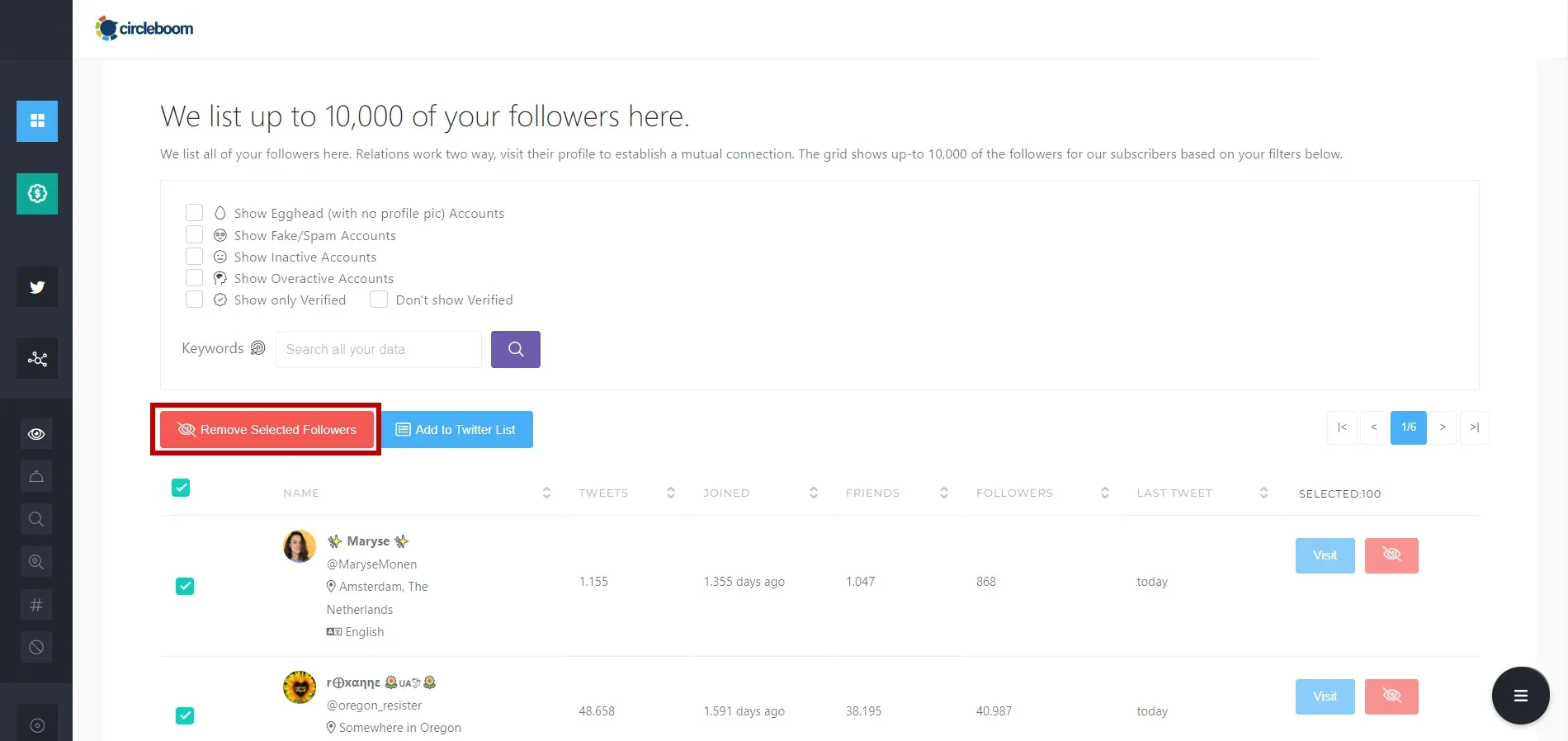 The other option for cleaning up your account is to remove inactive accounts. Most of them are suspended or locked accounts.
Some Twitter users also want to clean up eggheads because eggheads accounts are often anonymous accounts and mostly spammers.
You can use Circleboom Twitter on your iPhone with the Circleboom Twitter iOS app.
You can also watch our hands-on video tutorial on how to check your Twitter followers here:
Final Words
It is natural and quite important to check your Twitter followers to have a healthy account for your personal business affairs. It is not important how many followers you have on Twitter. The real matter is how quality they are.
So, if you want to clean up your Twitter account from inactive, overactive, fake, spam, or bot accounts, you can use Circleboom Twitter. It also has many other features that help you easier to manage your accounts in many terms.
You can take advantage of Circleboom Twitter's features at affordable prices.
---