Do you want to delete all the retweets you shared in 2020, and you can't find any easy way to do it? Or maybe, you have shifted your alliances, and you want to delete all the tweets you retweeted of a particular person/company/account?
Twitter, though it is an easy-to-use platform, there are several things that you can't do as a Twitter user.
Some of them are managing your Twitter followers and non-followers, scheduling your tweets, and mass deleting your retweets and tweets. Circleboom is a third-party tool that can help you manage all the additional aspects of your Twitter account that are difficult to implement on Twitter otherwise.
In this article, we will learn how Circeboom users can use Circleboom to delete all retweets from specific accounts or dates using Circleboom. Just follow the steps below, and you will delete your retweets within a few seconds.
Delete your Retweets of Specific Dates/Accounts with Circleboom
Login to the Circleboom dashboard by authenticating your Twitter account.
Go to the Circleboom menu on the left and click on the drop-icon next to "My Tweets."
Select "Delete RTs" from the drop-down.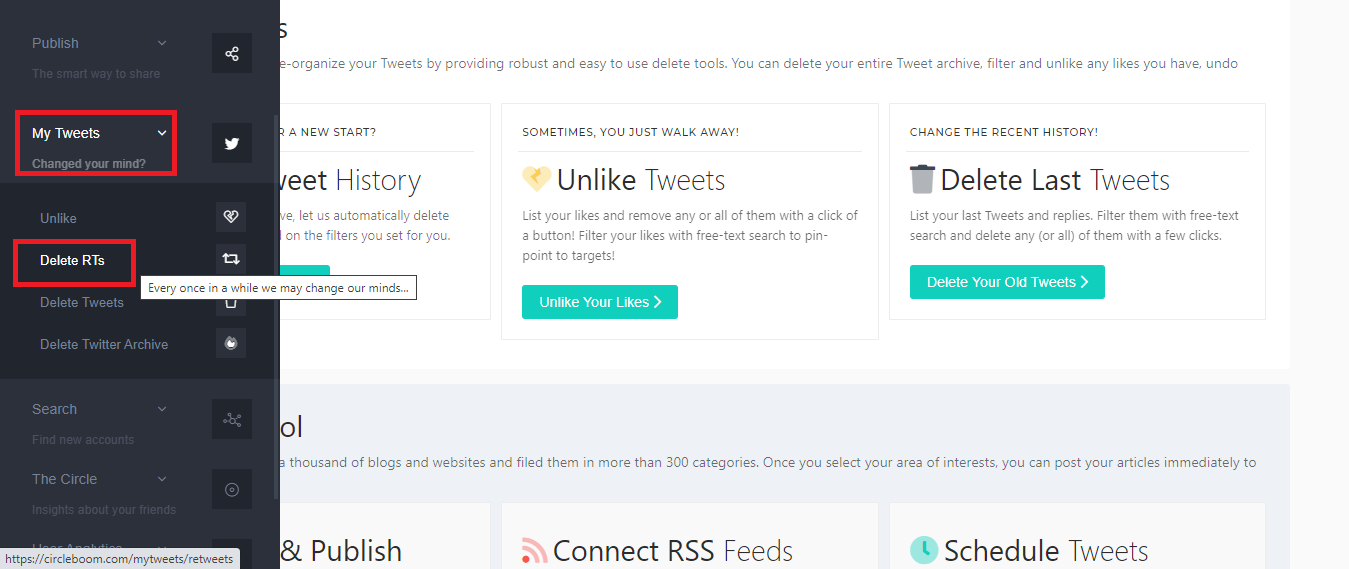 If you want to search retweets of a particular date, simply enter the date (for example 8/4/2019) in the grid power search on the right.
Circleboom will list all your retweets from that date, you can select the retweets you want to delete and click on "delete selected RTs."
If you want to delete retweets from a particular year, just enter the year (for example, 2018) in the grid power search and delete selected tweets.
To delete retweets from a specific Twitter account or person, you can enter their Twitter handle or the name in the grid power search, and all tweets will be filtered by Circleboom for you. The grid power search can also be used to filter retweets by keywords or hashtags.
If you want to delete all your retweets, then simply click on Delete all RTs and all your retweets will be deleted.
With Circleboom's "Delete Tweets" feature, you can only delete your last 3,200 tweets. But with "Delete Old Tweets," you can delete all tweets right from the first tweet.
You may also find our hands-on video to delete all your Retweets at once:
You can also filter by date if you want to delete all tweets within a specific period. Upload your Twitter archive and delete your tweets by setting the date filter to delete tweets within specific dates.
Circleboom also announced its Twitter management app for iOS devices. You can download Circleboom Twitter App from below:
Wrap-Up
A very time-consuming process of deleting specific retweets on Twitter has been made a one-minute job with Circleboom. By following simple steps, you can clean your account of unwanted retweets. Circleboom will list your most recent 3,200 tweets as that's the default access provided by Twitter.
Before deleting your retweets, remember that the action is non-recoverable and retweets, once deleted, cannot be added back to your account by Circleboom or Twitter.
This Circleboom feature is not available in the free plan, but the Pro plan that starts at affordable numbers allows Circleboom users to delete their retweets and tweets. Existing Circleboom users can continue to use their Pro plan without any upgrades. To know more about the pricing, check out our plans and pricing.
If you've any questions regarding deleting your retweets with Circleboom or Twitter, please share them in the comments below.
---