Need a post scheduler for Facebook? Managing a social media content calendar becomes much more effective when you schedule Facebook posts.
Scheduling posts will assist the brand in maintaining consistency and adhering to posting schedules. You'll be able to reduce long breaks between posts with little effort if you do it this way.
If you schedule Facebook posts, automation alleviates the majority of the pain associated with social media marketing. There are various social media schedulers, including Facebook's publisher tool, that can help you automate your social media posts and increase interaction.
As a result, even managing our social media pages has become a full-time job. Digital tools, which are created to manage processes, come to our rescue at this stage. It is still not too late if you do not benefit from these mobile, laptop, or internet-based applications.
Why Facebook still matters in 2021?
Total monthly active Facebook users reached 2.8 billion by the end of 2020, turning it into the world's largest social media site.
Facebook is used by 39.8 percent of the world's social media users, which is about one-third of the world's population,
The great part is that this number continues to grow. In Q4 of 2019, the figure was 2.5 billion, up from 2.3 billion the year before.
As per Ahrefs, Facebook was the second most used search term in the world in January 2021.
Facebook for Marketing
In 2020, 94 percent of marketers said they used the site, which is the same as the year before. We can see how well-established Facebook is an indispensable part of the digital marketing mix, considering that second-place Instagram has only 76 percent (up from 73 percent). Third-place LinkedIn has only 59 percent.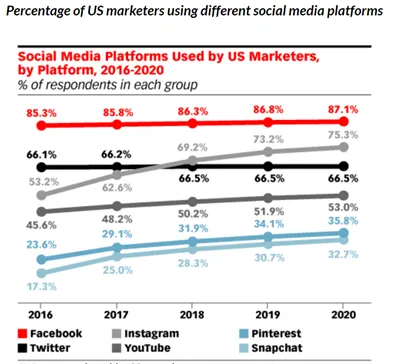 48.5 percent of B2B decision-makers research on Facebook.
That makes it the most popular conventional social network for B2B study, with only YouTube (50.9%) coming in ahead.
When selling to a business audience, do not forget about Facebook.
Facebook for B2B vs B2C
Yet, there seems to be a distinction between B2B and B2C marketers. Compared to LinkedIn's 33%, the B2B are significantly less positive towards Facebook, with 46 percent selecting it as the most relevant site.
On the other hand, Facebook is the most critical channel for 67 percent of B2C advertisers, with Instagram coming in second with just 19 percent.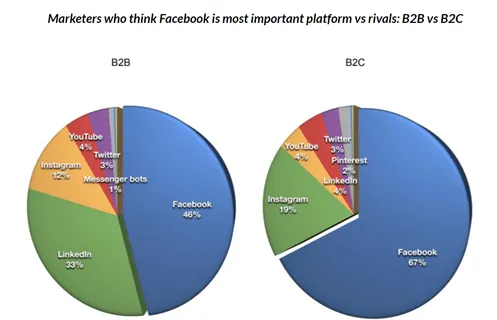 How to manage Facebook content for effective marketing outcomes?
Now, we are probably convinced that Facebook matters for businesses in 2021. The next move to make is learning how to manage and schedule social media posts.
Creating content on Facebook is a major undertaking. To get the most out of the engagement, planning all of the content, captions, and graphics matter, yet, sometimes timing and sharing matter more.
Benefits of scheduling Facebook posts
Save time by not having to create individual posts.
Posting regularly becomes automatic and convenient
So many people to connect with and engage with
Boost the social media interaction.
By looking at the big picture of your posting plan, you can focus on the content and the results for each platform rather than watching the clock
Uncovering the analytics on the best time to post on Facebook by looking at engagement and conversion rates
You can schedule posts on Facebook in two ways:
Via third-party schedulers. Circleboom and other Facebook post scheduler tools can be used to schedule social media posts across several channels. There are advanced features accessible, such as multiple social media account scheduling and posting on the same content on Instagram and other social media accounts of your Business.
Using the native Facebook app itself. The built-in posting scheduler on Facebook is used in this process.
How to schedule Facebook posts?
Facebook, as a virtual world, has become an integral part of our personal lives as well as one of our primary marketing outlets. For everybody, being accessible on any channel means a remarkably busy schedule and a constantly evolving content flow.
Method 1: How to schedule Facebook posts with Circleboom?
In Q2/2021, Circleboom will debut an all-in-one social media scheduler and publisher. As a result, Circleboom's full-featured social media scheduler can schedule and publish your posts on multiple social media sites at once, including Facebook, Instagram, Twitter, LinkedIn, and Google My Business!
It's quite easy to schedule Facebook posts on Circleboom's social media scheduler. To schedule a Facebook post, all you need to follow these few short steps below:
Step #1: Log in to Circleboom Publish.
If you don't have a Circleboom Publish account yet, get yours in seconds!
Step #2:  On the first page, you'll find options for Twitter, Facebook, LinkedIn, Google My Business, Instagram, and Pinterest.
Connecting both Facebook pages and Facebook groups at the same time is also possible.
Step #3: Once you have added your Facebook page or group, go to the left-hand menu.
Click on "Create New Post" there.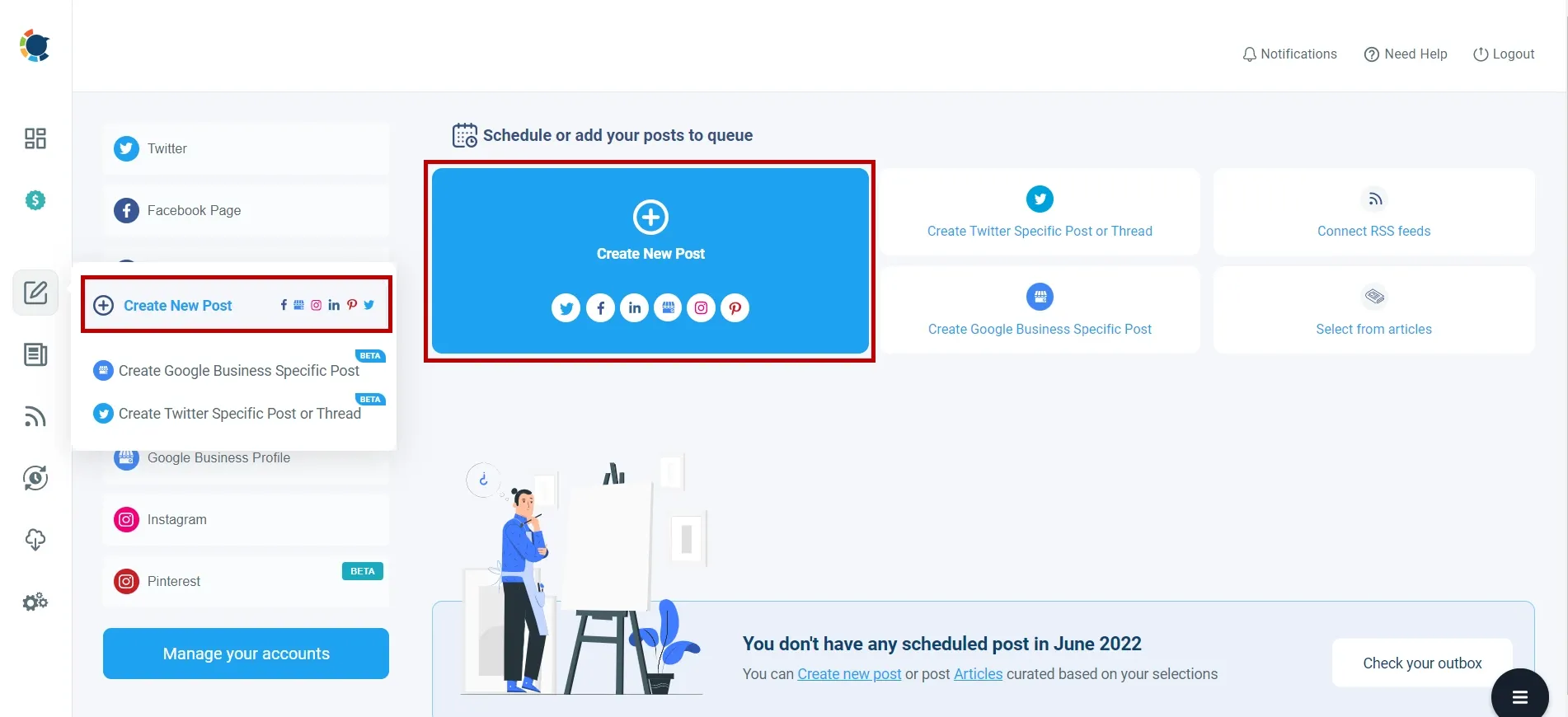 Step#4: Click on the "Select Account" tab.
Then pick your Facebook page or Facebook group to schedule Facebook posts.
Step #5: On Circleboom Social Media Scheduler, you don't need to find image sizes for Facebook.
You may also take a look at our ultimate guide to social media image sizes.
Step #6: On the Facebook Post Scheduler dashboard, click on the "Schedule it" button first.
Then, define your posting time and end the process by clicking on the "Schedule it" button.
That's All to schedule Facebook posts on Circleboom Publish!
Benefits of Choosing Schedule Facebook Posts with Circleboom
Circleboom social media publisher tool eases your life with a quite affordable pricing. Let's now look at what other benefits with Circleboom scheduler.
---
Method 2: How to schedule Facebook Posts via Facebook Publishing Tool!
Do not forget that to publish and schedule your Facebook posts on the app or website itself, and you need to have a Facebook business page in the first place. You cannot schedule Facebook posts for your personal account on Facebook. You can only schedule posts for Pages that you are in charge of. Business owners, companies, blogs, and public figures often use business pages.
If you do not have a Facebook business page yet, look at our article on how to set up a Facebook page.
Let us now assume that you have your Facebook Business Page that you want to schedule future posts.
Step #1: Go to https://www.facebook.com and log in. Click Pages if you have not already done so. It is the option in the left menu marked with an orange flag.
If you've not done it yet, go to the left menu and select + Create New Page after clicking Pages.
Step #2: After selecting the relevant Page you want to work on, go to Publishing Tools from the drop-down menu.
It is near the bottom of the left column.
Step #3: Create a post by clicking the Create button.
The blue button in the top-left corner of the current posts is it.
Step #4: Create your post.
In the "Write something" field, type the post exactly as you want it to appear.
Here, just above the text section, you can connect the account with your Instagram business page (tick the Instagram icon page) and sync your accounts to schedule and post the same content on Instagram.
Step #5: Next to "Publish," click the down button. It is in the window's bottom-right corner.
The menu will be expanded.
In the menu, choose Schedule Post. It will show the Schedule Post dialog box.
Step #6: Choose a date and time for the posting on the Page.
Click today's date to open a calendar that allows you to choose a future date (if acceptable) and click the current time to choose a specific time. You can choose a date and time in your time zone.
You can plan posts up to 75 days ahead of time. Be sure to choose AM or PM depending on your requirements.
Step #7: To save your scheduled post, tap Save.
It is the blue button in the bottom right corner. Your post will now appear on your Page's news feed at the specified time and date.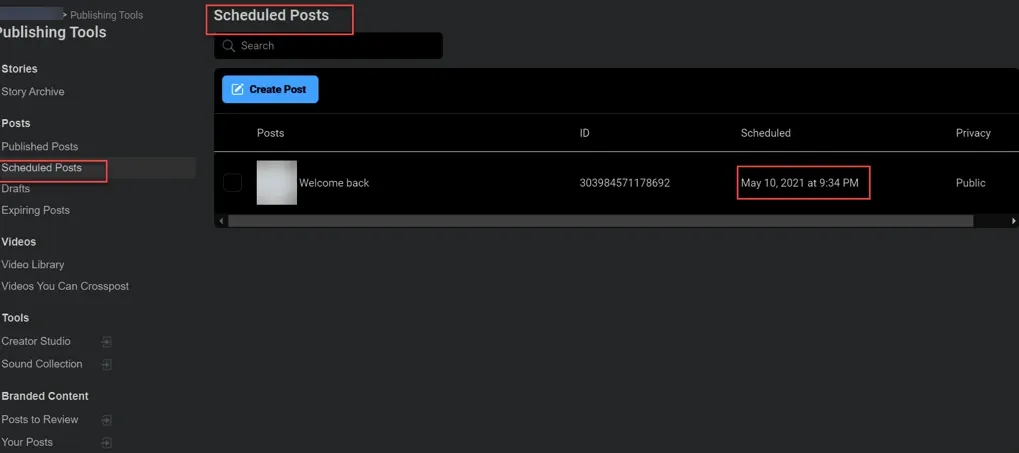 And click on the box that you can see next to the post for other choices if you want to change something about the scheduled post (such as Reschedule or Cancel).
Switch to Publishing Tools, press Scheduled Posts, and then Edit on the scheduled post to make changes.
Last but not least
Circleboom Facebook post scheduler will allow you to monitor metrics and interactions.
A successful posting schedule shouldn't be made based on wishful thinking. Using a social media analytics tool to track your results, you'll be able to figure out what works best for your Facebook audience.
Also, in a third-party social media scheduler app like Circleboom, you can delegate social media management to the beauty of automation and focus on creating, promoting, and finally selling rather than trying to keep up with the clock.
Data from previous posts will show you which posts work well and where you can improve. So, hold on and boost your social with Circleboom social media scheduler. If you wish to know more about Circleboom, look at our article that explaining why well-known businesses prefer to work with Circleboom.
---