Pinterest is an image-based social media platform that users create pins on their Pinterest boards and share them with their audiences. Worldwide there are over 450 million monthly Pinterest users and a huge portion of it comes from the United States. In fact, 1 out of every 3 people in the USA uses Pinterest actively.
Such a popular social media platform is a useful tool for personal and business purposes. Personal and professional brands that try to promote their products and services have been using Pinterest to get in touch with this respectable audience. To optimize their Pinterest use and maximize their engagements, they need to know how to manage multiple Pinterest accounts at once.
You may have different kinds of businesses or you don't want to manage your personal and professional Pinterest accounts separately. Then, you need to know how to create, design, and schedule Pinterest pins from the same place.
Pinterest enables its users to switch between their accounts natively. It may save your time and energy for logging into each of your Pinterest accounts but if you want more and look for a way to design, automate, post immediately or schedule your Pinterest pins for a later time for your multiple Pinterest accounts and Pinterest boards, you need to use a third-party tool.
Circleboom Publish is a safe and budget-friendly social media management tool that supports Pinterest, Twitter, Facebook, Instagram, LinkedIn, and Google Business Profile. (TikTok will be added soon) You can add and manage your multiple accounts on these social channels from the same, simple Circleboom dashboard.
With Circleboom Publish, you don't need any other tool, software, or platform to create, design, and schedule your multiple Pinterest pins for your multiple Pinterest accounts.
How to Manage Multiple Pinterest Accounts on Circleboom Publish?
Follow the steps below to schedule Pinterest posts for multiple Pinterest accounts and boards at once.
Step #1: First, log in to the Circleboom Publish dashboard.
Don't have a Circleboom account yet? Let's get yours easily in seconds!
Step #2:  On the opening page, you'll find Pinterest, Twitter, Instagram, Facebook, LinkedIn, and Google Business Profile options.
Here, you can add your multiple Pinterest accounts to Circleboom Publish.
Step #3: Open the sidebar once you add your Pinterest accounts.
There, click on "Create New Post" to continue.
Step #4: Click on the "Select Account" tab to choose one or all of your multiple Pinterest accounts.
Then, you need to select the boards to which you want to create pins.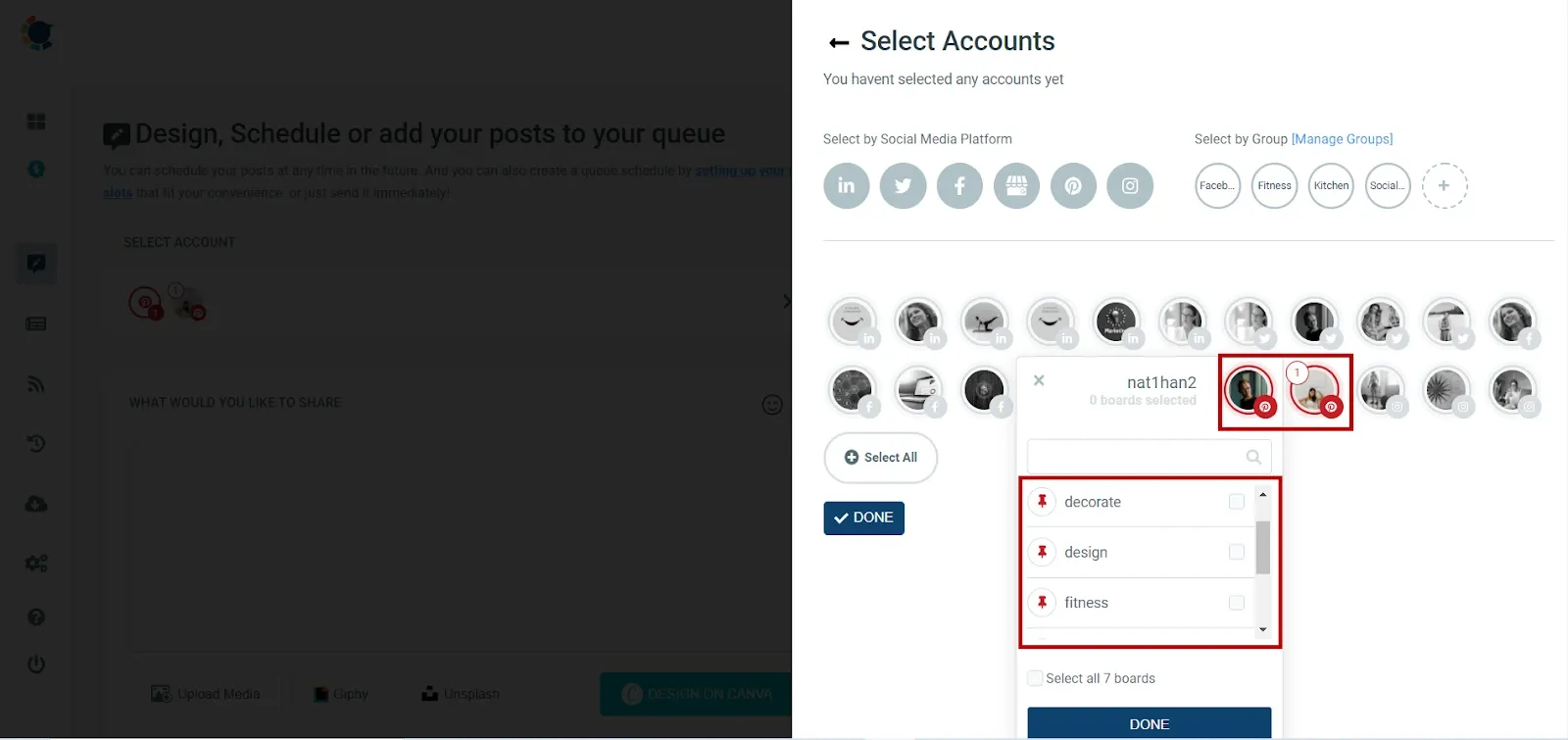 Step #5: If you consider, you can also take advantage of social media post design features of Circleboom, Unsplash, Giphy, or Canva, as you can also upload your graphics.
Don't worry if you don't know the right image size for Pinterest. Canva on Circleboom provides users with the optimal Pinterest post template.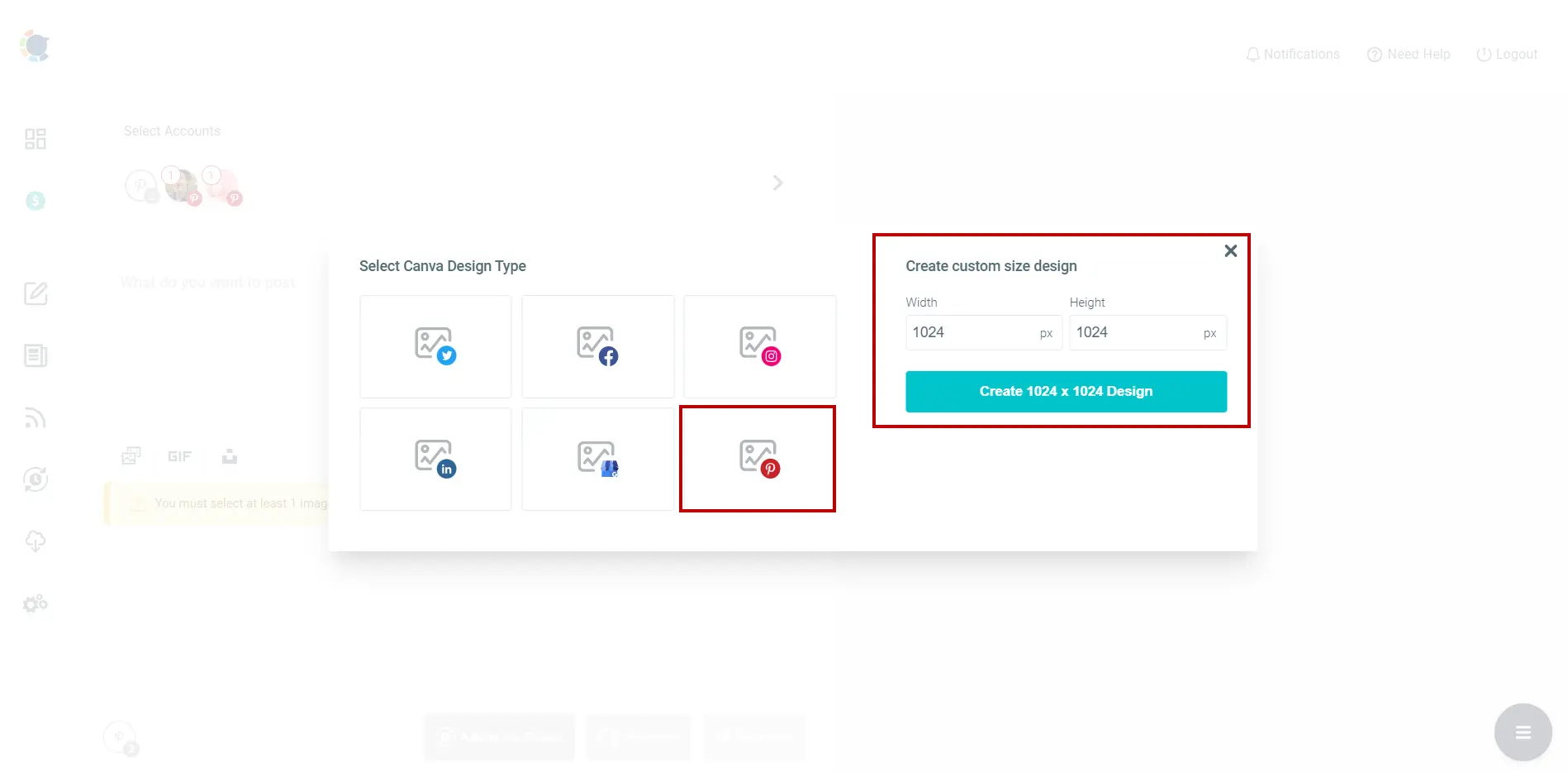 Step #6: Once your post is ready to go, you can either add your post to the queue, schedule it, or post it directly.
To schedule your Pinterest post, just click on the "Schedule it" button and set your time for the future. Your Pinterest boards will be alive while you're sleeping.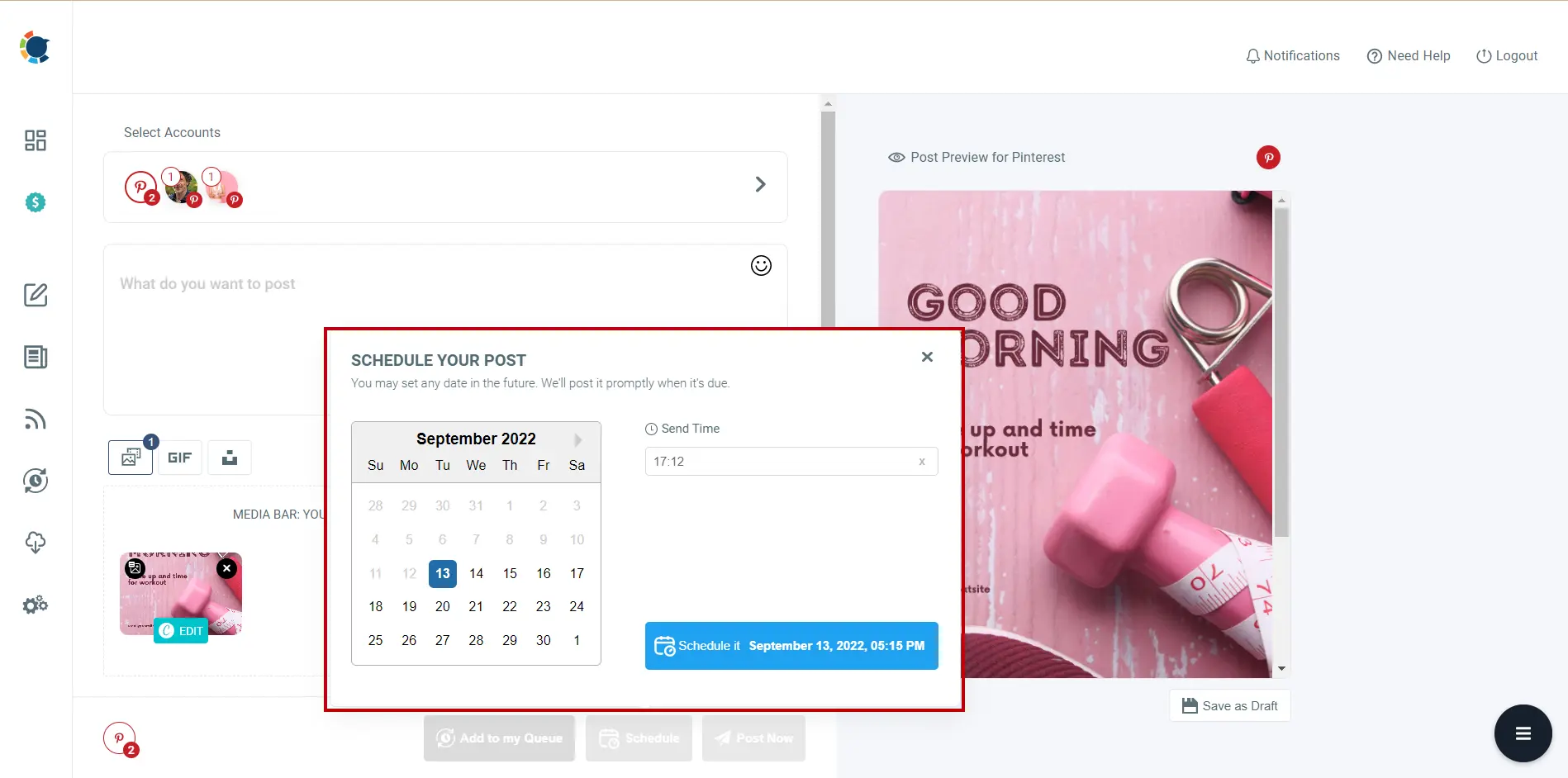 Thanks to AI-Powered Pinterest Pin Generator, you can curate images and create auto-generated Pinterest texts. You can enrich your posts with auto-generated emojis, hashtags, translations, etc.
You can use Canva integration on Circleboom to find and design images for your pins.
You can auto-write pin descriptions with Circleboom's Pinterest Description Generator with ChatGPT support.
You can define the tone of your writing style.
Last but not least, you can enrich your pins with popular, relevant hashtags. You can find and add them easily and quickly with Circleboom's Pinterest Hashtag Generator!
You can also watch our hands-on video to schedule and automate your Pinterest pins for your multiple Pinterest accounts and boards.

Frequently Asked Questions
1- How to create multiple Pinterest accounts with one email?
Unfortunately, each email address can only be linked to one Pinterest account. Try logging in with any other email addresses you hold if the account you're entering into using your email address isn't the one you wish to access.
2- Is it possible to merge Pinterest accounts?
Because Pinterest does not yet allow you to consolidate two accounts, your only choice is to delete one and manually transfer your pins from the other account.
3- How to unlink Pinterest accounts?
In the bottom-right corner, tap your profile image. Tap the directional chevron right symbol next to Unlink account after scrolling down to Account updates. You'll receive an email asking you to confirm your subscription. To unlink your account, tap the confirmation link in the email.
Wrapping Up
You may have various reasons to have multiple Pinterest accounts. Whether it is for personal or business purposes, having multiple Pinterest profiles is a fruitful method to promote your products and services. In order to save time and energy, it is crucial to have the ability to manage multiple Pinterest accounts from the same place!
Circleboom Publish provides users with amazing tools to manage multiple Pinterest accounts and boards on the same and safe dashboard. Circleboom is in your service at affordable prices.
---