Many small businesses start their e-commerce journey even without a website. It can be due to various reasons like lack of human resources, capital, know-how, or time.
So, how is it possible to attract customers if you don't have an e-commerce website?
Rather than driving traffic to their website or store, these businesses reach out to their customers, Instagram, where they like spending their leisure time.
With over 1 billion monthly active users, Instagram is one of the leading social media platforms that connect people and businesses around the globe. 90% of these active users follow at least one business, and over 83% of them have discovered a brand-new product on the platform.
Instagram's growth appears to be unstoppable, with new features and tools being released daily.
As a result, the opportunity for small businesses is enormous, especially because it is possible to sell on Instagram without a website. Instagram is like heaven for word-of-mouth marketing as it can easily increase your brand awareness with a good marketing strategy.
If you plan to sell on Instagram without a website or only use Instagram to advertise your products but not to sell them, this is the guide that will help you learn the most important steps and tricks to turn your social media account into an e-commerce marketplace.
Can I sell on Instagram without a website?
The answer is YES, to put it briefly. Every month, over 130 million people interact with shopping content on Instagram. If you have an e-commerce business and a tight budget, you don't have to spend a lot of money on website construction.
You can sell on Instagram without a website and pitch intriguing content about your brand and products to customers.
Even if you plan to have a website that can drive traffic to complete the buyer's journey, it takes time to develop one. You can sell on Instagram to increase your brand awareness and generate sales until it gets ready.
Once your website is ready, you can more easily boost your sales as you have already established a solid client base.
How to sell on Instagram without a website?
If you believe that your business is a good fit to sell on Instagram without a website, it is time to set your Instagram account up for success. We have prepared a guide to help you out on this journey to sell on Instagram without a website.
#1: Have an Instagram Business Account
Once you have an Instagram business account, you can unlock many different features to boost your brand. Below you can check out various benefits of having a business account to sell on Instagram without a website.
Shop in the app: This feature makes it possible to sell on Instagram without leaving the app.
Instagram insights: It is the built-in analytical tool that provides businesses with information about important indicators to monitor the performance of your content.
Promoted posts & Instagram ads: You can allocate a budget to promote and spread your content to your target audience.
Swipe-up links: You can integrate swipe-up links to your stories if you have an Instagram account with more than 10,000 followers.
Contact Information: You can add your contact information, like your phone number and e-mail, so that your customers may reach out to you promptly.
#2: Showcase your Products
If you want to sell on Instagram without a website, you need to provide enough visual content to help your potential customers during their purchasing decisions.
If you want to make the most of it, you should provide detailed visuals of your products with captivating captions. If your visuals are not attractive, they will not capture the attention of your target audience between the many posts that have been shared every second.
Below, you can see a great example by Letterfolk introducing their new product with an eye-catching lifestyle visual inspired by the holiday season.
If you don't have a graphic designer or have no particular expertise in this area, don't worry; you don't need to be a professional graphic designer to create eye-catching content.
Circleboom Publish offers its users the built-in version of the ultimate designing tool Canva. With this feature, you can enhance your visuals with unlimited graphic features it offers and make your sales and discount announcements in a visually more attractive way.
Circleboom Publish
Design amazing Instagram pictures for your products and services to attract visitors to your Instagram account and sell without a website.
TRY CIRCLEBOOM NOW
---
#3: Arrange your Payment Options
To sell on Instagram without a website, you should drive your audience from only browsing to actually ordering and purchasing your products. The best section to share a link to an order form is your bio.
Instead of an order form, you can direct your customers to your WhatsApp to submit orders. If this is a better option for you, you can link your WhatsApp to the website section and tell your audience to message you for an order.
The advantage of selling on Instagram is that you can manage multiple Instagram accounts and use them separately to promote your different brands, products, and services. This will give you a chance to focus on one item on each Instagram profile.  This way, you can build brand authority through an Instagram account for a product.
But, having multiple Instagram accounts also has its drawbacks. For example, you spend a lot of time and energy creating posts for all of them. Well, can it be easier?
Yes, it can! With Circleboom Publish's Instagram scheduler, you can create, design, publish, schedule, and automate Instagram posts for your multiple accounts in one workspace. You won't need to log into all your accounts every time.
Circleboom Publish
Post, schedule, and automate amazing Instagram content for multiple accounts in one dashboard.
TRY CIRCLEBOOM NOW
Circleboom also supports Twitter, Facebook, Pinterest, LinkedIn, and Google My Business. So, you can cross-promote your products all over your social media accounts if you have one!
---
How to sell clothes on Instagram?
Maybe sewing is your passion, and you want to make a profit from it. Or, you have a lot of new and not-worn-a-lot clothes you want to get rid of without spending so much time and energy.
Whatever your reason is, if you know how to sell on Instagram without a website, you can easily arrange a closet sale on Instagram. You can check out the guide below on how to sell clothes on Instagram.
Step #1: Gather all the clothes you wish to sell and ensure they are all washed/laundered.
Step #2: Examine your clothes for rips and stains. Try not to lower your overall quality by offering clothes you wouldn't purchase.
Step #3: Photograph all of your clothing at once!
Step #4: Post your visuals with descriptive captions.
It would be better for you to announce your sale in a couple of days. So that people can set their alarm up and be ready for shopping.
For instance, an influencer from NYC, Rae Hersey uses Instagram Reels to announce her closet sale with informative and exciting content. She actually makes her audience feel like they're missing out on something if they don't participate.
How to sell art on Instagram?
Even Vogue itself has claimed that Instagram is the "World's Most Talked-About New Art Dealer." But its popularity doesn't guarantee that every artist will successfully sell their art on Instagram.
We have gathered a couple of tips for artists to help you sell on Instagram without a website.
This goes without saying, but it is worth mentioning; you need to be consistent and create a succession of works of art. It can be hard to keep up with your Instagram, as most artists spend a great deal of time on their art.
You can always use Circleboom Publish to schedule your posts beforehand for a future date so that you don't need to be online whenever you plan to post a work of art.
You can think of your Instagram profile as an online portfolio for your art, so how you represent them on Instagram is as important as your work's quality. Your work of art certainly speaks for itself, but you still need to be extra careful about your post designs. Thankfully, Circleboom Publish offers its users a built-in Canva design tool with ready-to-use templates of the best sizes.
Take advantage of Instagram's culture and boost your following. One of the key features of Instagram that can help artists to grow their following is the hashtags. You can check out our blog for a universal guide to use hashtags to learn more.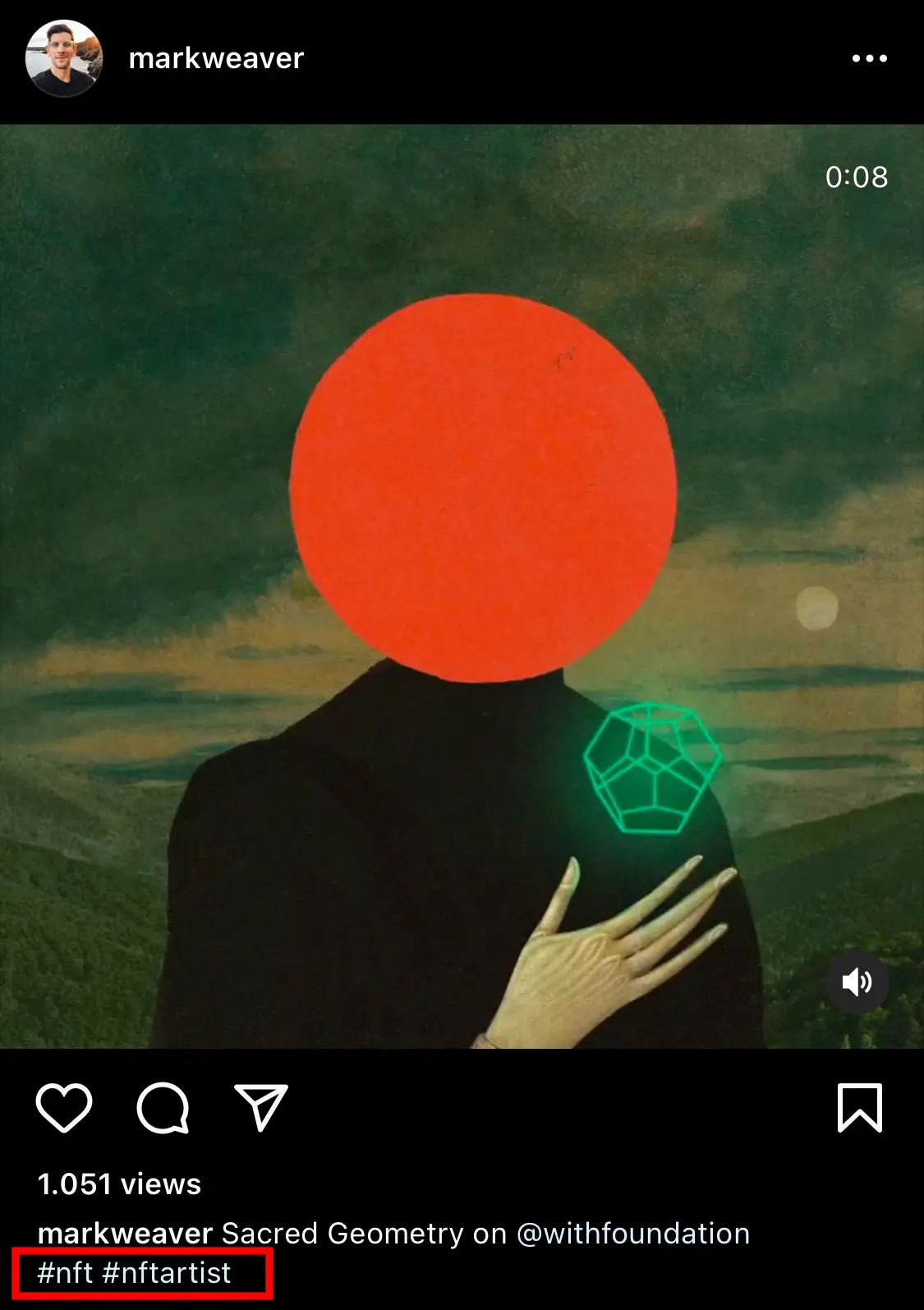 Instagram is highly used in the art world as it is a highly visual platform. So, we suggest you find out the tastemakers with a great influence in the art world.
How to sell antiques on Instagram?
Instagram has become the go-to platform for a new generation of up-and-coming people selling vintage and antique items through their direct messages. Instagram is now a marketplace for many dealers as it becomes really easy to sell on Instagram without a website.
Because sealing the deal is very simple, you can send a DM to the vendor, settle on a price, and purchase anything, usually using PayPal or bank transfer.
If you want to take advantage of Instagram to sell your antiques, here are some tips that can help you to boost your business.
Vintage and antiques attract a certain group of people, and your target audience may differ according to your product range. Know your target audience and build your following by reaching out to them. You can check out the communities built around the love of vintage and antiques.
To boost your following, you can create Instagram contests. It is a great way to go viral and increase your brand awareness.
Do not only share close-up product shots of your antiques. You can incorporate an interesting background with great decoration tips and ideas to help your audience visualize your antiques.
How to sell handmade products on Instagram?
Selling handmade products on Instagram is a trendy business. You can, of course, use this as an advantage, but the downside of it is that the market is highly crowded. So, we have gathered some useful insights for you to stand out if you want to sell on Instagram without a website.
Before start selling or promoting any products, think about your brand's identity. It is important to create an authentic and cohesive Instagram feed that represents the mood of your products.
For example, Odeata Ceramics's newsfeed reveals a simple yet elegant sense of feeling in their visitors.
One of the most important success factors for selling on Instagram without a website is consistency and organization. If you always publish product-oriented content, your audience may feel targeted. Creating weekly and monthly social media calendars would be better to see the bigger picture. You can always benefit from the "Advanced Plan" feature of Circleboom Publish to organize your weekly posting schedule.
Trust is an important issue if you want to sell on Instagram. So, if you encourage your customers to post user-generated content and reshare them, it can help you to increase your credibility on Instagram.
Do you need a licence to sell on Instagram?
No, you don't need a special licence to sell on Instagram. But, according to the Instagram's Commerce Eligibility Requirements , you should
follow Instagram policies
represent your business and domain.
Can you do dropshipping on Instagram?
Yes, you can! Dropshipping is a method of business; dropshipping on Instagram is possible and can be very profitable.
---
Wrapping Up
As one of the leading social media platforms and the first for visual content, Instagram has vast potential as a marketplace.
If you don't have an e-commerce website and don't have the budget and time to build one, you can always sell on Instagram without a website.
As the potential is vast to sell on Instagram without a website, many small businesses and individuals are in the market. So, it can be challenging to differentiate your business to be successful.
That is why we wanted to help you out in this journey by gathering some valuable insights and tips in different sectors. We hope that you will follow your dreams and get what you want!
---