Are you looking for Pinterest management tools alternative to Tailwind and want to check what's new on the market?
If so, I got you covered there. You're safe here!
You're probably tired of long articles suggesting Tailwind whenever you look for a suitable Pinterest tool.
Let's admit. Tailwind has been a popular Pinterest tool and has helped marketers efficiently manage their Pinterest accounts. And it still offers various features like scheduling pins.
However, there popped up also excellent alternative tools in the meantime. So, it's worth checking the new tools and seeing what's on the table.
This makes super sense, thinking social media is in an ever-changing ecosystem, and we must constantly check for any minor change.
After all, it's been a while since Tailwind came out, and various new Pinterest tools have been developed with unique features.
This is why I listed the 19 best alternative tools to Tailwind for Pinterest so you can make up your mind while deciding on your favorite one.
Circleboom Publish is one of the most inclusive social media management tools on the market. It offers users a wide range of features across various social media platforms. And Pinterest is one of the platforms that the tool provides its unique services for users to create, design, publish, schedule, and automate their Pinterest pins.
One of the most remarkable facts about the tool is that it knows precisely what you need on Pinterest. It is undoubtedly the extensions that Pinteresters quest for while creating aesthetic & appealing content.
We're all aware that we need to focus on visuality and sharpen our content's visual aspects to get what we want from Pinterest. Here, the unique extensions that Circleboom Publish offers are one-size-fits-all. That is, they work for everyone, independent of their niche or sector.
To trendify your Pinterest, Circleboom Publish offers add-in Canva and Unsplash extensions. Canva helps design your pins with professional and ready-to-use templates, photos, filters, effects, fonts, etc. On the other side, Unsplash also provides remarkable content ideas and templates to up your Pinterest pins.
So, Circleboom Publish is with you whenever you're stuck in a creative block and don't know how to get off. Its built-in extensions are at your disposal forever.
Long story short, with Circleboom Publish, you can manage the whole process from designing to publishing or scheduling on a single dashboard. The preview option is superb as well. You can see what your pins will look like. This way, you can prevent some basic but essential mistakes in advance.
Lastly, Circleboom Publish allows managing Pinterest boards on a single dashboard. The tool also makes it easy to organize your boards. These two features save you a lot of trouble, especially if you're managing numerous Pinterest accounts at once.
Switching back and forth between different accounts would be a disaster for your Pinterest performance. However, Circleboom Publish makes tasks like posting on different accounts or boards pretty easy.
After you have finished creating and designing your pins, you can post them immediately or schedule them for a later time. This way, you can target different time periods of a day and batch your social media content for the whole week or the month.
You can think like there are no more features that Circleboom Publish offers to boost your Pinterest. But, there surely are!
What's more, bulk publishing and queuing are the two other features that not so many alternative management tools have. Bulk publishing allows posting multiple post at once.
On the other side, queueing feature is to multiple post your pins at pre-set intervals. Once you decide the time interval as below and what to post on Pinterest, Circleboom Publish sends them out in a steady stream.
Queueing is particularly effective for evergreen content (content that doesn't isn't tied to a particular date and can be good well into the future).  Plus, it keeps your account updated and rich!
All you need to reach these fantastic features are to join the club!
Get a 10% OFF code to Try Circleboom!
Besides the excellent features above, what's even better is that Circleboom Publish is incredibly affordable. Comparing the cost per social profile connected to, Circleboom Publish seems far more cost-effective and convenient.
Pricing:
Free Plan: $0/mo
Pro Plan: $15.83/mo
Premium Plan: $34.99/mo
Business Plan: $79.99/mo
Enterprise Plan: $149.99/mo
#2 Buffer
Buffer is another terrific option if you're looking for an alternative Pinterest management tool on the market. Similar to Circleboom Publish, Buffer is an "all-in-one" management tool and offers excellent features for those who want to sky-rocket their Pinterest followers.
Here are the three boastful and remarkable features that the Buffer Pinterest tool has for users:
First, it helps optimize your accounts with its scheduling feature. You can customize the specific times and dates you want to pin and create schedules fitting your hectic routine.
Buffer also has a built-in weekly social calendar for scheduling. It is a cool add-in facilitating planning your post schedule.
As you settle down your schedule plans using Buffer, Pinterest will likely award you for your regular posts and rank you higher.
Second, Buffer Pinterest allows you to choose different boards. You can pin an image to several boards and schedule your posts to be published. If you're not familiar with the "boards" term frequently used on Pinterest, here is the simple definition:
Boards are like closets for pins on Pinterest. They enable Pinteresters to keep their pins organized and in one place.
So, you can schedule your pins when you think people will most likely see them. This way, your pins are spaced out over time, and your account doesn't look spammy with the same pin published on multiple boards all at once.
Lastly, Buffer Pinterest lets you track the performance of your pins. Tracking is one of the most crucial aspects of social media management, and Pinterest is no exception.
So, if you want to grow your followers and maybe increase referral traffic to your website, Buffer is at your service. It provides a lot of data on your Pinterest analytics to check out how you're doing.
Apart from the fantastic features Buffer offers, it is also necessary to mention that the price plans of the tool are not pretty convenient compared to Circleboom Publish.
Nevertheless, as of July 2022, Buffer's cost per social channel is still half of Tailwind's prices. So, Buffer still counts as a feasible alternative to Tailwind.
Pricing:
Free: $0/mo
Essentials: $6/mo
Team: $12/mo
Agency: $120/mo
#3 Hootsuite
It would be a huge mistake to miss Hootsuite if we're looking for Tailwind alternatives.
Hootsuite pairs with 20+ social media sites, including Instagram and Pinterest. This number is huge, especially considering that most of us couldn't even count more than ten social media sites.
However, Hootsuite excels at each platform and provides unique features in all.
From the Pinterest perspective, it should be practical to categorize the range of services Hootsuite provides and assess the categories one by one.
The categories will be content creation, performance tracking, and collective management. The former and latter are similar to Buffer's services provides, while the third is rather unique.
Firstly, Hootsuite lets you create, schedule, and publish content on Pinterest. It is possible to "bulk post" on different Pinterest accounts and boards simultaneously. You can plan, view, edit, and delete the pins on your Pinterest account from the same planner.
Secondly, Hootsuite Pinterest lets you monitor pin performances and subsequent conversion rates.
Lastly, the Hootsuite Pinterest tool is also feasible for teamwork. That's because it allows you to access and manage multiple Pinterest accounts together as a team. This feature is critical for big groups to facilitate collaboration on multiple accounts.
Different than the bright qualities of Hootsuite, there's also a well-known dark side to the tool. Hootsuite is infamous for being super expensive. Plus, there is an additional fee for accessing other tools in the application.
So, you're not provided with complete services even if you spend too much and upgrade your plan.
Finally, Hootsuite is not very user friendly, especially for starters. So, HootSuite may not be the right Pinterest tool for you if you're a beginner and don't know you're away around yet.
Instead, you can consider other options in this article to get the most out of your Pinterest tool at affordable prices as a newbie.
Pricing:
Professional: $40/mo
Team: $112/mo
Business: $683/mo
Enterprise: Contact for prices.
#4 Sprout Social
First, Sprout Social is an official "Pinterest Marketing Partner," and the company states its principal mission is our goal is to help users (especially businesses) get the maximum impact from their Pinterest program.
Therefore, Sprout Social is the right tool if you are a marketer looking to achieve a well-rounded Pinterest campaign.
Sprout Social truly knows Pinterest marketing, and it has what it takes to give you a shoulder throughout your Pinterest marketing campaigns.
As to what Sprout social offers for businesses to achieve the said goals, here are the services:
The tool provides publishing and scheduling services for you to build a publishing blueprint and organize your posts on Twitter. In this aspect, the tool performs similarly to other tools in this article and doesn't offer any extra features.
Sprout Social provides you with tools for engagement, analytics, listening, and even employee advocacy. You can use the social inbox to keep track of all your brand conversations and smoothly engage with your audience.
Considering the particular services that Sprout Social, I'm sure you already realized that they come with a specific cost.
It's the most pricey Pinterest tool so far, given the costs per social channel. Yet, it's a viable alternative to Tailwind because it provides exclusive and customized services for large teams and companies.
So, if you're one of those companies that think big leaps only come after big investments, Sprout Social is a considerable alternative.
Pricing:
Standard: $99/mo
Professional: $169/mo
Advanced: $279/mo
#5 Later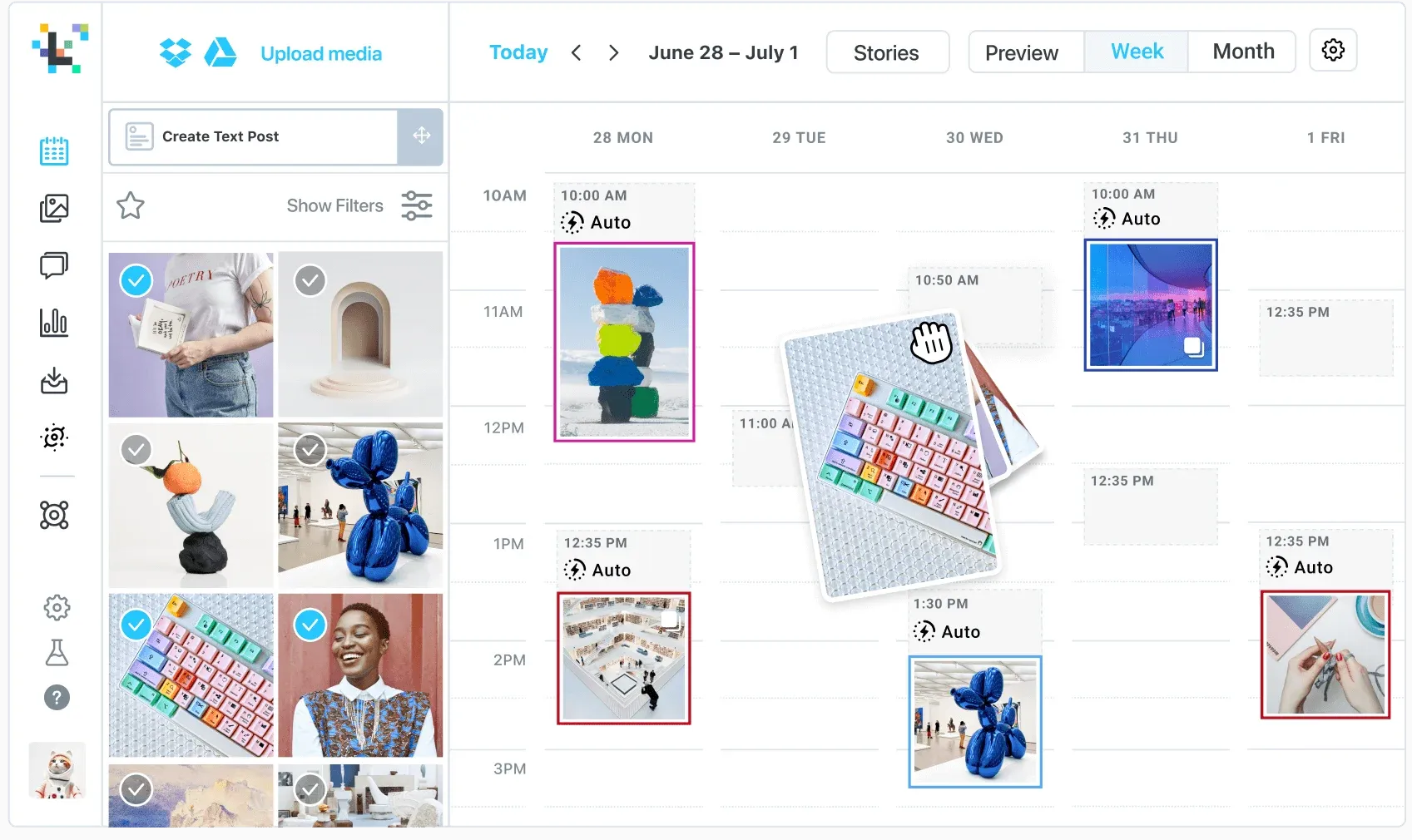 Later is a content management tool developed for visual-oriented platforms, like Pinterest and Instagram.
Similar to other Pinterest tools, Later offers a visual content planner or social calendar. Plus, it allows users to edit content from within the platform itself.
On the other hand, Later stands out the most with its two wonderful features:
1- It supports teamwork planning
2- It has built-in analytic tools dedicated to driving more traffic to your website
The latter is particularly handy for businesses using Pinterest for marketing purposes because Pinterest leads to the most significant increase in conversion rates.
That is, driving more traffic through Pinterest is very likely to turn into sales for your products or services.
Later is also more advantageous (cost-wise) because its prices are as low as half of the Tailwind. So, it's a very suitable tool to replace with Tailwind, considering both price plans and extra professional features.
Lastly, the Later Pinterest tool provides you with suggestions on the best time to post. This way, you can publish at times that will generate the most clicks (and possibly most sales).
Pricing:
Free: $0/mo
Starter: $15/mo
Growth: $40/mo
Advanced: $80/mo
#6 Zoho Social
If you're looking for an alternative Pinterest management tool, you better check out Zoho Social. It's a well-known management tool that provides beneficial services across various platforms.
Like the other tools alternative to Tailwind, Zoho Social helps create content on platforms where visuality is the king. The tool offers an "all-in-one" set of features to make, schedule, post, and track in one place.
Plus, Zoho Social has a built-in "media library" feature, together with Cloud Picker. So, you can use your content whenever you want to create pins. This gives a great sense of mobility and makes your lives super easy if you don't always have access to your post materials.
Lastly, Zoho Social is available for teamwork. It allows for content approval among team members. Plus, its premium plan offers team member audio/video & chat service.
This feature can be pretty catchy because it allows both to discuss and take action about schedule plans or posts to share.
However, the best part of Zoho Social is definitely its affordable prices. The price plans are close to those of Circleboom Publish and way more convenient than Tailwind.
Pricing:
Standard: $15/mo
Professional: $35/mo
Premium: $55/mo
#7 Sendible
Sendible identifies "The #1 Social Media Management Tool for Agencies." So, it gives a special priority to companies that require teamwork-friendly features. Therefore, Sendible has developed an intuitive platform where you can collaborate with your team to tweak and optimize your strategy.
Using the all-in-one dashboard, you can easily schedule and post in bulk for multiple campaigns & accounts. Plus, Sendible's built-in analytics tool makes tracking your post performance incredibly simple.
Besides, Sendible offers a powerful social listening feature. You can utilize the feature to gauge brand sentiment and stay in touch with your community on Pinterest.
Lastly, don't forget that the tool has a "Media Library" and Cloud where you can safely keep your files.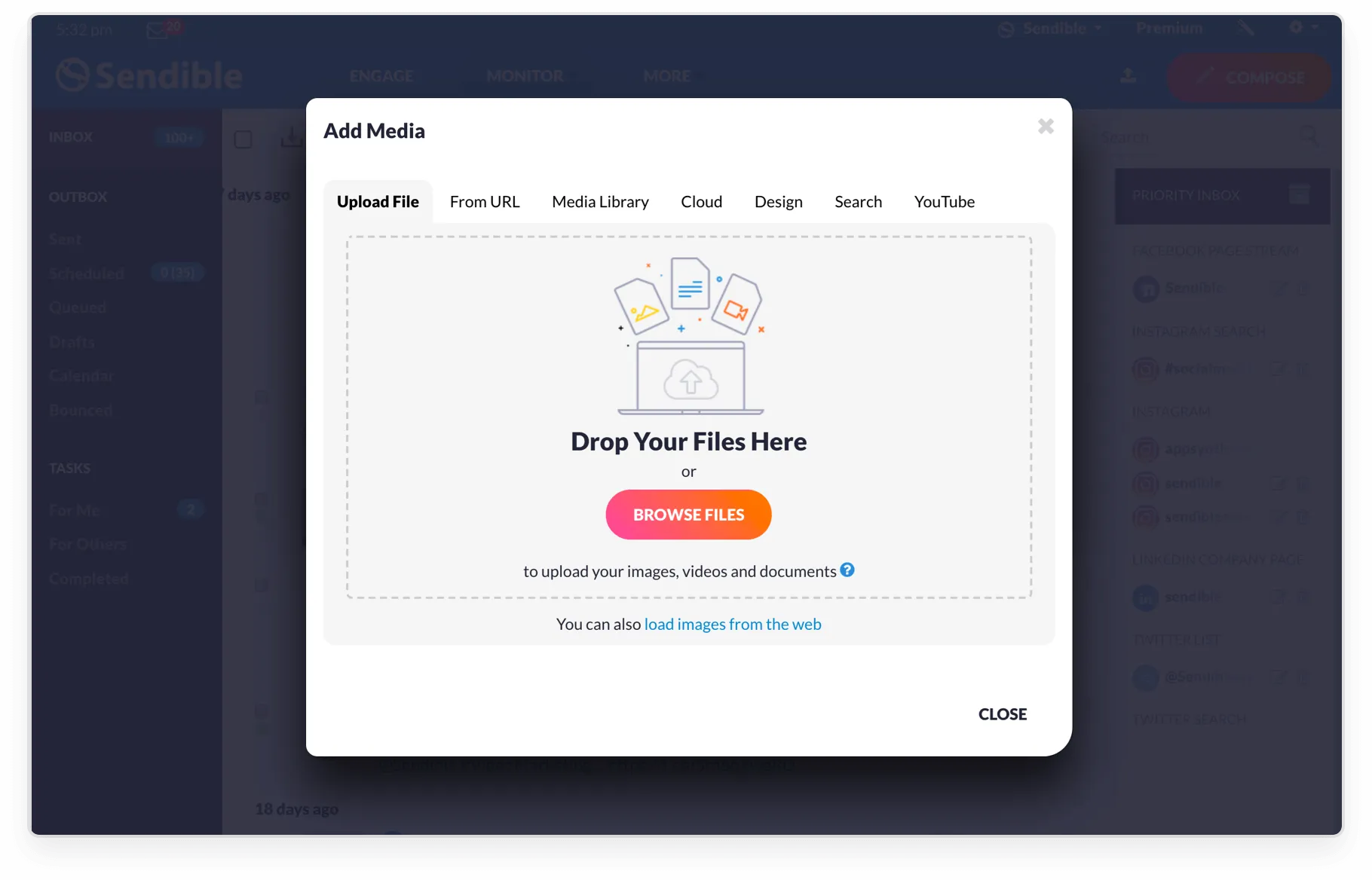 Ultimately, everything naturally comes down to Benjamins. Price plans of Sendible are somewhere between Hootsuite (the saltiest one) and Circleboom Publish (el cheapo).
So, considering the prices and services of Sendible, you best keep in mind the tool is a solid alternative to Tailwind.
Pricing:
Creator: $29/mo
Traction: $89/mo
Scale: $199/mo
Expansion: $399/mo
#8 Loomly
Loomly is a fantastic Pinterest management tool for its in-depth post previews and the ability to schedule pins. On the other side, Loomly is an excellent fit to use if you're a big team.
Loomly also identifies as a space to publish and measure your success all in one place. Plus, Loomly provides never-ending post ideas based on different dates and trends on social media.
For example, let's say Valentine's day is around the corner. Then, it suggests you post related and trendy pins on Pinterest (i.e., with colorful hearts on).
This feature helps you catch up on the latest trends and update your schedule.
Without Loomly, this probably would be very time & energy draining to follow the current trends on Pinterest.
However, Loomly requires you to complete 5(!) steps every single time you upload and schedule your pins on Pinterest. This can be pretty tedious, especially when you are batch or mass scheduling content!
Pricing:
Base: $35/mo
Standard: $79/mo
Advanced: $172/mo
Premium: $359/mo
Enterprise: Contact for price.
#9 eClincher
eClincher has been recently getting a good deal of popularity with its user-friendly interface and extensive features. You can schedule and automate your Pinterest pins with eClincher.
It's ideal for bulk posting and recycling previous posts for higher engagement. The unified social inbox facilitates monitoring and managing customer inquiries. Post-optimization and social media analytics make this tool extra favorable for small businesses.
Lastly, eClincher lets you track your pin performances, create custom reports, and benchmark your competitors on Pinterest. This way, you can use a great amount of time and energy while increasing your Pinterest management productivity over time.
Pricing:
Basic: $59/mo
Premier: $119/mo
Agency: $219/mo
#10 Viraltag
ViralTag is another Pinterest marketing tool in our article. It's rather team-centric because it allows a social media management team to collaborate on content strategies and production.
This improves efficiency in online marketing and helps businesses acquire a more transparent view of the ROI (Return on Investment).
Another feature of ViralTag that is similar to other Pinterest tools is that it allows you to automate your Pinterest marketing with Viraltag's Pin Scheduler. You can also post your pins to multiple boards and Pinterest accounts at once.
Lastly, Pinterest analytics tools and Canva integration are two other features that ViralTag offers users.
You can track repins, likes, comments, traffic, and revenue from your Pinterest account using built-in analytics tools. With Canva integration, on the other hand, it's easy & peasy to create Pinterest-worthy images right from within the app.
Ultimately, you keep in mind that Viraltag can be more convenient if you plan to manage lots of social accounts from a single place.
Notwithstanding, Viraltag is still a solid alternative to Tailwind, given its features offered at reasonable prices.
Pricing:
Individual: $24/mo
Small Business: $79/mo
Brand: $249/mo
#11 ViralWoot
ViralWoot offers two primary services for Pinterest, social media scheduling and an analytics platform. That is, you can both auto-publish content and track your pin performance on Pinterest.
Besides, ViralWoot has follower growth tools to help you climb to the top of your niche or sector with the help of Pinterest.
This way, you can spend more time on high-value and "more profitable" activities like engagement. Free chrome extension is another feature that gives you great mobility. You can easily schedule your pins from anywhere on the web.
Lastly, you can look for images on Google and pin them without leaving ViralWoot. This should speed up your content creation processes and leave you more free time.
Pricing:
Standard: $8.33/mo
Business: $39/mo

#12 SocialPilot
SocialPilot is a great tool that helps engage and communicate with your target audiences. It offers excellent features that facilitate content curation on Pinterest and analyze your pin performances.
Using SocialPilot, you can create and schedule posts for an entire week or even a month ago! This means you can promote your products and services more effectively and profitably utilizing SocialPilot.
Its scheduling tool allows pre-setting post times on multiple Pinterest boards. Plus, you can enjoy the Canva extension to create more colorful and vivid content.
On the other side, SocialPilot allows managing up to 50 Pinterest accounts. You can analyze your Pinterest performance smoothly with weekly, monthly, and annual PDF reports.
I'm sure PDF reports can make life far easier for you if you're managing your clients' accounts and if you're expected to submit them Pinterest accounts' performance reports every once in a while.
Most importantly, remember that the price per connected social channel is pretty convenient for SocialPilot (that is, compared to Tailwind). What's more, it offers to give or take similar services. Therefore, I suggest you decide on SocialPilot if you feel unsure in between.
Pricing:
Professional: $25.5/mo
Small Team: $42.5/mo
Studio: $85/mo
Agency: $106.25/mo
#13 SocialBee
SocialBee is one of the "all-in-one" social media management tools on the market. It helps you keep a consistent & notable social media impression.
And the tool also works great for Pinterest management. Pretty much like other Pinterest tools, SocialBee lets you create, edit, schedule, and post content on Pinterest.
All you need is to log in, connect your Pinterest accounts and enjoy these super helpful features!
After explaining the shared features of SocialBee with other tools, let's see the two more features that are outstanding the most:
1- The SocialBee Pinterest tool allows you to keep your posts evergreen to make the most out of them.
For those who are not familiar with evergreen term, it means search-optimized content that is always relevant and remains "fresh" for readers over a long time.
2- SocialBee presents different font styling options.
After all, Pinterest is primarily for eyes, and you can add your Pinterest posts a little more personality and attractivity with fonts like bold and italic.
As to pricing plans, SocialBee is still cheaper than Tailwind. But, there are more convenient options throughout the article that I recommend taking a look at..
Pricing:
Bootstrap: $19/mo
Accelerate: $39/mo
Pro: $79/mo
#14 CoSchedule
CoSchedule is one of the best Pinterest management tools. It presents a real-time marketing calendar, allowing you to easily organize and auto-publish your pins.
Coschedule also facilitates collaboration. You can smoothly collaborate with other team members by sharing feedback and updating progress in real-time.
These two features are rather common with other Pinterest tools on the market. However, what stands out the most about Coschedule is actually as follows:
You can even create a sharing plan unique to Pinterest and reuse it multiple times (instead of having to schedule your Pins every time manually).
CoSchedule determines your account's highest traffic times and automatically publishes your posts.
The tool saves for you each schedule and applies the reusable template to populate your calendar. This means you can stay active on Pinterest effortlessly.
The last feature worth mentioning for Coshedule is "Requeue." You can automatically fill your social calendar with the best messages (i.e., depending on the date) from Coschedule.
Don't forget this one thing about the tool, though! It has a slow loading problem and gives you a lot of trouble when first signing in and connecting your accounts.
Yet, I believe the convenient price plans of CoSchedule compensate for these negative properties somehow.
Pricing:
Marketing Calendar (free version): $0/mo
Marketing Calendar (pro): $29/mo (per user)
Marketing Suite: Contact for prices.
#15 MeetEdgar
MeetEdgar is another social media planning tool with practical and powerful automation features. It has a pre-curated library of posts to ensure a constant flow of content to help you keep your audience engaged.
This is an excellent feature if you're one of those who get stuck on what to post. Plus, you can also use the templates to recycle your posts continually. These two features alone make MeetEdgar a feasible alternative to Tailwind.
Other than these features, similar to other Pinterest tools, MeetEdgar has scheduling and performance monitor options. You can utilize the A/B test and A/B test variations to see what engages your audience across different social networks, including but limited to Pinterest.
If you decide to try MeetEdgar, take into account that it doesn't offer "no credit card required" kind of a free trial. This info may save you some time before you sign in and see that on your own (like I did!).
Regarding the price plans, especially the "Edgar" annual plan is relatively cheaper than Tailwind and many other Pinterest tools (considered in terms of price per connected social channel).
Pricing:
Eddie Plan: $24.91/mo
Edgar Plan: $41.58/mo (per user)
#16 Pallyy
Pallyy is another all-in-one social media management tool across different platforms. Pinterest is one of the channels that the tool provides terrific services.
You can schedule your pins and color up your content with built-in extensions. The Canva extension works great for this purpose because it offers updated and attractive filters, effects, and all that comes to mind for you to brighten up your pins forever.
The following figure shows that the Pallyy scheduler's interface is self-explanatory and user-friendly. All you need is to follow the directions and the mission will be completed. You're on the air!
Pallyy also determines the best or prime times to post based on your audience's activity times. This is another feature through that you can boost your Pinterest performance.
Lastly, the price plans of Pallyy seem pretty affordable. However, even the "Premium" plan doesn't allow you to manage more than one Pinterest account. You need to pay $15 for each additional Pinterest account you want to connect to your Pallyy plan.
Pricing:
Free: $0/mo
Premium: $15/mo
#17 Olapic
Olapic has merged with Piqora and currently provides scheduling and performance tracking services to manage your Pinterest account.
Performance tracking includes checking ROI, influencer interactions, and overall engagement rates. The tracking will also provide insights into which content drives the highest ROI.
Olapic is a relatively "secret" management tool out there. However, it's pretty helpful in automating your Pinterest stuff. You can quickly discover, curate merchandise, and post shoppable photos of your website page on the platform.
Plus, Olapic allows you to collect all different attractive & inspirational pins from Pinterest. You can pick them up and color up your website to promote the products or services in your showrooms.
If you worry about the intellectual property issue of using someone else's pins on your website, get relaxed. Olapic steps in here and documents all the necessary conversations for legal purposes. This way, you can easily use the images without worrying about someone returning to their word.
All in all, it provides handy opportunities to grow your business, build a stronger presence on Pinterest, and gain customer trust.
However, the landing pages of Olapic don't clearly explain price plans. All links on the page direct you to connect with customer services.
So, it might be a little time-consuming to try if Olapic is up to your demands.
#18 Crowdfire
Being another popular social media management tool, Crowdfire makes lives easier for those who suffer from overdosing busyness. This tool allows discovering and scheduling content in your niche and managing all your social accounts from one platform.
It gives you all the necessary tools to grow the reach of your social media channels. These tools are built-in analytics reporters and content discovery helper tools.
Plus, Crowdfire makes publishing a piece of cake for you. You can also auto-publish your engaging content on platforms like Pinterest and Instagram.
Still, the best thing is that the tool will tailor each post to make it suitable for different platforms.
Another distinctive feature of Crowdfire is that its free plan is comparatively less limited to other Pinterest tools like SocialBee. It includes ten scheduled posts per account. As above, it also has auto-tailored post preview for different platforms.
This feature comes in handy if you want to share the same post on different channels at once. However, be reminded that Crowdfire doesn't allow you to bulk schedule on Pinterest.
Plus, connecting or linking your social media accounts may get troublesome from time to time on Crowdfire. So, bear in mind that Crowdfire may not always be able to provide seamless services.
Lastly, content curation, hashtag recommendations, and Chrome extension are other features of Crowdfire that attract users to try it.
Pricing:
Free: $0/mo
Plus: $7.48/mo (per user)
Premium: $37.48/mo
#19 RecurPost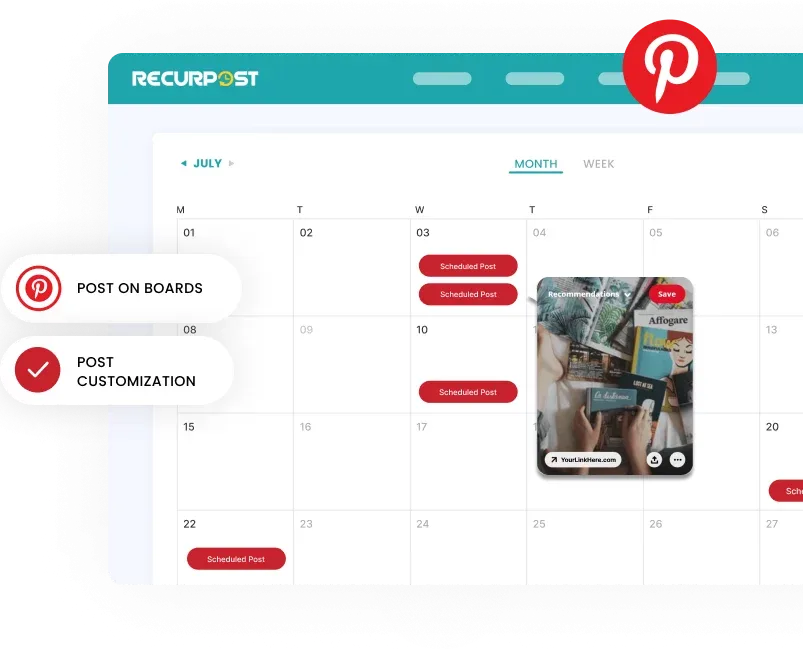 RecurPost is the last Pinterest management tool in this article. Similar to other options, it makes scheduling Pinterest pins convenient & effective. Thanks to its built-in features, you can also schedule your video pins using RecurPost.
From creating colorful boards to getting more clicks and planning your pins, you will get access to all with RecurPost quickly.
The tool offers life-changing features when handling postings and creating content. It will always keep you one step ahead of your competitors.
Pricing:
Fledling: $12.50/mo
Professional: $32.50/mo
Business: $65.83/mo
Wrapping up
We already know Tailwind has been a popular Pinterest tool so far. However, in the age of innovations, we see there are always better alternatives to what we're looking for.
Following here, we decided to check eligible enough Pinterest tools that we can substitute with Tailwind. And I picked the 19 Best Pinterest Tools alternative to Tailwind.
All of the tools mentioned throughout the article provide scheduling services and extensions for editing purposes.
Nevertheless, Circleboom Publish stands out the most among the four tools. This is because it offers the exact services that help beautify our content's visual aspects.
After all, Pinterest is an "appeal to the eyes" platform, and there's nothing much to get out of it without extra visual tools.
What's more, the pricing plans of Circleboom Publish are uncommonly affordable. Compared to Tailwind and other Pinterest tools, its per social channel cost is pretty low and way more budget-friendly.
Finally, Circleboom Publish is also used and trusted by various big companies, like NETFLIX and NBC. So, ensure that your accounts are safe here.
Related:
---