Twitter, like any other social media platform, is all about connecting with one another, and we all use the connections we build along the way in many different manners.
You may want to turn your Twitter journey into a big enjoyable parade with these connections or use them to promote your products and increase conversions.
In any case, it's great to know who your audience is. That's because you can only answer some questions, like what type of content your audience likes and what they most want to see, after you figure out who you actually connect with.
Therefore, tracking your followers and gathering basic information about them is important. For example, finding out the best times to tweet or your followers' gender distribution greatly helps you customize your marketing strategies on Twitter.
Or, if you use Twitter mainly for having fun and just for finding people that vibe with you, you can check what your audience is interested in and start posting more tweets based on their interests.
Consequently, you can get a special way with your audience and have a blast altogether.
Nevertheless, tracking your Twitter follower analytics over time is difficult. This is because there is no way to obtain such information from your Twitter account.
Twitter Analytics only provides monthly data on overall follower gain/loss. However, you cannot learn how your followers change daily.
On the other side, apart from Twitter Analytics, you can use many analytics tools on the market. However, some of them don't work properly or work pretty well but cost too much.
Therefore, I decided to share with you the best 7 Twitter tracking tools on the market.
With the help of Twitter analytics tools like Circleboom Twitter, you'll easily track your followers and gain critical insights that will improve your Twitter performance.
---
Let's get started!
Track your Twitter followers with these tools
Let's find out the best Twitter Follower Trackers to check your audience on Twitter!
Circleboom Twitter is the best Twitter tracking tool if you want to get an in-depth insight into your followers quickly and efficiently. The reasons why I believe it's the best Twitter follower-tracking tool are as follows:
Circleboom Twitter detects and lists your inactive, fake, and spammer accounts. Afterward, you can remove them from your following list and keep your follower/following ratio under balance.
Circleboom keeps track of your friends' growth over time
Learning about your friends' growth can be useful if you want to learn which accounts you follow or unfollow regularly.
You can also enjoy our hands-on video:
---
---
Circleboom Twitter allows you to analyze other users' followers and friends.
What you need to do is simply type in the username of the account you want to analyze, and Circleboom Twitter will show you who their followers and friends are. Circleboom also analyzes the account of your interest and checks the account's followers and detects if there are any inactive and fake accounts.
These features help you get to know more of your followers and shape your Twitter strategies based on concrete and reliable data.
You can also learn the gender and language stats of your followers and friends.  This feature allows you to track more thoroughly who your followers are. As you track and know more about your audience, you will be able to create a better Twitter strategy.
What's more, I am sure that you have come across many guidelines about what is the best time to tweet. Well, these generic guides can come in handy, but still, for a more precise insight, you can check out Circleboom Twitter's best time to tweet feature.
Circleboom gives you all the opportunities to determine the best time to tweet. You won't miss any hours and maximize your impressions and engagement.
Circleboom also offers the Twitter Interest Targeting service, which tells you all about your followers, audience, and Twitter friends' areas of interest. All of this information is brought to you on an interactive graph.
While doing so, Circleboom checks the bios and tweets of your followers and presents you with a super simple and appealing Interest Cloud.
By getting to know your audience better with Circleboom Twitter's Interest Cloud feature, you can easily see what your followers are most interested in and what they tweet about most.
The Interest Cloud that Circleboom Twitter presents you consists of keywords that help you create targeted posts with greater potential for higher engagement rates.
With Twitter Follower Stats, you can track the stats of your new followers and your follower growth. You can also see a list of verified accounts that follow you.
I'd lastly like to remark that you can also use Circleboom Twitter on the go! You can download the iOS App. Or you can log in through your Android device's mobile browsers
---
Twitter Analytics is an easy-to-use dashboard that lets you track the performance of your Twitter account. Twitter Analytics provides deep insight into your social media strategy, categorizes followers, and identifies tweets with high impression and engagement rates.
You can check the list below for the metrics that Twitter Analytics displays for you:
Impressions (total number of times a Tweet has been seen)
Engagement rates (engagements are the number of times that a given Tweet is engaged with a viewer through activities like retweets, favorites, and replies)
Follower growth
With the metrics above, Twitter analytics can help you understand the behavior and interests of your followers, increase your Twitter performance, and increase participation in trending Tweets.
It also gives you a better understanding of the success rate of your video content by providing the exact number of people who have watched your video content and completion rates.
Nevertheless, the features of Twitter Analytics are still limited compared to Circleboom Twitter. It doesn't allow you to track your followers' following/follower lists or sort them by characteristics like their verification status and inactivity levels.
---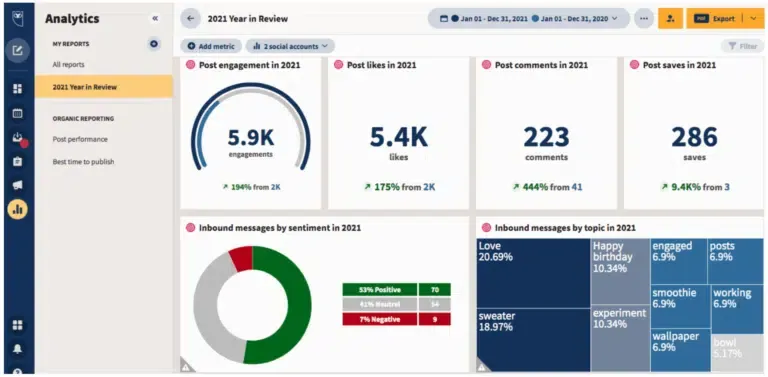 Hootsuite is one of the most reliable Twitter analytics tools on the market. You can launch and monitor campaigns, identify competitors, deeply analyze tweets, and identify Twitter lists you're on.
Hootsuite also provides a wealth of insights about your Twitter account and tweets. Plus, Hootsuite Insights makes it easy to track your Twitter analytics over time. That way, you can easily track your progress.
Another distinct feature of Hootsuite Analytics is that it allows you to see your Twitter analytics alongside your other platforms. This way, you can keep the bigger picture in mind as you evaluate your overall social media strategy.
On the other side, businesses are especially content with Hootsuite because it provides more complete reports than Twitter analytics. What's more, with solid customer support and advanced feature updates and roadmaps, Hootsuite is appreciated and preferred.
---
Brandwatch Consumer Research is a potent Twitter tracking tool. Brandwatch is also an official Twitter partner. So, it's both a reliable and functional tool for obtaining important insights about your following/followers.
Brandwatch has various key features regarding Twitter tracking. These features include but are not limited to:
Topic analysis
Demographics
Emoji analysis
Sentimental data submission
You can also create queries to track your competitors' profiles to keep up with industry developments.
---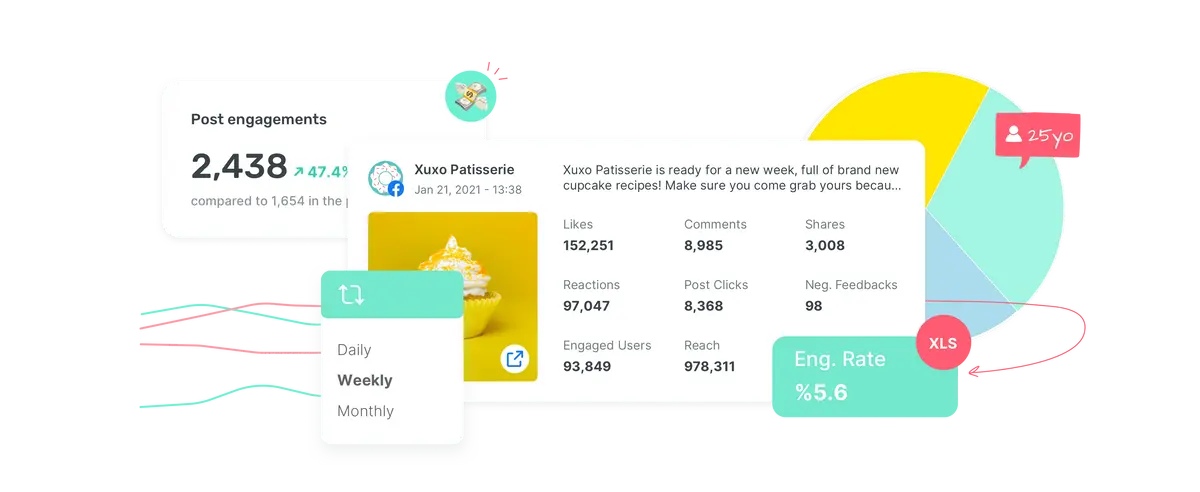 Sociality.io has effective reporting features, allowing you to collect the data you need and export it with just a few clicks. Plus, it provides you reports in PPT or Excel formats and gains insight into your Twitter performance with a detailed analysis of your account reach and engagement.
You can even create a report template that allows you to extract only the data you want and add your logo so you can send it to your clients. With Sociality's sophisticated Twitter analytics features, you can analyze your content and even compare your competitors' Twitter performance. Twitter metrics that you can access with the Sociality.io report include:
Publishing frequency
Engagement rate
Subscriber growth
Number of subscribers
Total interactions
Sociality.io also allows you to check your follower demographics.  You can see the breakdown of your followers' locations, ages, and genders.
With the help of the demographic feature of Sociality.io, you can easily shape your Twitter strategies to ensure higher levels of engagement in future tweets.
For example, once you find out your audience is predominantly men, you can adjust your marketing strategies to align with a male audience, such as highlighting posts related to sports cars and/or collaborating with football players.
What's more, social media management tools like Sociality.io act as a hub for analytics across all your social media accounts. That is, this tool enables you to access your Twitter Analytics, Instagram analytics, Facebook analytics, YouTube analytics, and TikTok analytics in the same dashboard.
---
Twitonomy provides an overview of anyone's tweets, retweets, replies, and mentions. You can also see which users unfollow you and get analytics on keywords, hashtags, and URLs.
If you're looking for a Twitter-specific tool to measure your Twitter analytics, this is the tool for you. That's because, while other analytics tools can be used with any social media platform, Twitonomy is explicitly designed for Twitter.
Focusing solely on Twitter is both an advantage and disadvantage of Twitonomy. On the one hand, it specializes in Twitter and provides the "right to the point" services you need. On the other side, it doesn't enable you to see all your social media analytics in a single dashboard.
Nevertheless, Twitonomy is one of the most famous and popular Twitter analytics tools.
Just like Circleboom Twitter, Twitonomy allows you to track any keyword within a specific period. And after analysis, you can efficiently download tweets in PDF or Excel formats.
Moreover, Twitonomy tracks in-depth data on its profile, followers, tracking, and profile growth."
Lastly, it's important to remark that you can monitor specific keywords and perform an in-depth analysis of any Twitter account with Twitonomy. Smart competitor analysis and measurement make this tool great for large businesses.
---
Keyhole uses Twitter's official firehose API to give you real-time data and accurate metrics. With Keyhole, you can easily track any hashtag or keyword across Twitter to unveil exactly how many people mentioned it, who they are, and what they said.
On the other side, Keyhole helps measure, improve and report on the impact users are making on Twitter. Keyhole's social listening, influencer tracking, and social media analytics products help improve users' social media strategy and prove their impact on followers and prospects/clients.
Keyhole's easy-to-use dashboard allows you to build and share reports instantly, saving hundreds of hours a year. Plus, you can use Keyhole's dedicated influencers metrics to analyze advocates talking about your hashtags.
Lastly, you can filter followers based on geo-location and keywords in their bios and grow your reach to boost impression and engagement rates.
Nevertheless, unlike Circleboom Twitter, Keyhole doesn't give you insights about other users' followers. So, while deciding on your Twitter tracking tool, I recommend you consider this factor and make your decision accordingly.
All in All
It doesn't matter for what purposes you're using Twitter. You may just want to have fun on Twitter after an exhausting day at work or want to use the platform to promote your services.
In any way, tracking your followers and your Twitter performance is helpful for you to improve your reach on Twitter and find larger audiences that resonate with your purpose of being on the platform.
However, it's not always easy to find the most ideal Twitter tracking tools on the market. That's because there are loads of tools, and it's difficult, especially for starters, to distinguish the bad apples among them.
Therefore, I wanted to share the best 7 Twitter Tracking Tools on the market. The most distinguished tool in the list is Circleboom Twitter, with various key features that will provide you with excellent insights about your followers/following.
The features that Circleboom Twitter offers users include but are not limited to:
On the other side, you can use Circleboom Publish to schedule your posts on Twitter and keep your account updated & active all the time.
After utilizing the schedule feature of Circleboom Publish, you can check the impact of scheduling posts on Circleboom Twitter.
Lastly, I'd like to remark that Circleboom is a high-esteemed tool trusted and used by professionals like Netflix and L'oreal. So, you're always safe and up with Circleboom.
---