LinkedIn is one of the fastest-growing social networks nowadays. The platform's 2021 revenue is 42% more than the previous period. It is mostly used by professionals, but it is becoming more than just a social network to find jobs.
LinkedIn has over 800 million users worldwide. It is one of the most trusted digital platforms in the USA, according to the report.
There are more than 57 million companies that use LinkedIn in 200 countries.
Many personal and professional brands prefer LinkedIn to grow their businesses online and boost their leads. People use it to get content, write articles on anything and raise awareness on global issues.
However, if you want an effective LinkedIn strategy, you definitely need some other tools to improve your LinkedIn marketing.
Here I prepared a list of the best 30+ tools for LinkedIn marketing efforts to grow your business faster and increase your sales with effective tools and features.
In doing so, I grouped the best LinkedIn marketing tools into the following five categories:
Scheduling Tools
Content Creation Tools
Analytics Tools
CRM (Customer Relation Management) tools
Lead Generation Tools
With the five comprehensive categories, I'm sure you'll find all kinds of necessary LinkedIn marketing tools that will boost your campaigns.
Best LinkedIn Scheduling Tools
Circleboom Publish
Circleboom supports Twitter, Facebook, Instagram, Pinterest, LinkedIn, Google Business Profile, and TikTok (soon).
TRY CIRCLEBOOM PUBLISH
Let me introduce you to the best LinkedIn scheduling tool on the market, Circleboom Publish. It lets you plan your posts, find related articles using its Article Curator, link your favorite RSS feeds to your LinkedIn profiles and LinkedIn Business pages, and organize your social media profiles.
Plus, it has remarkable review rates on prominent platforms, G2, Capterra, and Trustpilot. Considering especially the rates of the counterparts of Circleboom, we see that review rates higher than 4.5 are quite rare.
Circleboom Publish allows you to manage all of your social network profiles in one place, including LinkedIn, Instagram, Facebook, Twitter, Pinterest, and Google My Business.
Furthermore, more importantly, you can add several accounts and manage your multiple LinkedIn accounts in one place.
As the most user-friendly social media scheduler for LinkedIn, Circleboom Publish may help you spend less time on the site and more time doing what it was designed for: building relationships and increasing your professional network.
On Circleboom Publish, you can create, design, share directly, or schedule your LinkedIn posts for a future date and time. Also, thanks to the Queue scheduling feature, you can set time intervals and send your post automatically.
Get a 10% OFF code to Try Circleboom!
Circleboom's LinkedIn Auto Poster makes it possible to keep your multiple LinkedIn accounts always fresh and shining.
Circleboom's built-in extensions; Canva, Unsplash, and Giphy provide amazing ready-to-use post templates, stock images, filters, gifs, effects, graphics, animations, fonts, and many other elements to design eye-catching LinkedIn posts.
On Circleboom, you don't need to worry about post size requirements because it provides the best and the most suitable ones for you. That way, you don't have any issues like oversizing, which gives a really repelling impression from the outside.
Capterra/G2/Trustpilot Ratings:
Capterra – (4.7 / 5) stars
G2 – (4.7 / 5) stars
Trustpilot – ( 4.5/ 5) stars
---
Sprout Social is a comprehensive social media management software that requires no technological expertise. It helps you manage your company's social media accounts on LinkedIn, Twitter, and Facebook to focus on what you do best: controlling your business across channels.
Sprout Social's all-in-one app lets professionals manage their LinkedIn profiles. Checking connections and communications are straightforward with our service, as is getting exposed to fresh prospects and communicating with potential clients.
Sprout Social also includes comprehensive analytics tools that provide users with instant, actionable insights into their fans. It's as if you had your own social media management staff when you use this platform!
Capterra/G2/Trustpilot Ratings:
Capterra – (4.4 / 5) stars
G2 – (4.3 / 5) stars
Trustpilot – ( 1.7/ 5) stars
---
Hootsuite is a modern marketing professional's social media management platform. Hootsuite allows you to post to Facebook, Instagram, LinkedIn, Twitter, and other social media networks all in one spot.
You may plan to post your material efficiently now that all of your stuff is in one inbox. With comprehensive scheduling features and tracking tools, you can reach new followers and increase engagement rates.
Hootsuite allows you to schedule posts weeks or months in advance with a single click of the mouse. You can also swiftly respond to consumer messages and filter out particular terms so that your followers never see them again. Overall, this program is an excellent LinkedIn marketing tool for keeping up with all of your connections.
Capterra/G2/Trustpilot Ratings:
Capterra – (4.4 / 5) stars
G2 – (4.1 / 5) stars
Trustpilot – ( 2.5 / 5) stars
---
SocialPilot is one of the greatest tools for scheduling your LinkedIn posts and extending your connections. SocialPilot has all the features that you need for your LinkedIn campaigns, from bulk scheduling posts to amazing content that drives engagement to setting up visual media campaigns.
The tool offers you a social calendar where you can easily visualize your posts daily, monthly, and weekly.
Besides, with SocialPilot, you can:
Optimize your images with built-in image editing tools
Get in-depth social media analytics reports
Create UTM Parameters to monitor social traffic
Lastly, it's important to note that SocialPilot also supports other major social media platforms like Facebook, Instagram, and Twitter. So, if you want to manage all your other social media accounts besides LinkedIn, SocialPilot is a match for you.
Capterra/G2/Trustpilot Ratings:
Capterra – (4.4 / 5) stars
G2 – (4.5 / 5) stars
Trustpilot – ( 2.7 / 5) stars
---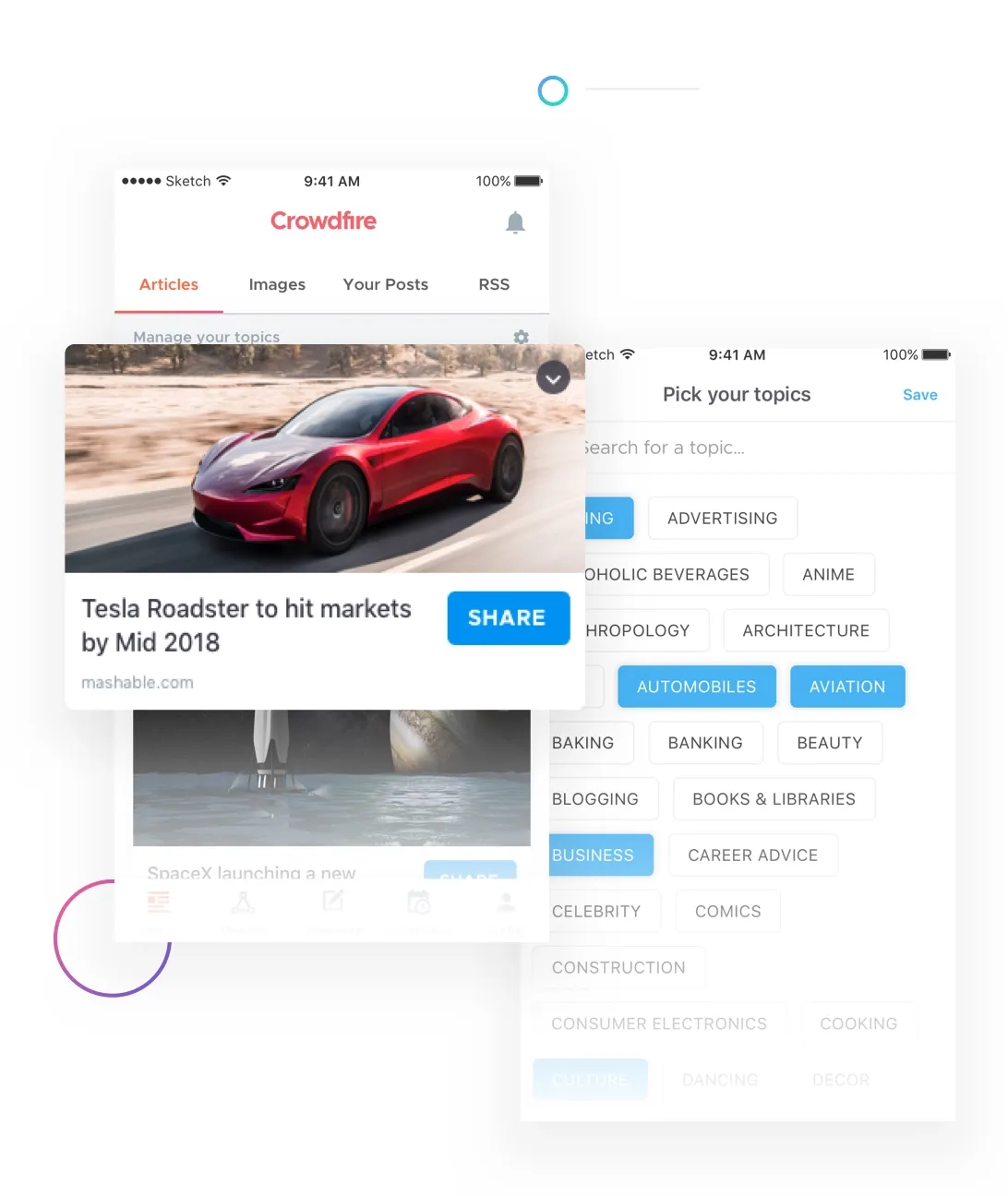 Crowdfire is another practical LinkedIn scheduling tool that you can use. It analyzes your audience's activities and detects the best times to post every day (on LinkedIn and other platforms).
Apart from being a scheduling tool, Crowdfire has also analytics and content curation-related features. Using these features, you can easily monitor your LinkedIn performance and create more attractive (plus follow and share-worthy) content.
However, you should also take into account the weak customer support and limitation of the tool's free plan.
It sometimes gets very difficult to reach out to customer support, plus the free plan is not enough to understand all the features of Crowdfire.
Capterra/G2/Trustpilot Ratings:
Capterra – (4.2 / 5) stars
G2 – (3.9 / 5) stars
Trustpilot – ( 1.5/ 5) stars
---

Postcron is another LinkedIn scheduling tool in the list. One of the distinctive features of the tool is that it works both on desktop and mobile. So, you can easily schedule your LinkedIn posts on the go!
Plus, it has a bulk post feature that allows you to schedule hundreds of LinkedIn posts. What's even better is that you can upload these posts from an Excel or Google docs file.
Postcron also works as a gallery where you can find various content to post on LinkedIn. Postcron is quite user-friendly and thus suitable for starters.
Nevertheless, you need to consider the pricing issue while choosing Postcron. The prices are not cost-effective. So, you better look at other tools before making up your mind.
Capterra/G2/Trustpilot Ratings:
Capterra – (3.7 / 5) stars
G2 – (4.4 / 5) stars
Trustpilot – ( 2.6 / 5) stars
---
Agorapulse is not only a LinkedIn scheduling tool. It also has a social inbox features with that you can easily & quickly respond to comments. Plus, it has the following features that can increase your connections on LinkedIn:
Bulk post upload posts from desktop or RSS feeds
Queueing
In-depth analytics about your published posts and engagement rates.
With the queue feature, you can load your evergreen content and always keep your LinkedIn account updated and lively. Maintaining an updated LinkedIn account is highly important if you want to get the most out of marketing opportunities of LinkedIn.
Capterra/G2/Trustpilot Ratings:
Capterra – (4.6 / 5) stars
G2 – (4.5 / 5) stars
Trustpilot – ( 3.7 / 5) stars
---
Brandwatch is pretty much like a Swiss knife. It handles multitasks including post scheduling on LinkedIn. Brandwatch is also a great CRM tool that allows personalizing your offerings to clients.
Returning back to Brandwatch's scheduling-related features, it has a very easy-to-use social calendar and various design campaigns with ready-made templates.
So, it also helps you with content creation when you run out of original content ideas to share on your LinkedIn accounts.
However, the pricing plans are costly, especially for starter businesses. So, if you're a starter company, you're recommended to check other more cost-effective tools like Circleboom Publish.
Capterra/G2/Trustpilot Ratings:
Capterra – (3.9 / 5) stars
G2 – (4.4 / 5) stars
Trustpilot – ( 2.9 / 5) stars
---
#9 Buffer
Buffer is an all-in-one social media management tool. It supports over 30 major social media platforms in the market.offers scheduling services on LinkedIn. Buffer allows you to manage multiple social media accounts in a single dashboard.
Apart from scheduling feature, Buffer also has the following features:
Reporting in-depth analytics documents
Customer Targeting
Competitive analysis
Capterra/G2/Trustpilot Ratings:
Capterra – (4.5 / 5) stars
G2 – (4.3 / 5) stars
Trustpilot – ( 2.4 / 5) stars
---
Best LinkedIn Content Creation Tools
Circleboom Publish
Circleboom supports Twitter, Facebook, Instagram, Pinterest, LinkedIn, Google Business Profile, and TikTok (soon).
TRY CIRCLEBOOM PUBLISH
The reasons why I chose Circleboom Publish as the "editorial choice" among the content creation tools are as follows:
Circleboom Publish's ready-made post templates package is full of materials to easily create catchy & trendy content for visual-oriented platforms like Instagram and Pinterest.
Circleboom Publish has built-in tools, Canva, Unsplash, and Giphy to create eye-catching and unique posts to attract visitors and boost your impressions and engagements.
Beside visual content creation tools, Circleboom Publish has built-in article curation tools. With this tool, you type in your interest topics and Circleboom Publish lists relevant & high-quality article suggestions.
You can schedule posting times for these articles or post them in a queue.
Circleboom Publish is one of the best content curation tools. On the one hand, it offers visual content creation tools like Canva and Unsplash.
On the other side, it allows you to curate high authority articles in one place and schedule them in advance.
Once you create your content, you can post them on Twitter, Facebook, Instagram, Pinterest, Google My Business (GMB), and (very soon) TikTok.
Keep in mind that Circleboom Publish allows you to manage your multiple accounts in one dashboard with Circleboom. If you have numerous accounts to manage, Circleboom Publish is definitely the best choice for you!
If you want to find out more about how to use Circleboom for content creation, you can check out the following YouTube video:
Capterra/G2/Trustpilot Ratings:
Capterra – (4.7 / 5) stars
G2 – (4.7 / 5) stars
Trustpilot – ( 4.5/ 5) stars
---
On LinkedIn, interactive information is vital, and forms like presentations and papers are popular. However, creating such stuff from scratch is sometimes time-consuming or simply "too much for busy marketers."
The solution to this dilemma is Slidesgo.
You'll discover dozens of free Google Slides themes and Powerpoint templates on their website, which you may use to create Slideshare presentations or short PDF papers for your LinkedIn accounts.
Each theme can be changed by keeping the slides you want, eliminating the ones you don't, and copying the parts you like.
Pro tip: You can save a Powerpoint in MP4 format and publish it to LinkedIn as a short video clip.
Capterra/G2/Trustpilot Ratings:
No rating or review rate is available.
---
Snappa assists you in creating beautiful content for your business accounts such as LinkedIn, Facebook, and other social media networks. Snappa is simple because you can select templates and create social media material from them.
If you don't want to use the template, designing on Snappa is fascinating because you may create any material from scratch. You may also build a logo for your company that will appear on your content whenever you publish new content.
Snappa is beautifully designed, with clean lines and features that harmonize to ensure that every detail is taken care of. This platform is an excellent LinkedIn marketing tool for beginners.
Capterra/G2/Trustpilot Ratings:
Capterra – (4.3 / 5) stars
G2 – (4.6 / 5) stars
Trustpilot – ( 3.0 / 5) stars
---
Biteable allows you to create simple animations using pre-made templates. The rest is up to your imagination. Biteable does not demand any specific abilities or time commitment. It's a simple and enjoyable program for integrating photographs, videos, and stock resources to produce excellent LinkedIn materials.
Biteable lets you make movies in minutes using templates or from scratch by customizing each scene with text, backgrounds, colors, audio, and photographs.
Biteable has a wide range of soundtracks to choose from and the opportunity to upload your photographs, movies, and animations. It also has several categories that you may use to give your videos a different look. Biteable has an extensive font library to choose from when creating films. It is highly developed, with several built-in choices. Therefore it is highly suggested if you want greater control over your video clips.
Capterra/G2/Trustpilot Ratings:
Capterra – (4.3 / 5) stars
G2 – (4.3 / 5) stars
Trustpilot – ( 4.2/ 5) stars
---
Buzzsumo makes it easy to search, curate, and generate content on LinkedIn. You don't have to spend hours looking through your LinkedIn feed for ideas.
With Buzzsumo, you can quickly check which content has been shared the most, filtered by term or competition, by simply clicking a button. You can also find great content for LinkedIn campaigns, such as product explainer films, small infographics, and customer reviews.
You might also look for well-known influencers and use an endorsement opportunity on LinkedIn to market your company. This platform is excellent for quickly locating high-performing content and prominent social influencers.
Capterra/G2/Trustpilot Ratings:
Capterra – (4.5 / 5) stars
G2 – (4.5 / 5) stars
Trustpilot – ( 3.9/ 5) stars
---
Best LinkedIn Analytics Tools
Analytics is a critical component of any marketing initiative, including LinkedIn. Quintly is another worth investigating when it comes to LinkedIn metrics.
This program allows you to track social media account data (including LinkedIn) to learn about the opinions and behavior of social media leaders, analyze sponsored postings, and identify sponsored links to keep track of your competitors' activity.
Quintly gives users data-backed insights into their LinkedIn marketing efforts. This allows you to study your LinkedIn posts' core data points and track your progress over time. You can also customize KPIs on a flexible dashboard to fit your specific social media goals. These insights might help you boost your LinkedIn marketing efforts by providing helpful information about your company pages.
You may also get specific data on your LinkedIn channels, such as impressions, clicks, and video views, by authenticating LinkedIn Analytics insights.
Capterra/G2/Trustpilot Ratings:
Capterra – (4.5 / 5) stars
G2 – (4.7 / 5) stars
Trustpilot – N/A
---
Iconosquare is a popular Instagram management app that you may already know. Its array of features has been expanded to include LinkedIn page analytics. You'll obtain a better sense of how well your LinkedIn profile is functioning thanks to its detailed data, which includes reach, engagement, and impressions. It also provides in-depth individual stats that you may view if you want to know how your particular postings are performing.
Over 10,000 businesses and agencies trust its three subscription programs, including IKEA and National Geographic. The best thing is that the LinkedIn analytics function is included in Iconosquare's cheapest subscription, which costs $59 per month. Unlike many other tools, it also allows you to purchase additional social accounts or team member seats as an add-on rather than upgrading to the Advanced ($99 per month) or Enterprise ($179 per month) plan.
Capterra/G2/Trustpilot Ratings:
Capterra – (4.4 / 5) stars
G2 – (4.4 / 5) stars
Trustpilot – ( 2.8 / 5) stars
---
Best LinkedIn CRM Tools
Understanding the types of personalities you want to surround yourself with and the attitudes that come with them is integral to finding the most outstanding team to work with. Crystal is a program that allows you to develop a personality profile that represents your work ethic and the characteristics that make you a good worker and marketer.
When it comes to finding the best coworkers, big enterprises worldwide rely on Crystal. Allowing people to describe themselves is one of the most effective ways to learn more about what you can expect if you hire them! It's simple to see why Crystal is regarded as one of the most excellent LinkedIn marketing tools.
Crystal's method is pleasantly uncomplicated and quick. Enter the name of someone you want to learn more about, and Crystal will filter through their LinkedIn information to create a personality profile for them.
Instead, you can use this platform to sort and filter possible clients. You may better understand your leads with Crystal. Based on the client's personality analysis, you may strengthen and manage your communication abilities to persuade them smoothly.
Capterra/G2/Trustpilot Ratings:
Capterra – (4.8 / 5) stars
G2 – (4.7 / 5) stars
Trustpilot – N/A
---
Octopus CRM is a LinkedIn automation solution designed to help you construct your sales funnel and connect with new and current contacts as frequently as feasible. By keeping your message systems up to date with the people you are connected to and those related to your own LinkedIn links, Octopus CRM allows LinkedIn small company owners to maintain existing relationships and build new prospective clients and connections. Octopus also serves as an analyzer, enabling you to evaluate your marketing plan to see what's working and what's not with LinkedIn ads, automated messaging, and other bulk message systems you've implemented.
Finally, Octopus incorporates a security component in its software that ensures that access to contact information and passwords is not compromised. Any suspect or fraudulent activity is instantly reported to account owners.
As a CRM and LinkedIn tool, Octopus CRM serves as a co-existing professional database and lead generating tool, allowing two halves of a conventional business model to converge: customer retention and new client acquisition.
Capterra/G2/Trustpilot Ratings:
Capterra – N/A
G2 – (4.8 / 5) stars
Trustpilot – ( 4.1 / 5) stars
---
Nimble is a  tool that every LinkedIn marketer needs because it is a social media organizing program that seeks to assist you in precisely increasing your contacts and connections with your clients and other business owners. Nimble compiles a regularly updated collection of contact profiles that you may easily navigate through. Nimble also compiles a list of your connections and the best approach to contact them, providing your top leads in real-time.
Nimble is an assistance that you don't want to miss out on, with features like showing your calendar and booked activities and making the art of closing deals more manageable than ever.
Overall, Nimble's primary advantage is that it includes a contact manager, and circumvents many of the new limits imposed by social media networks. Nimble can maintain track of all your contacts in each case, regardless of where you found them. It certainly makes things simpler!
Capterra/G2/Trustpilot Ratings:
Capterra – (4.4 / 5) stars
G2 – (4.5 / 5) stars
Trustpilot – ( 3.7 / 5) stars
---
Best LinkedIn Lead Generation Tools
You may develop a strong foundation for your business and brand by engaging with top marketers and influencers, making it easier to connect with potential clients! eLink Pro is a LinkedIn marketing tool that can help you collect leads, reach out to a larger audience to produce new leads, and connect with other individuals who operate in the same industry. When you work with eLink Pro, a marketing program designed exclusively for LinkedIn collaboration, you can rest confident that you're receiving the finest of the best.
Capterra/G2/Trustpilot Ratings:
Capterra – (5.0 / 5) stars
G2 – (4.7 / 5) stars
Trustpilot – N/A
---
SalesLoft is one of the next generation of social media sales platforms. You can help your company provide a better sales experience for your clients on LinkedIn using SalesLoft.
You may also track leads who ask questions, respond in real-time, build relationships with influencers to convert prospects into followers, and analyze performance by keeping track of all interactions in one spot.
With this tool, every sales professional may engage with targeted prospects and clients on LinkedIn. SalesLoft helps your firm produce sales by automatically importing contact information into the system and connecting your contacts to documents, files, videos, or presentations you've prepared for your prospects. It'll be much easier to determine which messages will be most effective with the folks you want to reach out to.
Capterra/G2/Trustpilot Ratings:
Capterra – (4.7 / 5) stars
G2 – (4.5 / 5) stars
Trustpilot – ( 3.3 / 5) stars
---
What does it feel like to convert organic website traffic into sales leads? Leadfeeder's primary notion is that it works in tandem with your Google Analytics data to assist you in identifying hidden sales leads. After all, traditional prospecting approaches don't reveal everyone interested in your products or services: many people don't discuss their interests on social media. They could also talk about their hobbies without mentioning which products or services they utilize.
The ability to search Google Analytics data for hidden leads is fantastic, but Leadfeeder also offers a LinkedIn Sales Navigator link. Because Sales Navigator is still relatively new, not everyone has figured out how to incorporate it. Because Leadfeeder is a newer product, it has already evolved. Most importantly, Leadfeeder is designed to work with many CRMs and other applications.
Capterra/G2/Trustpilot Ratings:
Capterra – (4.2 / 5) stars
G2 – (4.3 / 5) stars
Trustpilot – ( 2.6 / 5) stars
---
We-Connect spends most of its time and resources reaching out to potential customers. We-Connect is a fantastic tool for anyone who wants to automate as much of the messaging process as possible, with several different template options for outreach messages and the ability to compose a personal message to reach out to new or potential connections automatically. This enables users to contact hundreds of prospects without sending merely scripted, spammy communications. While it may not be lead generation on steroids, it does help you save time and effort when it comes to reaching out to qualified prospects and expanding your network.
We-Connect is an excellent solution for people who want to automate their LinkedIn marketing efforts to allow for natural conversation starters instead of strictly automated communications.
Capterra/G2/Trustpilot Ratings:
Capterra – (4.4 / 5) stars
G2 – N/A
Trustpilot – N/A
---
Woorise is an all-in-one lead generation platform that lets you run various campaigns to gather leads and engage your audience, including promotions, landing pages, forms, surveys, quizzes, and more. It's a fantastic tool for growing and engaging your LinkedIn audience.
You may use Woorise to construct a variety of interactive campaigns for your company, for example, job application forms, lead campaigns, NPS operations, advanced marketing, and feedback surveys, event registration and signup forms, payment, and subscription forms, and much more.
Woorise also works with various marketing platforms, including Mailchimp, Hubspot, ActiveCampaign, Aweber, Google Analytics, Bitly, Zapier, PayPal, Stripe, and others.
Capterra/G2/Trustpilot Ratings:
Capterra – (4.7 / 5) stars
G2 – (4.7 / 5) stars
Trustpilot – ( 4.7 / 5) stars
---
Saleshub, another lead creation tool, takes a novel approach by allowing you to download LinkedIn lead lists to Excel. You've probably found the perfect tool if this is your favorite manner of lead tracking.
The ability to export to Excel is a huge plus, but that's not all this program has.
After you've created your prospect list, you can begin emailing every one of them. Saleshub can also assist with this.
Saleshub's' "Sequences" function allows you to quickly customize outreach messages as part of your media marketing strategy. You may use your activity data to guide leads through your sales funnel as needed.
Capterra/G2/Trustpilot Ratings:
Capterra – – N/A
G2 – (3.5 / 5) stars
Trustpilot – N/A
---
Dux-Soup comes in helpful if you're wasting hours a day trying to manage your LinkedIn prospects and contacts. This sophisticated platform allows you to enhance your workforce's efficiency by automating processes like following up with prospects, distributing their content, RSVPs for events they'll be attending, and messaging them.
Dux-Soup assists you in creating the most effective LinkedIn campaign imaginable. It's so simple to publish and manage prospects from any device! Add your potential customers, and Dux-Soup will contact them with unique messaging tailored to their specific needs.
The dashboard is simple to navigate. It shows you all of your targeted contacts at a glance and lets you change their profile information once it's saved into Excel sheets, saving you time.
Capterra/G2/Trustpilot Ratings:
Capterra – (4.3 / 5) stars
G2 – (4.1 / 5) stars
Trustpilot – N/A
---
Zopto, which prominent firms like Canon and Tata use, may help you boost your LinkedIn exposure and target your audience. You can locate prospects to expand your network using comprehensive filtering and LinkedIn profile viewer features.
It features smart scheduling and high-converting templates to help you make your campaigns more profitable. It also includes several automation tools to assist you in creating campaigns for various niches and target audiences. It considers the prospect's time zone, for example, and only sends communications during the prospect's office hours. The A/B testing and actionable findings can then be used to optimize your campaigns even further.
Finally, Zopto positions itself as a means to enter simple (or complex) search phrases and then sit back and enjoy higher conversions and a more effective sales outreach program. Zopto is an excellent tool for anyone having trouble keeping up with their organic searches and subsequent outreach efforts.
Capterra/G2/Trustpilot Ratings:
Capterra – (4.4 / 5) stars
G2 – (4.6 / 5) stars
Trustpilot – ( 3.7 / 5) stars
---
One of LinkedIn's most valuable features is also a significant hurdle for many salespeople. You may wonder what it is. It's the 430 million plus members.
Without the assistance of a prospecting tool, you may soon find yourself drowning in data, unsure of which path to take.
This is why LeadFuze is so well-liked. You can quickly construct a list of leads and target accounts through a simple search.
While the lead acquisition process is essential, it does not end there; you must also actively build leads. This application also gives users access to contact information, such as email and phone numbers, making it easy to start the sales process.
If that wasn't enough, LeadFuze also automatically allows you to send customized emails and follow-ups.
You may find contact information for over 200 million B2B professionals and VIP accounts right now. And, with customers adding an average of 350,000 prospects per month, it's clear to see how you'll never run out of leads.
LeadFuze is one of the best all-in-one LinkedIn lead generation solutions available. This one tool may give your media marketing plan a tremendous boost by automatically uncovering all the most critical facts.
Capterra/G2/Trustpilot Ratings:
Capterra – (4.7 / 5) stars
G2 – (4.6 / 5) stars
Trustpilot – ( 3.1 / 5) stars
---
Though most people identify hashtags with Twitter and Instagram, they are also commonly used on LinkedIn.
You may use RiteTag to keep track of your favorite hashtags and see how popular they are. Although the software is focused on Twitter and displays the most popular hashtag trends for that platform, it can also verify your LinkedIn keywords and display relevant hashtags.
Regardless of whose accounts are affiliated with it or where the accounts are situated, use RiteTag to obtain your chosen tag's daily and hourly average data. If your hashtag idea doesn't match, RiteTag will provide alternate hashtags or the daily and hourly average data.
The subscription edition of RiteTag allows you to see which accounts are most regularly utilizing a particular hashtag, compare accounts, and better plan your publications. RiteTag can also tell you if a hashtag is popular or prohibited on Instagram. Even if there is no effect on LinkedIn, integrating your hashtag strategy across profiles, for example, may be beneficial.
This application also includes a browser plug-in that generates the most appropriate hashtags for that image when you click on an image.
Capterra/G2/Trustpilot Ratings:
No rating or review rate is available.
---
Linked Helper can assist you in achieving your personal and professional goals, whether you are an individual or part of a larger group. They've only been in business for four years, yet they've already amassed a user base of over 90,000 people!
Linked Helper is everything you need if you want to expand your LinkedIn network. Inserting a personal note will automatically invite targeted second and third-level connections. You can then use it to create smart message chains that automatically respond to newly joined connections. These are just two of the 31 attributes listed.
Capterra/G2/Trustpilot Ratings:
Capterra – (4.2 / 5) stars
G2 – N/A
Trustpilot – N/A
---
How frequently do you see ads for LinkedIn premium accounts? Unless you're already a premium member, they'll certainly try to persuade you to upgrade. The problem is that there was no incentive for salespeople until recently. Recruiters, job seekers, and senior executives received all of the attention. LinkedIn, on the other hand, has created LinkedIn Sales Navigator for salespeople.
So, what exactly is Sales Navigator? It's a Premium package that includes a set number of InMail credits, the opportunity to view entire blocked profiles, and integration with CRM applications.
Sales navigator accounts at the team level can also help you develop relationships by recognizing team members linked to a sales lead, saving you InMail credits. They'll also assist you in locating sales leads and storing them in your account for further contact.
Capterra/G2/Trustpilot Ratings:
Capterra – (4.2 / 5) stars
G2 – (4.3 / 5) stars
Trustpilot –  N/A
---
Although LinkedIn is the most popular professional networking tool, you should know what your friends are up to on other social media networks.
Discoverly can assist you here. When you go to someone's LinkedIn page, you only get information from this one website. Until you start using this tool, that is.
Discoverly also provides additional information, particularly about social media, such as whether you have any mutual Facebook friends, to help you create a stronger bond.
It's all about making connections with qualified prospects in sales. Discoverly allows you to gather a range of knowledge in one location.
To use Discoverly, you must have Chrome installed on your computer.
Capterra/G2/Trustpilot Ratings:
No rating or review rate is available.
Final Words
You have seen the best 25 LinkedIn marketing tools that you can use to grow your LinkedIn accounts and boost your leads and sales. There are many aspects and criteria to be fulfilled and no single tool can accomplish all these tasks. So, you need to choose the best LinkedIn marketing tool to get the best results for your campaigns.
Circleboom Publish shines among other options with its safe, fast, and easy-to-use interface. You can connect and manage multiple LinkedIn accounts in one, simple dashboard. You can promote your LinkedIn campaign across other social media platforms from the same place.
Benefit from Circleboom Publish's advantageous tools and features at affordable prices.
---