As you schedule Twitter posts according to the best time to tweet, you can reach and engage more followers and grow your audience on Twitter.
According to the latest statistics,  Twitter has more than 300 million daily active users.  In a Twitter report in 2021, this outstanding growth resulted from the increasing global conversation and ongoing product improvements.
The numbers are becoming more appealing each year for social media marketers. We all want to stay on top of the game and enlarge our slice of the Twitter pie. Well, at this point, one of the key game-changers is to schedule tweets.
On other social media platforms, bombarding the audience with numerous daily posts can have a negative impact. But on Twitter, you have more room to share instant updates with your audience.
Anyway, it can be exhausting and time-consuming to create high-quality content and manually tweet at appropriate times.
Social media managers have a lot on their plate all the time. They need to keep up with the novelties, create rich content for all social media platforms and keep up with their audience and marketing strategies.
Managing Twitter can be a full-time job if you want to do it right. At this juncture, the Twitter scheduler comes into play. In this article, we will help you to learn how to schedule tweets in various ways.
How to schedule Twitter tweets?
One easy way to schedule tweets is to use a reliable third-party app. But finding a reliable third-party Twitter scheduler app can become more challenging for you.
You must ensure that the app complies with Twitter's rules and policies. Otherwise, you will always have the risk of getting suspended on Twitter.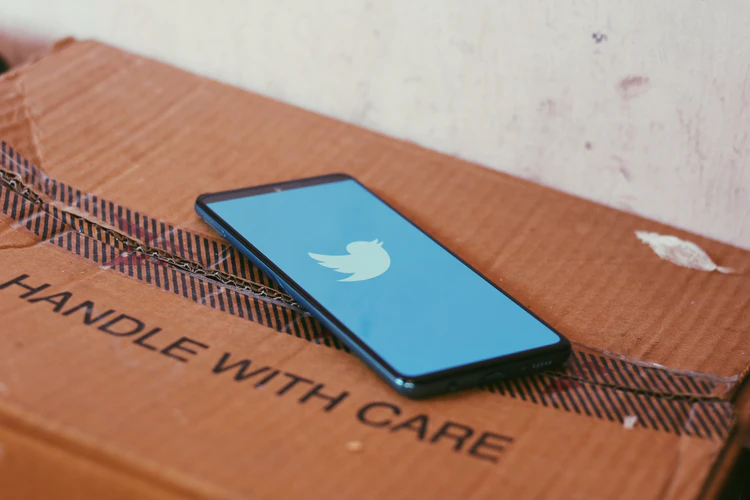 At Circleboom, your privacy and security are our top concerns. Since Circleboom is fully compliant with Twitter's rules and regulations, your Twitter account will be safe with Circleboom. That's why many international companies like Netflix, BBC, and Roche prefer Circleboom for managing Twitter.
So, let us introduce you the Circleboom's excellent Publish Tool, which is more than a Twitter scheduler. Think of this publish tool as your Twitter management assistant. It can help you schedule tweets, RSS feed to Twitter, and even find rich content to grow your followers on Twitter.
How to use Circleboom to schedule tweets?
With Circleboom Publish, you can schedule tweets for a future date or create a queue with your customized time settings.
Circleboom will auto-tweet your posts based on your specified time interval and post start and end times as you edit your queue settings. So you won't need to schedule tweets one by one manually.
Option 1: Use Circleboom Publish's Twitter Scheduler
You can follow the step-by-step guideline we have prepared to schedule your tweets on Circleboom Publish.
Step #1: Log into Circleboom Publish.
If you don't have an account, you can create one easily.
Step #2: Firstly, you need to connect your Twitter account(s) to Circleboom.
Circleboom Publish supports Twitter, Facebook, Instagram, Pinterest, LinkedIn, Google Business Profile, and TikTok.
After that, you can click the big blue "Create New Post" or "Create Twitter Specific Post or Thread" button.
You can also schedule Twitter threads with Circleboom Publish.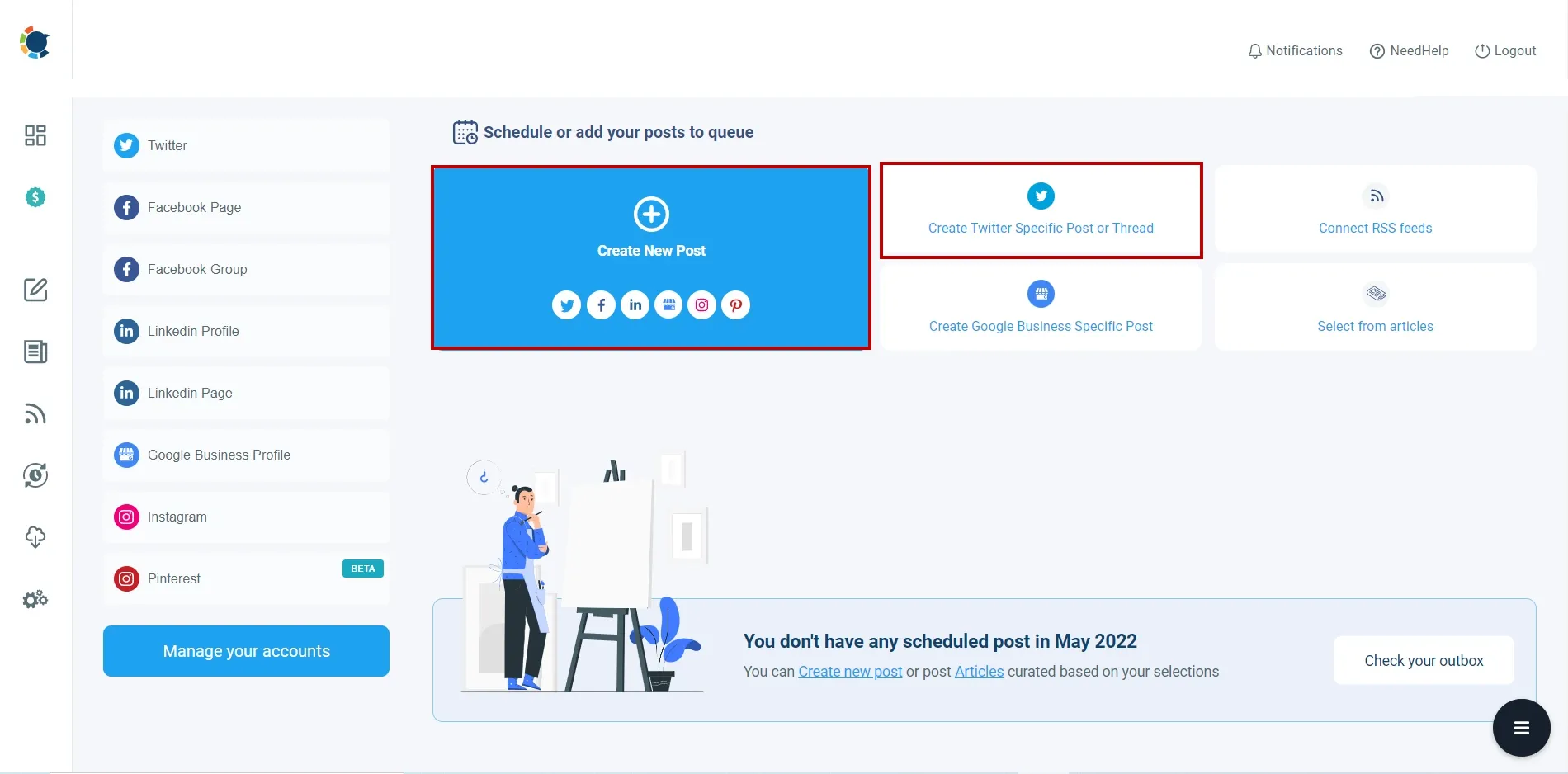 Step #3: Your Twitter accounts will be selected if you select Twitter specific post option.
You should select one Twitter account. Unfortunately, Twitter doesn't let users post to multiple Twitter profiles simultaneously.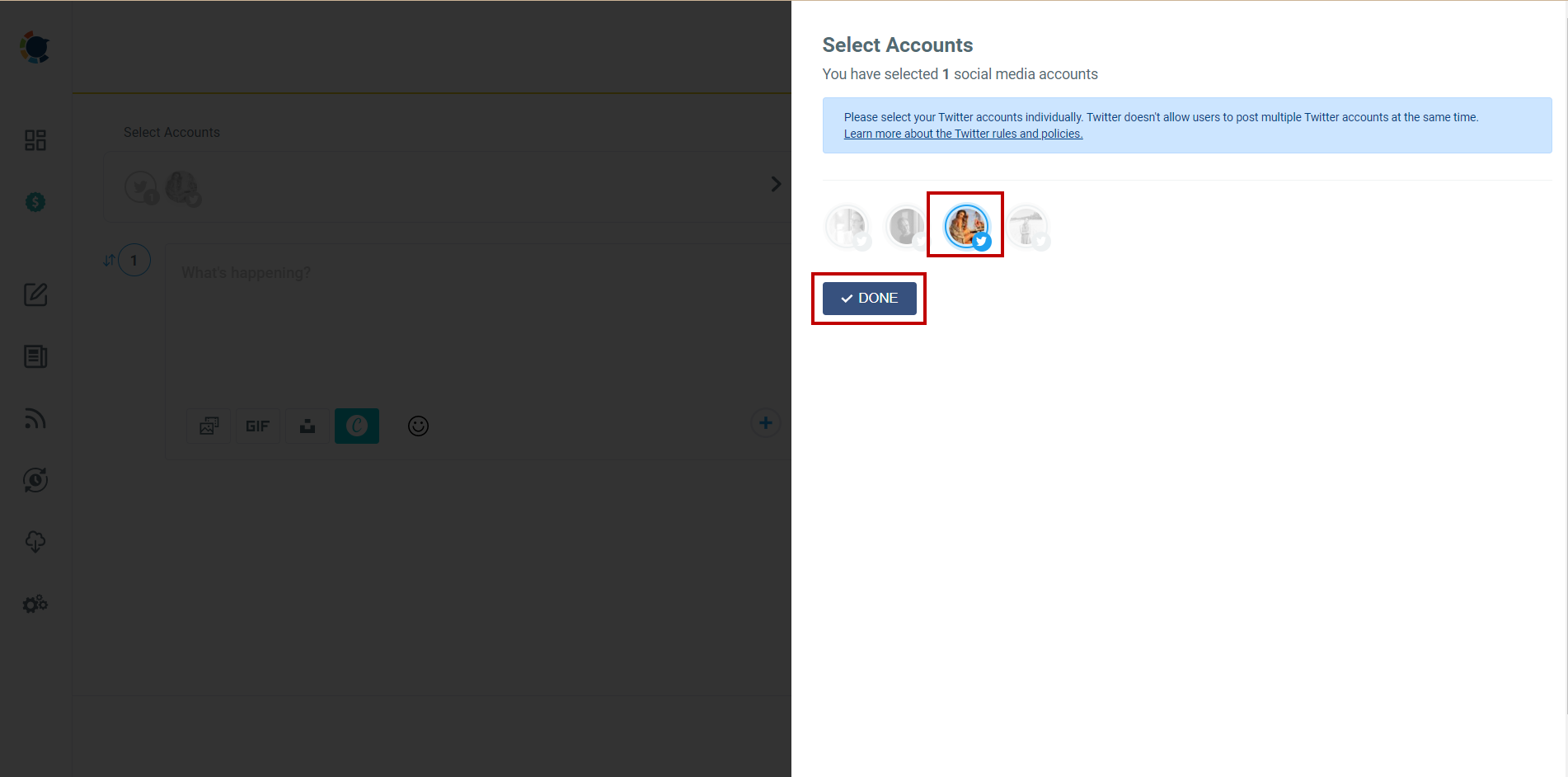 Then, you will proceed to the post-creation screen.
Here, you can write your texts, put your links, and add images or videos to your tweets. You can import your domestic files or curate content from built-in extensions.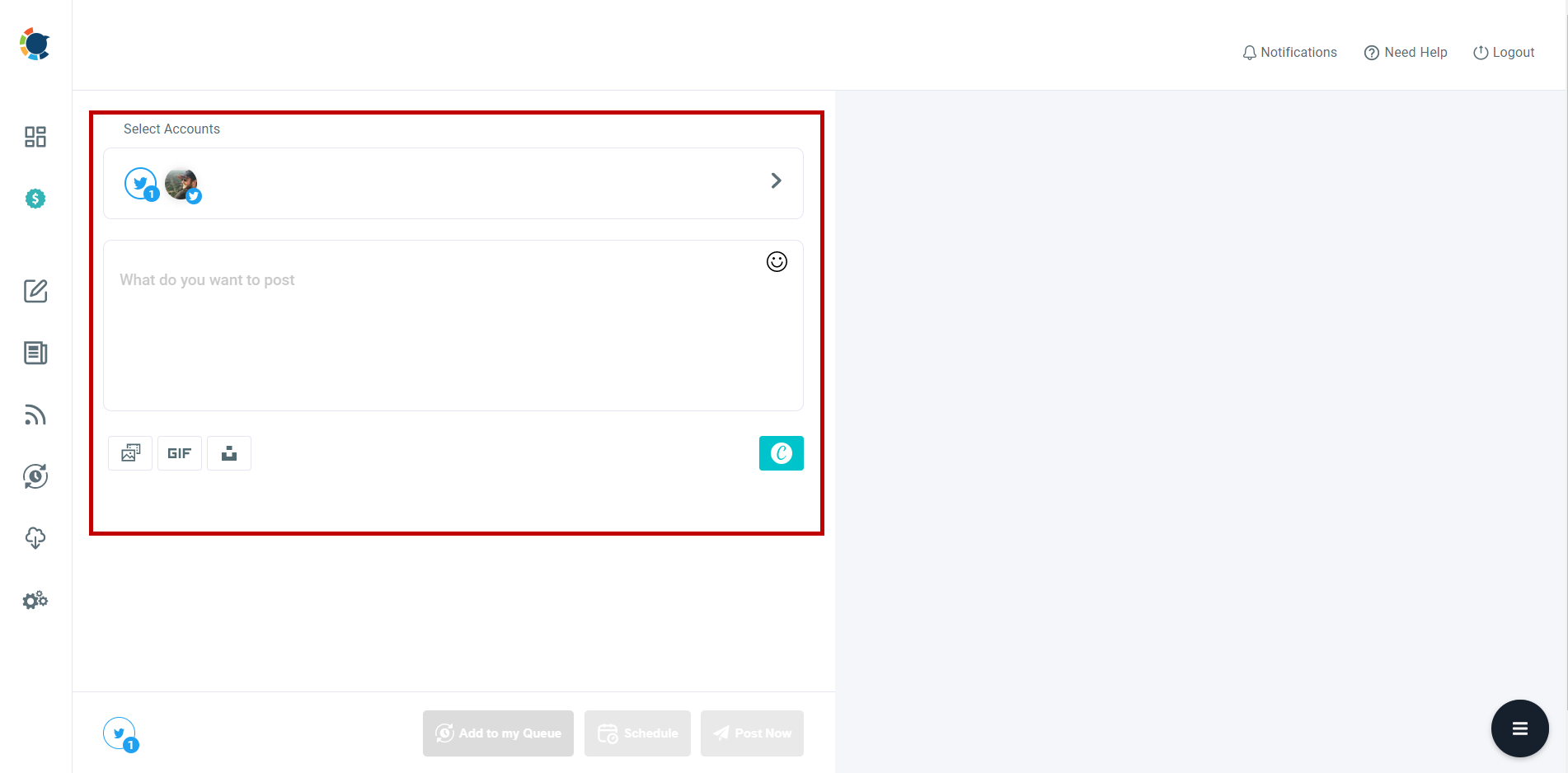 Don't worry about image size requirements. Circleboom provides ready-made post templates for each supported social media platform.
So you can use handy Twitter post templates. Or, you can create a customized template with specific sizes.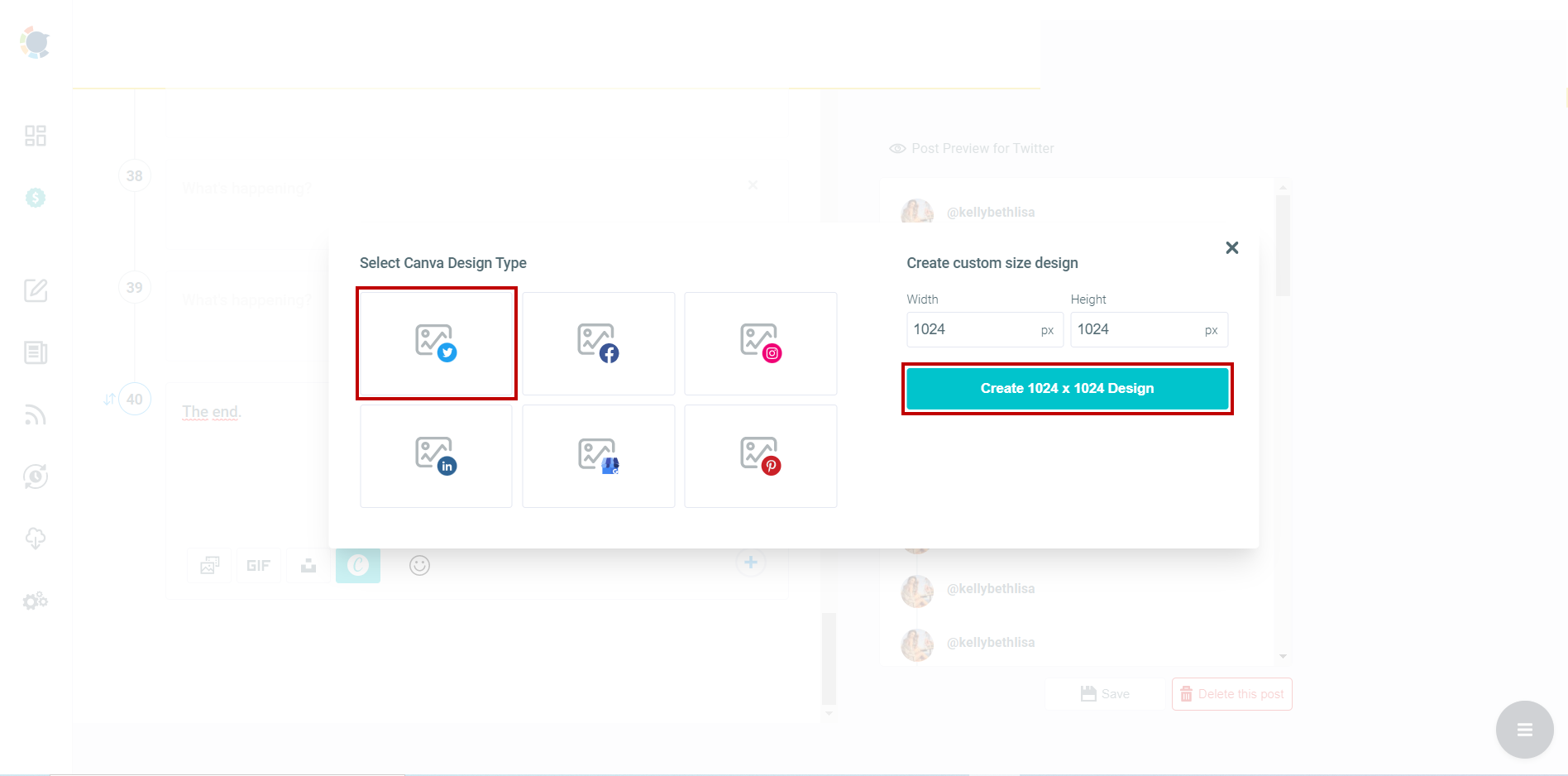 Step#4 Canva extension on Circleboom provides templates, images, filters, effects, backgrounds, fonts, gifs, animations, stickers, emojis, and many other materials to design and color up your Twitter media.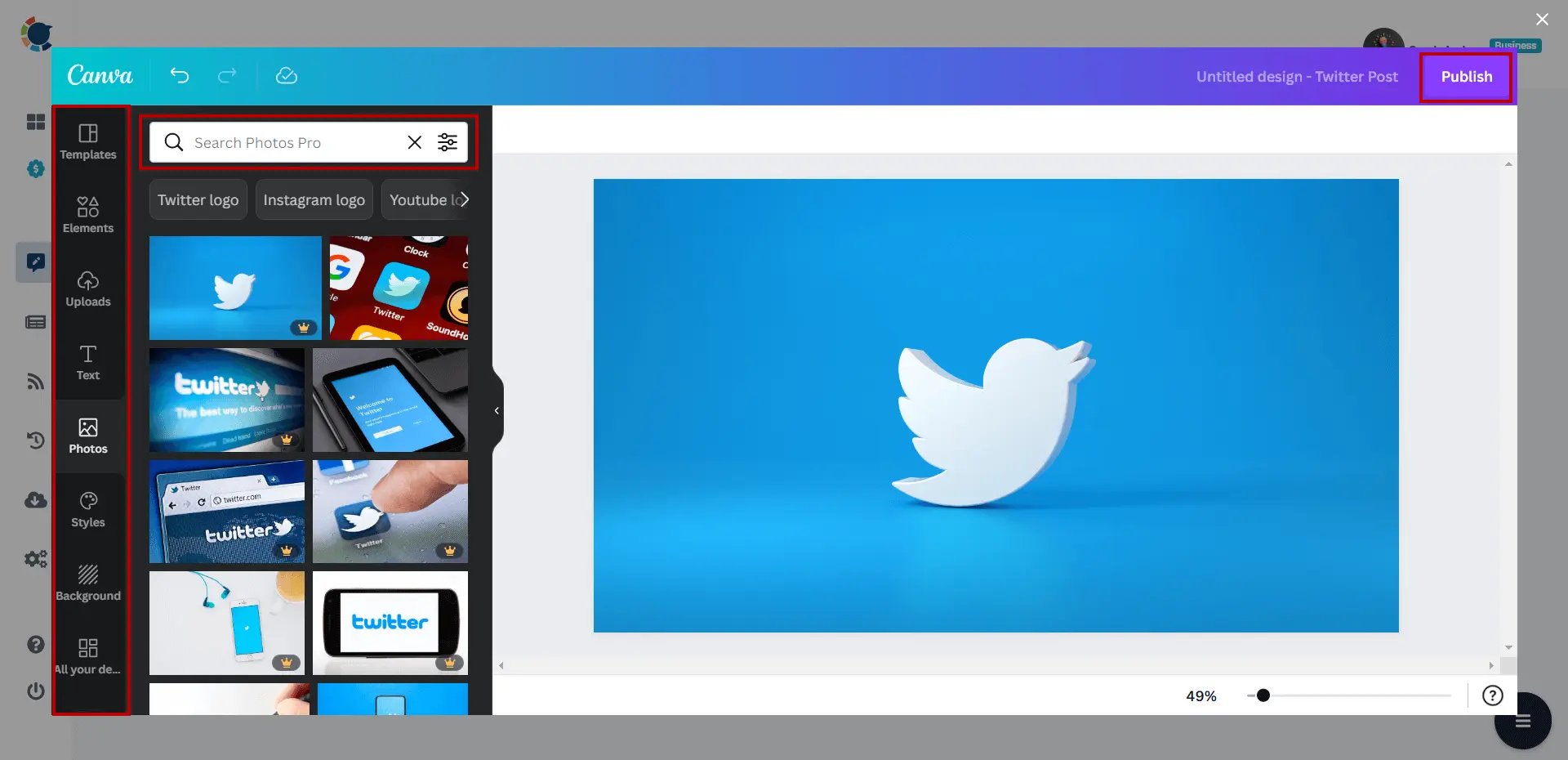 Step#5 Once you have finished your post, you can share it directly. Or, you can schedule your tweet for a later time. You can set time intervals and share your tweets automatically as a third option.
If you are still undecided, you can save your tweet as a draft and continue working on it later.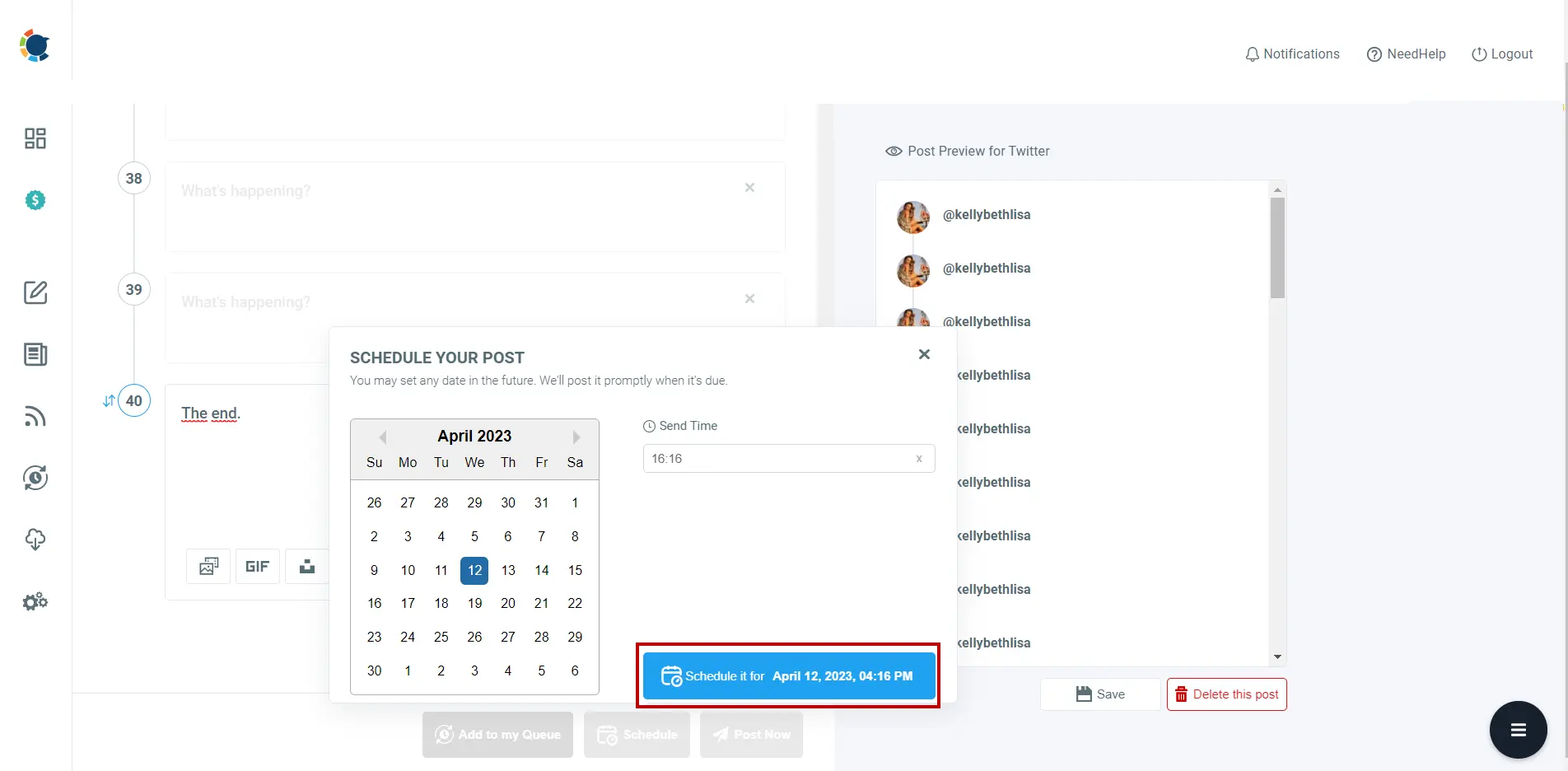 Before sharing your tweets, you can edit your Twitter posts. To find out more, you can check our detailed guide here:
Option 2: Connect RSS Feeds to your Twitter accounts on Circleboom
You can connect RSS Feeds to your Twitter accounts and keep them always fresh and posting.
RSS is the abbreviation of "Really Simple Syndication" or "Rich Site Summary." You can create the RSS Feeds of websites, and by connecting them to your social media profiles with Circleboom, you automatically post the newest updates and articles.
You should follow these steps to connect RSS Feeds to your Twitter accounts with Circleboom.
#1 On the homepage, navigate to the left and open the menu.
Click on the "Connect a new RSS Feed" option.
#2 You'll be directed to a page where you select your Twitter accounts and fill in the necessary information.
Start with selecting your connected Twitter account.
#3 You will need to add the URL of your website's RSS Feed.
And, you can give a name for this RSS Feed not to mix them with others. Also, you can add some 'begin with' and 'end with' texts to your automatic posts.
#4 Now, you should define how many times your RSS Feed will be checked and how many posts will be shared for each check.
After they are set, click on the "ADD RSS FEED" and begin to automatically tweet your new blog posts to your Twitter accounts.
Option#3: Find relevant content with Circleboom's Article Curator
Circleboom's Publish can also help you discover relevant content for your Twitter. All you need to do is select your interests from Circleboom's curation for more than 300 categories. You can reach out to thousands of content in these categories.
You can schedule tweets with these articles by adding them to your queue or scheduling them for a specific date.
Circleboom's Publish Tool is more than a basic Twitter scheduler with its Article Curator. We know that finding and creating rich content can be as hard as manually tweeting each post at an exact time. So, as Circleboom, we don't leave you in the lurch.
For more information, you can watch our hands-on video guide tutorial:
How to schedule tweets on the Twitter website?
It was not possible to schedule tweets on Twitter without a third-party app. Twitter was aware of the customer demand for a Twitter scheduler, and in May 2020, they launched their own Twitter scheduler.
You can use Twitter's native Twitter Scheduler to schedule tweets for future dates and save draft tweets and complete them some other time.
You can follow the guideline to learn how to schedule tweets on Twitter without a third-party app. Remember that you can only schedule tweets on Twitter from its web app. It is not possible to schedule tweets on Twitter mobile.
Step #1: Create your tweet on Twitter.
Log in to your account and start composing your tweet. Once you complete it, instead of clicking "Tweet," click the schedule icon.

Step #2: Schedule tweets on Twitter.
As you click the schedule icon, a window will pop up. Set the date and time you want to schedule tweets. Then click "Confirm."
Step #3: Check your auto tweets.
You can also monitor your drafts and scheduled tweets on Twitter. Click the "Scheduled Tweets" at the bottom of the pop-up.
Final Verdict
Posting tweets manually can become an exhausting and time-consuming for social media managers.
We know that you have a lot on your plate. Twitter scheduler tools can help you to save time, effort, and money while managing your tweets.
If you have many tweets waiting to be posted, it will be hard to schedule them one by one using Twitter's native Twitter scheduler.
Circleboom's innovative Publisher Tool is more than a basic Twitter scheduler.
By creating a queue with up to 800 content, you can select your desired posting frequency and start & end time and leave the rest to Circleboom.
Moreover, with its Article Curator and RSS Tweets tool, you can discover relevant and quality content for your Twitter audience in a few clicks.

---